Today, three Republican U.S. Senators and one Representative who feel stymied on their investigation into the Benghazi, Libya Sept. 11, 2012 terrorist attacks are calling for House Speaker Rep. John Boehner (R-OH) to convene a Select Congressional Committee.
[quote]"Segmenting the investigation will never get to the truth," said Sen. Lindsey Graham (R-SC), who is holding a news conference on the effort today with Senators John McCain (R-AZ) and Kelly Ayotte (R-NH) with the support of Representative Trey Gowdy (R-SC).[/quote]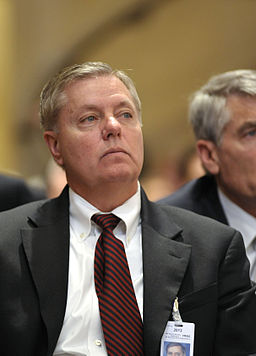 More Benghazi coverage here
​
​ There have been multiple hearings in the nearly 17 months since the terrorist attacks that killed four Americans including Ambassador Christopher Stevens. The hearings, subpoenaed documents, a State Department investigation and witnesses have revealed, in part, that the State Department overlooked or dismissed multiple security warnings and denied repeated ​requests for additional security prior to the attacks. They also revealed that U.S. military help was not sent to Libya while the assaults were underway or while dozens of Americans remained trapped at the C.I.A. compound in Benghazi. The Obama administration says that wasn't feasible, while inside sources dispute the contention. Also, the Obama administration publicly advanced an incorrect version of how the attacks came about and repeatedly changed the story as to why it relied on the misinformation.
So far, hearings have been held by separate committees in the House and Senate in which Sen. Graham says members largely lack the cross-subject information, expertise and resources needed for effective questioning of witnesses. If a Select Committee were convened, it would be in the House where Republicans hold a majority, rather than the Senate where Democrats hold a majority and do not support such an effort. It would combine the House Oversight, Armed Services, Intelligence and Foreign Affairs Committees. But it would need the stamp of approval from Boehner, the Republican leader in the House, who has so far resisted the effort.
One hundred and ninety Republican House members have expressed support for such a Select Committee since Rep. Frank Wolf (R-VA) first proposed it to Speaker Boehner in Nov. of 2012. In an appearance on Fox News this week, Boehner said, "I see no reason to break up all the work that's been done and to take months and months and months to create some Select Committee."
It was a Select Committee convened by the Democratic-majority Senate in Feb. of 1973 that investigated the June 17, 1972 break-in of the Democratic National Committee headquarters at the Watergate office complex in Washington D.C. and the subsequent cover-up of involvement by members of the Republican Nixon administration.
As hard as some Republicans are pushing to turn up the heat on the Benghazi investigation, Democrats are fighting to have it dropped. Last month, Democrats on the House Oversight Committee led by Rep. Elijah Cummings (D-MD) called on Republican Chairman Darrell Issa (R-CA) to end his committee's investigation.
[quote]"To date, the Committee's investigation has been characterized by wild and unsubstantiated political accusations that turn out to be completely inaccurate after further investigation," the Democrats wrote in a letter to Issa.[/quote]
Sen. Graham says witnesses that he would like a Select Committee to call include: former C.I.A. Director David Petraeus; Petraeus' former deputy Mike Morrell; Greg Hicks, the deputy to U.S. Ambassador to Libya Christopher Stevens; Obama Deputy National Security Advisor Ben Rhodes; then-Secretary of State Hillary Clinton; her deputy chief of staff, Jake Sullivan; former U.S. Ambassador to the U.N. Susan Rice; and "all of the survivors."
​Last year, Morell left the C.I.A. and went to work for a strategic communications firm operated primarily by former Obama administration and Hillary Clinton officials and became a consultant for CBS News. He appeared before the House Intelligence Committee last week to explain his role in editing  the so-called "talking points" crafted by administration officials after the Benghazi attacks. During the editing process, all references to terrorism and al Qaeda were excised.
​Morell testified that politics played no role in any of his ​decisions and that he acted properly.
In Nov. of 2012, Morell mistakenly told Senators Graham, McCain
​and Ayoutte that the F.B.I., rather than the C.I.A. was responsible for heavily editing the talking points. Last week, when asked how he made that mistake, Morell said that he corrected the record within a matter of hours and acknowledged the C.I.A. was responsible.
Yesterday, Sen. Graham told me that Morell "did not correct the record" at the time because he failed to disclose his own role. "To correct the record, he would've told us back then who changed the talking points and that he was involved…I think he misled us."
​
Last week, Morell testified, "I got it wrong and said the F.B.I. when in fact the C.I.A. was the one who took it out of the talking points…I got it mixed up.