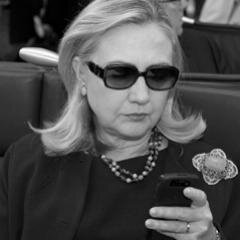 Last night at 11:35p, Hillary Clinton issued a single tweet on her Twitter account: [quote]"I want the public to see my email. I asked State to release them. They said they will review them for release as soon as possible."–Hillary Clinton[/quote]
She doesn't have much choice when it comes to her Benghazi-related emails. Some hours earlier, the House Select Committee on Benghazi had issued subpoenas for "all communications of former Secretary of State Hillary Clinton related to Libya and to the State Department for other individuals who have information pertinent to the investigation."
The ruckus is in response to a New York Times report Monday night revealing that Clinton, as Secretary of State, conducted government business entirely on a private email account: one registered to her home address in Chappaqua, N.Y., and "established by a longtime political aide."
Some have suggested Clinton's methods fall outside federal records retention laws. Clinton's defenders have stated that her practices broke no laws.
[button link="http://dailysignal.com/2014/10/15/19-times-documents-went-missing-government-didnt-want-know/"]Read 19 Times The Govt. Withheld Docs It Didn't Want You To See[/button]
The habits of Clinton and some of her top aides have been questioned in the past. A former Deputy Assistant Secretary of State says that he witnessed an operation in the basement of the State Department while Clinton was Secretary of State that aimed to "separate" out Benghazi-related documents that could be embarrassing to Clinton or her staff. Clinton and her aides–two of whom were said to be present: Cheryl Mills and Jake Sullivan–did not respond to the allegations when asked, and it appears there has been no official federal investigation into the claims.
In an unrelated case involving missing documents that was brought against the FBI in 1997, a federal judge found no obstruction or conspiracy but referred to the conduct of Clinton confidant Mills–then a White House official–as "loathsome." The judge faulted Mills for making "the most critical error in this entire fiasco": learning of missing White House emails but not taking proper steps to resolve the situation.
A former federal official has also claimed Mills was involved in a form of document sorting in the past.
In the current controversy, the Benghazi Committee says that it has issued preservation letters to internet firms informing them of their legal obligation to protect all relevant documents.
[quote]"As Chairman [Trey] Gowdy [R-S.C.] noted, former Secretary Clinton has left herself in the unique position of being the only one to determine what records the American people are entitled to. This has significant negative implications for transparency and government oversight, as well as for media and others who have a legitimate interest in understanding the Secretary's time in office."–House Benghazi Committee[/quote]
In a statement, a committee spokesman added, "The former Secretary's tweet does not answer questions about why this was not done when she left office, the integrity of the emails while she controlled them, the scheme to conceal them, or the failure to provide them in logical course. The Chairman has said the former secretary is welcome to and should release all of her emails, but legitimate investigations do not consider partial records. And that is the point of the subpoena issued yesterday by the Benghazi Committee."
Clinton ally David Brock, head of the liberal blog Media Matters and Chairman of the Board at the Citizens for Responsibility and Ethics in Washington (CREW), is among the political operatives rushing to Clinton's defense. In a appearance on MSNBC this week, Brock deployed his common tactic of demanding a retraction from the news outlet publishing the revealing information about Clinton–in this case, the New York Times.
Brock suggested that, like everyone reporting on Benghazi matters, the New York Times has been "snookered by the Benghazi folks."
[button link="http://www.mediaite.com/tv/morning-joe-battles-david-brock-over-clinton-emails-what-planet-are-you-on/"]See Clinton Ally, Media Matters' David Brock, on MSNBC[/button]
[button link="http://dailysignal.com/2014/09/15/benghazi-bombshell-clinton-state-department-official-reveals-alleged-details-document-review/"] Read: Story on Alleged Benghazi Basement Document Operation[/button]
[button link="http://dailysignal.com/2014/10/15/account-benghazi-document-sifting-sounds-familiar-career-public-servant/"]Read: Story on Past Document Cases Involving Clinton Confidant[/button]