The following is a news analysis
The FBI has reversed its decision to withhold information from the released transcript of the 911 calls made by the Islamic extremist terrorist attacker in the Orlando shooting.
In explaining its reversal today, the FBI issued the following statement:
"The purpose of releasing the partial transcript of the shooter's interaction with 911 operators was to provide transparency, while remaining sensitive to the interests of the surviving victims, their families, and the integrity of the ongoing investigation. We also did not want to provide the killer or terrorist organizations with a publicity platform for hateful propaganda. Unfortunately, the unreleased portions of the transcript that named the terrorist organizations and leaders have caused an unnecessary distraction from the hard work that the FBI and our law enforcement partners have been doing to investigate this heinous crime. As much of this information had been previously reported, we have re-issued the complete transcript to include these references in order to provide the highest level of transparency possible under the circumstances."
[hr]The public owns information collected by the federal government, with few exceptions. Under Freedom of Information law, as well as a directive issued by President Obama when he was first elected, federal agencies are to err on the side of disclosure and only withhold in limited instances when there are extremely compelling reasons to do so as delineated by law. Unfortunately, multiple studies and investigations indicate misuse of this discretion is becoming more widespread.
"Sensitivity of victims" has been a more frequently-cited justification for withholding publicly-owned information in recent years. I encountered this phenomenon when I recently investigated a story for my program, Full Measure, about the tens of thousands of illegal immigrants imprisoned for committing crimes in the U.S., but who were released and went on to commit additional violent crimes in the U.S., including rape and murder. Families of victims told me that government officials sometimes seemed bent on protecting the interests of the accused illegal immigrants or officials whose policies had allowed the crimes, rather than the interests of the victims and the American public. They said this often involved officials withholding public information about the suspects and their immigration status, even after their conviction.
Maricopa County Attorney's Office withholding of information
I made a simple and routine request with the Maricopa County Attorney's Office for a copy of the Mesa, Arizona Quik Trip surveillance video during the murder of store clerk Grant Ronnebeck on January 22, 2014 at the hands of an illegal immigrant felon.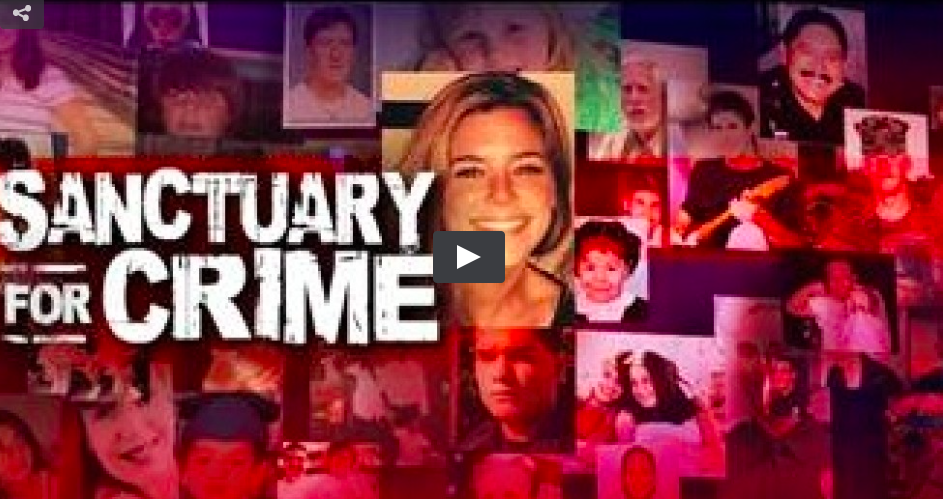 This is the response we received from Debbie MacKenzie, the Custodian of Records for the Maricopa County Attorney's Office:
[W]e don't have anything to provide. We have a responsibility to preserve and protect victims' rights and typically do not release photos/audio visual materials that will cause further harm to victims. This Public Records Request is closed.
My follow up response follows:
Thank you for your response. Prior to us filing an appeal, can you please take the following information under consideration and provide the additional information to us, as requested, as soon as possible:
We believe the material we seek is important to our reporting on an issue of great public interest; one that affects public safety. Additionally, this material is necessary in our effort to examine government conduct on issues of public safety. There are no privacy concerns at issue. There is compelling public interest in the release of the tape overrides any argument to withhold it.
Please cite the section of Arizona public records law that you believe exempts this record on the grounds of "preserving and protecting victims' rights." (We cannot find that provision explicitly expressed in the law.)
Please cite the section of Arizona public records law that you believe allows you to withhold the tape in full (rather than redacting portions of it and providing the rest.)
As you know, the victim of this case is deceased (and no longer the holder of rights that are protected). However, if you believe there is a valid statutory exemption under "preserving and protecting victims' rights" that applies to the victim's family members, your denial assumes that the family does not want the video released. Please cite the family members' impact statement or other evidence in your possession in which they have expressed they do not want the video released. (Based on your reasoning, we assume that if you receive guidance from family members that their rights are best preserved and protected by release of the video—you would promptly do so. Please explain if this is not an accurate assumption.) In addition, please indicate which victims' family members you believe carry the determining weight in expressing views of their "rights," in the event of disagreement on their part.
Even if there exists a lawful exemption under Arizona public records law to "protect and preserve" the rights of victims, and even if it applies to this case, and even if the victims have expressed they do not wish to have the tape released, we believe such an exemption would only apply to a portion of the tape and not the entire copy. For example, we have reason to believe the videotape contains images of the suspect before and after the murder, which are subject to release, even if other portions of the tape are not.
Even if there exists a lawful exemption under Arizona public records law to "protect and preserve" the rights of victims, please cite the section of Arizona state law that you feel allows you to refuse to release portions of the tape and/or still shots.
Here are a few recent examples of surveillance video being publicly released in the state of Arizona after a shooting. This appears to indicate that the reasoning you provide is inconsistent with common practice and understanding of public records law in Arizona.
March 4, 2014: Chandler, Arizona fatal store shooting
http://www.phoenixnewtimes.com/news/video-fatal-shooting-inside-walmart-store-in-chandler-6645388
May 13, 2015: Phoenix, Arizona victim shot three times
http://www.azfamily.com/story/29053063/surveillance-video-might-be-key-to-shooting-outside-internet-cafe
Dec. 31, 2014: Tempe, Arizona victim shot and killed
http://www.kpho.com/story/27735801/pd-home-where-tempe-man-was-shot-killed-was-targeted
Jan. 2014: Phoenix, Arizona store shooting
http://www.abc15.com/news/region-phoenix-metro/central-phoenix/jewelry-store-robbery-shooting-caught-on-video-shooting-suspect-pleads-guilty
Jan. 16, 2015: Scottsdale, Arizona shooting
http://phoenix.suntimes.com/phx-news/7/83/104939/raw-video-surveillance-video-of-safeway-shooting-in-scottsdale
Jan. 15, 2015: Scottsdale, Arizona shooting
http://www.azcentral.com/story/news/local/scottsdale/2015/01/16/scottsdale-officer-involved-shooting-surveillance-video-abrk/21881221/
Lastly, we believe that your rejection of our request in order to "preserve and protect victims' rights" is akin to withholding a 911 recording, videotape of a suspect confessing to violent acts in a murder case, or an autopsy report. Yet Arizona law recognizes that videotaped confessions, 911 tapes and autopsy reports are public records. We believe the video we seek falls under the same category.
Thank you for your prompt attention, as this material is necessary for news coverage of issues in the public interest and affecting the public safety.
[hr]For a time, the Maricopa County Attorney's Office was non-responsive. When we persisted, the Office ignored us, but filed a motion in court to prevent us from receiving the materials. We filed an objection, but never heard back.
Riverside County District Attorney's Office withholding of information
I encountered similar difficulties in trying to get routine 911 call recordings and crime scene photos from the death of Sheriff's Department dispatcher Dominic Durden in Moreno County, California. He was hit on his motorcycle by an illegal immigrant who had a long felony rap sheet in the U.S.
WATCH: Sanctuary for Crime Part 1
"[The illegal immigrant] had a prior felony conviction, then he had a DUI. And he got put on probation with a DUI even though he had no license, no insurance, and no registration. So then he had another DUI while he was on probation for the first DUI," when he killed Dominic, said Dominic's mother, Sabine Durden, who emigrated to the U.S. legally.
Our requests for public information in this case were also denied by The Appellate Unit of the Riverside County District Attorney's Office. The Office argued, among other things, that the public interest was somehow served best by nondisclosure. And the Office told us that even in cases where the investigation is entirely closed, we are not entitled to access the material; even that which was subject to discovery (disclosure) in a criminal case.
This is, in my opinion, a shocking abuse of public authority to improperly withhold public material.
It begins to look as though officials are protecting their own interests, rather the public's, on matters that could make the government look like it might not be doing its job as well as it could be.
WATCH: Sanctuary for Crime Part 2
That's why the discretion of government officials should largely be removed from decisions on what public material the public is allowed to access. Given the option, public officials would often choose--and do choose--to withhold material that could make them look bad. They should not have that option.
Is discretion being abused?
In some instances, public officials seem to think they are owners of our information, separate and apart from the public, rather than custodians of the information. They seem to have forgotten that material that comes into their hands, by definition, belongs to the public: not to them. Its disposition is not to be used by public officials for their own purposes and whims.
Of course, this is not to imply all public agencies are bad actors. When CDC initially refused to provide me swine flu lab test results submitted by states, I was able to get the results from each of the 50 states. (The lab tests revealed almost no swine flu among the cases the CDC had claimed to be swine flu). And for my Sanctuary for Crime series, we were able to get crime scene photos in the case of Sgt. Brandon Mendoza, the Mesa police officer hit head on and killed by an illegal immigrant driver who had been convicted of multiple crimes in the U.S. but released. The suspect had been using drugs prior to the fatal accident.
Today's FBI reversal was a good move. But we should be mindful of the steady erosion of the public's access to information at the local and federal level by officials who misuse their authority to keep the public's information hidden.