The following is a media news analysis
Is Hillary Clinton squashing Donald Trump into oblivion in the polls? Or is her lead over him perilously shrinking? One thing we know is: there are countless ways to spin a poll. Consider the case of selective reporting on the most recent Bloomberg national poll.
On Aug. 10, Bloomberg reported "Clinton up 6 on Trump in Two Way Race." But looking at the actual poll, Trump has moved so close to Clinton, the results are within the margin of error.
[quote]Notably, in five months, Clinton's lead over Trump in the Bloomberg poll has shrunk from 18-points to within the margin of error. [/quote]
In March of 2016, when likely voters were asked to choose between Clinton and Trump "if the election were held today," Clinton bested Trump 54%-36% (18 percentage points).
In June, with Libertarian Gary Johnson thrown into the mix, Clinton's lead over Trump was 5 percentage points smaller: 48% to 35% (13 percentage points).
In the most recent poll, the spread between Clinton and Trump in a two-person race was down to just 3 percentage points, Clinton at 45% and Trump at 42%. That's within the margin of error. When Libertarian and Green Party candidates are put in the mix, it's Clinton 42% and Trump 40% --again within the margin of error.
[box]
Clinton lead over Trump in Bloomberg poll
March 2016: 18 points
June 2016: 13 points*
August 2016: 3 points**
*including Libertarian in race
**within the margin of error[/box]But this notable trend isn't reflected in the Bloomberg write-up here. Instead, the reporter chose to use the poll numbers that look better for Clinton: ones that added in "leaners." What are leaners? Respondents who were first asked who they'd vote for, then answered they didn't plan to vote or didn't know who they'd vote for, and then were pressed to pick a candidate they were leaning toward, anyway. This is how Bloomberg got to the 6-point spread cited in its headline...double the actual spread of 3%.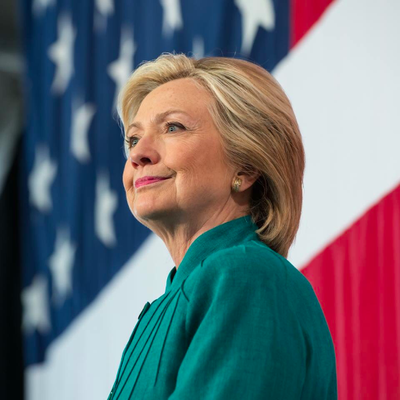 The graphic Bloomberg used in its news story appears somewhat misleading in this context. It depicts the 6-point spread as the result of the question "...for whom would you vote?" It doesn't disclose that the graphic adds in "leaners" who were asked a followup question.
The article then selects one negative factoid to highlight about Trump and use in the subheadline: "The findings suggest damage has been done to one of Trump's main calling cards, his business expertise, with 61 percent of likely voters saying they're less impressed with the Republican nominee's business acumen than when the campaign started." The 61% answer was in response to a freestanding question Bloomberg chose to ask about Trump, with no equivalent question presented about Clinton. One could envision, for example, the poll could have asked, "Since the start of the campaign, are you more or less impressed with Hillary Clinton's ability to handle the nation's secrets and sensitive information?" Odds are, such a question could have produced a number at least as negative as Trump's on business expertise. But the Clinton question wasn't asked.
In fact, the Bloomberg poll shows Trump improved in eight categories when it comes to being associated with positive phrases, while Clinton is down in eight categories. Trump improved his ratings in "Would fight hard for the middle class," "Would rein in the power of Wall Street," "Has the right temperament to be president," "Is ready to lead our country on day one in office," "Could get things done in Washington," "Would be a good role model for children," "Is trustworthy," and "Possesses the skills needed to conduct foreign policy."
Read the Bloomberg poll questions and methodology
This isn't to suggest reporting on this poll should have favored Trump; ideally, it should reflect general positives and negatives for each candidate, if they exist, and include relevant trends for context and perspective.
It's simply another reminder that what you read in the news often comes through a filter.