The following is a news media analysis and commentary.[hr]
I watched the video of Hillary Clinton as she faltered, slumped and then apparently got dragged into her van, and I felt awful. Public officials put themselves in the public eye, but to have every step and misstep analyzed the way we do today seems to be a no-win situation. I wouldn't want someone videotaping me when I had a migraine headache or--as I did several times in my 20's working in Florida--became faint and dehydrated. I join with many Americans who wish Clinton the best, and a speedy recovery from what her doctors say is a case of pneumonia and dehydration.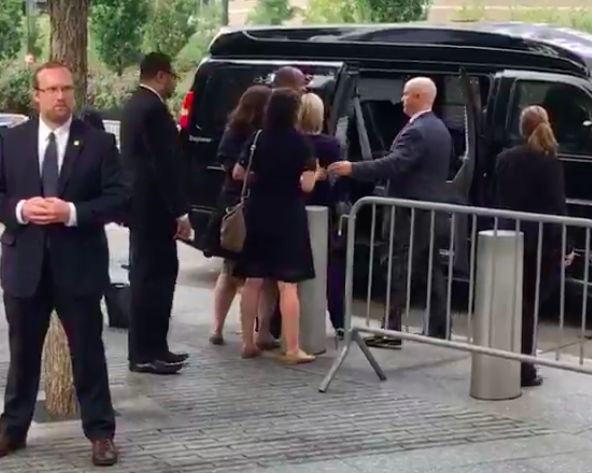 But the incident raises questions about the news media's coverage surrounding Clinton's health. Rather than reporting the facts, many in the media have taken it upon themselves to shout down the questions and to controversialize those asking them. On August 21, 2016, after Trump adviser Rudolph Giuliani suggested people research Clinton's medical state on Google, a New York Times tech columnist retorted in a tweet:
[quote]"Google should fix this. It shouldn't give quarter to conspiracy theorists." Tweet by Farhad Manjoo of the New York Times, 8/21/2016.[/quote]
In other words, the columnist was advocating that a conspiracy be committed to stop people from researching Clinton's health, which he labeled a conspiracy. Many others in the media also chimed in using the "conspiracy theory" moniker. It's designed to convince the public to tune out the discussion, in much the same way as other common astroturf terms such as "debunked," "bonkers," "tin-foil hat," "shoddy," "discredited," "quack," "bogus," "denier," and "crank."
Left-wing apparatus Vox chimed in with an article titled: "The bonkers conspiracy theory about Hillary Clinton's health." The pro-Hillary Clinton smear machine, Media Matters, chided NBC News for "mainstreaming conspiracy theories about Hillary Clinton's health." Vice picked up the theme writing, "How conspiracy theories about Hillary Clinton's health went mainstream." CNN published an article "Debunking conspiracy theories" about her health. CNN media critic Brian Stelter urged the media: "Do Not Give Oxygen To 'Conspiracy Theories' That Hillary Clinton Is 'Secretly Ill'."  HuffPost wrote, "Let's call the conspiracy theories about Clinton's health what they are…" ThinkProgress joined in with, "Trump campaign embraces conspiracy theory…" From MSNBC: "Trump, allies push conspiracy theory about Clinton's health." NPR: "Trump adds fuel to conspiracy theory about Clinton's health." You get the idea. Everybody's on the same page.
In fact, questions about Clinton's health, whether grounded or far-fetched, had little to do with supposed conspiracies.
Today, a Washington Post reporter acknowledged that he, too, had recently argued the discussion was "the stuff of conspiracy theorists." But now, in the face of the obvious, he agrees there are legitimate concerns.
[quote]Coughing, I wrote, is simply not evidence enough of any sort of major illness that Clinton is assumed to be hiding. Neither, of course, is feeling "overheated." But those two things happening within six days of each other to a candidate who is 68 years old makes talk of Clinton's health no longer just the stuff of conspiracy theorists.--Washington Post reporter Chris Cillizza[/quote]
In other words, all this was "the stuff of conspiracy theorists" until the reporters who appear to have been proven wrong, decided it was not. It's almost as if we in the media take an editorial position with no factual basis, dare critics to prove us wrong, and then when events do, we modify our stance.
That's not what the news is supposed to do. Reporters are, ideally, supposed to bring facts to light. If we relegate our role to one of spinning and trying to convince the public of our position; then end up bringing up the rear after-the-fact, what good are we?
Pneumonia is a serious disease. According to the Centers for Disease Control, each year about 50-thousand people in the U.S. die of pneumonia. While successful pneumonia treatment often leads to full recovery, it can have longer term consequences: "worsened exercise ability, cardiovascular disease, cognitive decline, and quality of life for months or years." How much does it matter? Perhaps not much. After all, any of us could drop dead tomorrow. It will be up to Americans to decide whether this is an issue that matters to their vote. It's up to the news media to try to get at the facts rather than advance either candidate's narratives.
[hr]These are some of the themes that will be addressed in a sequel to my NYT Bestseller: Stonewalled
For original reporting, watch Full Measure with Sharyl Attkisson