Nobody tells "Project Censored" what to report -- and it's out with its Most Censored News Stories of 2015-2016.
Some top picks include:
NYPD Editing Wikipedia on Police Brutality: "[C]omputers operating at One Police Plaza, the headquarters of the New York Police Department (NYPD), had been used 'to alter Wikipedia pages containing details of alleged police brutality.'" (Previously, on my program Full Measure, I reported on the Dark Side of Wikipedia and how the online encyclopedia has been co-opted by special interests, political interests and agenda editors.)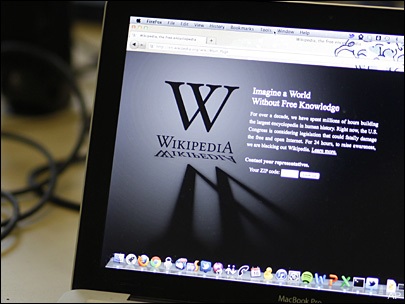 Sex Trafficking of Underage Girls in the U.S.: Though not well-reported, "sex trafficking in the US is pervasive. According to the US Department of Justice, human trafficking is the second-fastest-growing criminal enterprise after drug trafficking, with minors constituting roughly half the victims in the US. In 2015, over 4,100 of the 5,544 trafficking cases reported to the National Human Trafficking Resource Center's hotline involved sex trafficking."
[quote]Sex trafficking is also a major component of the underground economy in many American cities.[/quote]
Over Three-Quarters of Freedom of Information Act Requests Not Fully Answered: FOIA currently qualifies as a near failure in terms of allowing the public access to the information it owns. "President Obama promised greater governmental transparency...In practice, the Obama administration has set a record for failures to find and produce government documents in response to Freedom of Information Act (FOIA) requests. As Ted Bridis and Jack Gillum reported for the Associated Press's Big Story...wrote, "People who asked for records under the law received censored files or nothing in 77 percent of requests, also a record." The 77 percent figure represents a 12 percent increase, compared with the first full year after President Obama's election.
US "Vaccine Court" Has Paid over Three Billion Dollars to Vaccine-Injured Families: Amid the government and pharmaceutical industry propaganda that seeks to halt any discussion of vaccine risks, few people know that it's taxpayers who pick up the tab for drug company vaccine injuries under a little known arrangement drug companies made with Congress in a special vaccine court. "Since 1988, the US government has paid $3.2 billion to 4,150 individuals and families for injuries and deaths attributed to shots for flu, diphtheria, whooping cough, and other conditions. Though vaccines 'remain one of the greatest success stories in public health,' Tracy Seipel reported, 'for some Americans, rare side effects of inoculations have led to hardship, serious injury, and even death'." (My vaccine-related stories and CDC government resources can be found here.)
Censored 2017: Fortieth Anniversary Edition
Read more at Project Censored
[hr]
Preorder my new book The Smear, a sequel to my NYT bestseller Stonewalled.