Above: Yates Hazlehurst (right) with personal aide Lane Hodges[hr]
The following is an update of a story first published Oct. 19, 2016[hr]
The father of an autistic child has filed a federal lawsuit against the Centers for Disease Control (CDC) in his son's medical malpractice case. Rolf Hazlehurst is attempting to force CDC to let a vaccine whistleblower scientist, Dr. William Thompson, testify in the case of 17-year old Yates Hazlehurst. Dr. Thompson, a senior scientist at CDC has told Congress that he and his CDC colleagues manipulated data and destroyed evidence to downplay a link their study discovered between autism and vaccines in African American boys. CDC had earlier blocked Dr. Thompson from testifying.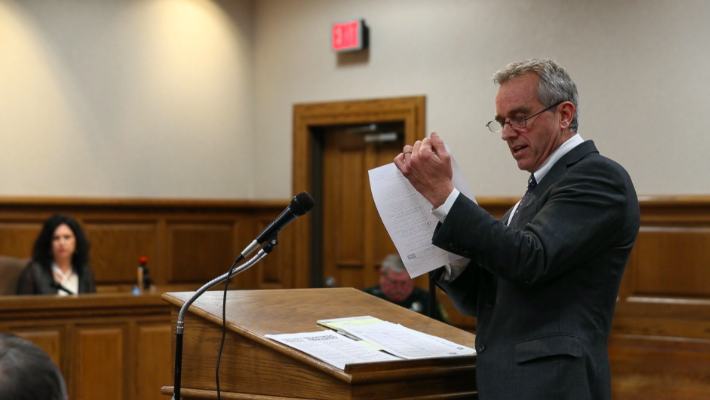 Hazlehurst is represented by Robert F. Kennedy, Jr., Bryan Smith and the law firm of Morgan and Morgan.[hr]
Original story follows
A current senior scientist at the Centers for Disease Control (CDC), William Thompson, stunned the scientific community in 2014 when he confessed that he and his colleagues have allegedly conspired to cover up or downplay links between vaccines and autism, particularly in African American boys. Thompson alleges their actions included literally sorting through and throwing away data that they didn't want made public. However, Thompson revealed he saved original copies of the material in a safe, contacted an attorney, and sought whistle blower protection. He has provided the material to Congress. Pharmaceutical industry interests have successfully lobbied to prevent hearings and investigations into the alleged scientific fraud. (The accused CDC officials--William Thompson's colleagues--deny they did anything unethical or illegal.)
Read CDC vaccine safety information here
Now comes word that CDC Director Thomas Frieden has blocked Thompson from testifying in a medical malpractice case brought on behalf of 16-year old Yates Hazlehurst alleging that Yates' autism resulted from vaccine injuries.
Read more about the Hazlehurst case from Robert F. Kennedy, Jr. here
Read "autism" listed as possible adverse event on vaccine warning label here
In blocking the testimony, the CDC said it was not necessary or relevant to the Hazlehurst case. Hazlehurst's attorney Robert F. Kennedy, Jr. disagrees: "Yates, and thousands of others, lost their cases in the National Vaccine Injury Compensation Program because the CDC and Justice Department submitted fraudulent science wrongly denying the vaccine-autism link." He and his co-counsel say they will appeal the CDC's decision.
Read the CDC's recommended vaccine schedule here
Most children who receive childhood vaccinations are not injured. However, a small but significant minority suffers severe reactions including brain damage and death. Federal vaccine court compensates certain accepted injuries but the government has long carved out autism, claiming it's not one of the brain damage injuries that can result from vaccines. On the other hand, the government has compensated many brain damage cases of autistic children when the term "autism" isn't used in the legal arguments. Further, the government secretly settled a landmark vaccine-autism case and ordered it sealed, meaning other families wouldn't learn of it. But the case leaked out to the public.
Read about $3.4 billion in federal vaccine injury awards here
In 2014, a top CDC official acknowledged to me that vaccines may rarely trigger autism in a susceptible group of children.
Hear the interview with CDC official about vaccines possibly triggering autism here
The pharmaceutical industry, government and astroturf groups have lobbied hard to deny, discredit and controversialize the notion of any such ties. When Hazlehurst's representatives hired the public relations service "PR newswire" to issue a press release on the case this week, PR newswire reportedly insisted on heavy edits (see below), including claiming the Hazlehurst case "has nothing to do with" the press release, even though it's the legal case for which the CDC testimony was blocked.
Read about top astroturfers here
Read about CDC addressing concerns about autism and vaccines here 
Read more vaccine safety stories here
Read about peer-reviewed published studies suggesting a link between vaccines and autism here