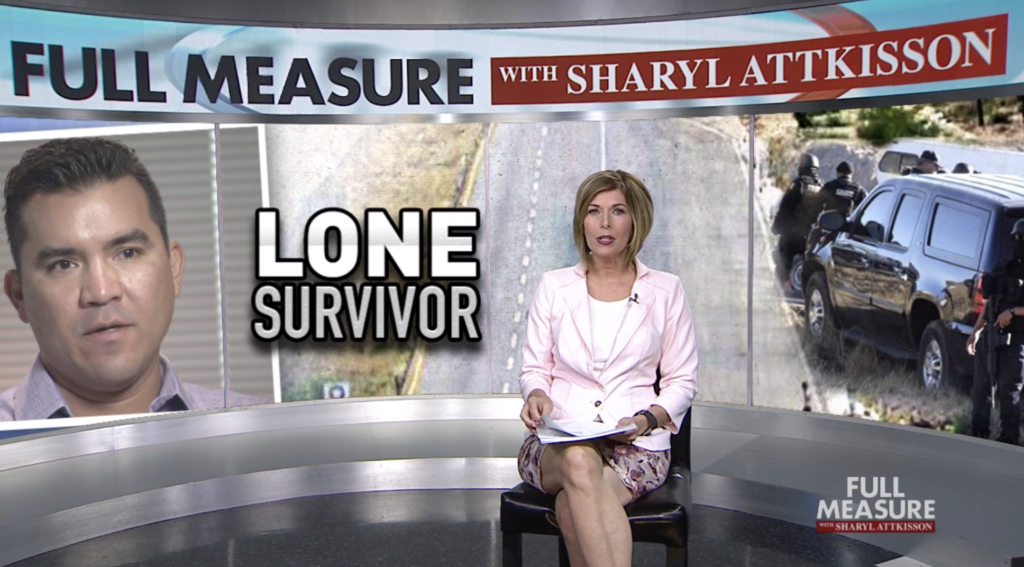 Victor Avila was a special agent with US Immigration and Customs Enforcement or ICE in Mexico. On February 15, 2011, he and fellow ICE Agent Jaime Zapata got an unusual assignment: a task that required them to travel an infamous Mexican highway to pick up equipment. 
This is the story of how Zapata was murdered by cartel thugs, the connection to Fast and Furious, and the mystery that still remains.
Watch the video investigation at the link below, which first aired on Full Measure Oct. 2017. The transcript follows.
Victor Avila: Lone Survivor--a Full Measure investigation
Today we investigate the incredible case of a US federal agent who survived a brutal attack by Mexican drug cartel thugs. It shows how violent cartels are wreaking havoc south of the border. But it also says a lot about serious shortfalls inside the US government which is still stonewalling on unanswered questions -- nearly eight long years later.

Victor Avila: I fought the assignment. I challenged it.
Sharyl Attkisson: You were supposed to drive down an extremely dangerous and maybe forbidden road, right?
Victor Avila: Correct.
Victor Avila was a special agent with US Immigration and Customs Enforcement or ICE in Mexico. On February 15, 2011, he and fellow ICE Agent Jaime Zapata got an unusual assignment: a task that required them to travel an infamous Mexican highway to pick up equipment.
Sharyl Attkisson: And the assignment was unusual because there was an edict not to travel on that road, is that correct?
Victor Avila: Correct. The U.S. Ambassador to the Regional Security Office of the U.S. Embassy had issued a notice of alert, prohibiting all U.S. personnel to drive on Highway 57 northbound, specifically to Monterrey.
Sharyl Attkisson: Because the cartels control that highway.
Victor Avila: Correct. There was numerous amounts of violence and shootings involving the Mexican government and military and the cartels.
Sharyl Attkisson: Why would you be sent on an assignment that's so dangerous, that defies instructions?
Victor Avila: I don't know.
Not only that, they were sent on the forbidden road without the normal armed escort vehicle. So they were all alone, on the way back with Agent Zapata driving, when two SUVs approached and forced them off the highway. Zetas cartel members surrounded them, shoved the barrels of a handgun and an AK47 rifle into their slightly cracked-open window and opened fire.
Victor Avila: During the shooting I saw Jaime get hit. He said: I'm hit, I'm shot. The handgun was shooting. I grabbed the handgun and burned my hand trying to stop it from shooting. And I tell Jaime, go, go, go, go. Like step on the gas. Jaime was already severely wounded and he, I grabbed the handle from the Suburban. I slammed it down in gear and pushed his right leg onto the accelerator. The Suburban went into the median of Highway 57.
Sharyl Attkisson: At what point did you get shot?
Victor Avila: I was shot during that time, I didn't realize. I didn't know that I had been shot. I was bleeding profusely from my chest and my leg and I had a lot of shrapnel and glass from my face.
911 Call: This is Victor Avila from ICE. We are shot! We are shot! We are on the highway.
Over 100 rounds were fired. Agent Zapata didn't make it. That's Avila in a wheelchair at the funeral. This past July, Avila and his family were there when the final two of seven known attackers were convicted in Washington D.C. federal court. But that hardly closed the book on unfinished business. Like why the feds were investigating but didn't manage to stop, two suspects who trafficked some of the murder weapons. In 2012, I first uncovered internal case files showing that in June 2010, the government opened a case named 'Baytown Crew' against this Texas man, Manuel Barba. According to documents, while under federal investigation, Barba took delivery of ten AK47s. Federal agents even recorded Barba talking of having sent the firearms to Mexico and obliterating the serial numbers before they were trafficked. One of those weapons was used in the shooting incident which killed Special Agent Zapata according to court documents. Meantime, federal agents were also investigating another suspect, Otilio Osorio, as he trafficked a different weapon used in the shooting.
Victor Avila: I was very familiar with Fast and Furious and was following it. I never knew that we would end up being somewhat tied to that.
Avila sees an eerie similarity to the government's Fast and Furious scandal that was unfolding at the exact same time. In Fast and Furious, federal agents secretly allowed thousands of weapons to be trafficked to Mexican drug cartels. One was used in the murder of Border Patrol Agent Brian Terry, not long before Agents Avila and Zapata were shot.
Victor Avila: We want answers from the assignment, why the ICE supervisors and the U.S. Embassy ignored the alert from the U.S. Ambassador. Why they put us on this road without any operational plan, without an escort. What specifically did the government know and evade and cover-up about the transmission of those weapons to Mexico?
When Avila got stonewalled, Congress demanded the Inspector General investigate and Avila filed a civil suit against the government. Meantime, he returned to work but says he was marginalized, repeatedly transferred against his wishes, and eventually felt forced to retire.
Victor Avila: I never, never imagined that the treatment would be what, what it is. I never expected and I never felt entitled to any special treatment after being shot. All I wanted was to continue with my life and possibly my career. But my career ended that day.
In March, years after Congress demanded an investigation, the Inspector General finally issued a report. Incredibly, it found that Barba was a known criminal in federal custody before he trafficked one of the murder weapons. He was let loose because the feds wanted to use him as an informant. But that left Barba free to lead the Baytown Crew trafficking ring that sent firearms to Mexican drug cartels, including one used in Agent Zapata's murder. All these errors had significant consequences, concluded the IG.
Victor Avila: To this day, I, I don't know of anyone being admonished, held accountable at all, to this day.
Documents Avila says are crucial for his lawsuit were kept secret as part of President Obama's unusual Fast and Furious claim of executive privilege.
Victor Avila: To this day we have not received any documents related to either the firearms or any of the investigative documentation related to our shooting.
Sharyl Attkisson: Are these documents part of what's been withheld after President Obama issued an executive privilege claim?
Victor Avila: That's correct.
Sharyl Attkisson: There is a new President. There is a new Attorney General. How come you can't get the documents now?
Victor Avila: We're trying. We're trying and my goal is to have this new administration lift that order and allow us the ability to view all the documents and get answers to our questions.
Sharyl Attkisson: What are people to make of the story that you've told and things that happened to you?
Victor Avila: I believe part of my duty as a survivor is to continue to tell the story. It's important for me that Jaime's death not go in vain. He paid the ultimate sacrifice for his country. And we deserve answers just like the Zapata family deserves answers.
The Department of Justice did not respond to our request for comment. There has been no movement on Agent Avila's request for additional documents. The men convicted in July are expected to be sentenced next month.
11/19/2017 Update: Seven Mexican drug cartel thugs found guilty of shooting Avila and murdering his partner have been sentenced to terms ranging from 12 years to life in prison. Two suspects in the shootings received life in prison. Avila called the lesser sentences given to five other suspects a "complete and utter disappointment."
To help fight government overreach, support Attkisson v. Dept. of Justice/FBI over the government computer intrusions. Click here to support.