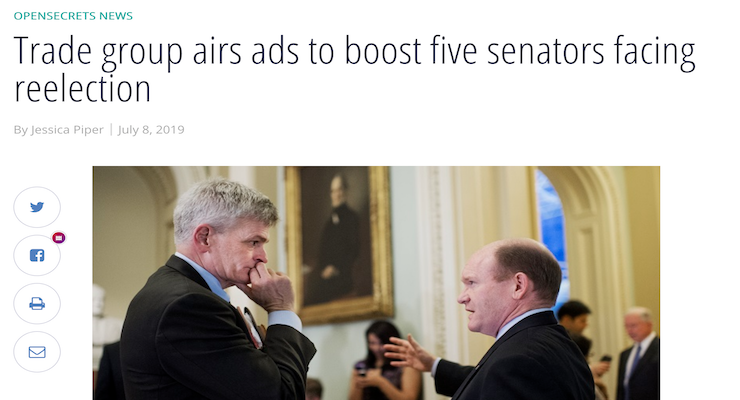 A trade group that represents more than 200 chemical companies will spend over $150,000 in July to support five senators up for reelection next year. That's according to OpenSecrets.org, which tracks political campaign spending.
OpenSecrets.org lists the five senators as: Dan Sullivan (R-Alaska), Chris Coons (D-Del.), Bill Cassidy (R-La.), Steve Daines (R-Mont.) and Mike Rounds (R-S.D.).
The American Chemistry Council has also reportedly spent to spend $1.3 million on lobbying just during the first quarter of 2019.
The American Chemistry Council is a 501c6 organization. Under IRS rules, such organizations are not permitted to be primarily politically motivated. However, OpenSecrets.org says some 501c6 organizations bend the rules and put 49% of their money towards a political cause... which technically isn't "the majority" of what their funds are spent on. Millions of the American Chemistry Council's dollars have gone towards political purposes as of 2017, according to OpenSecrets.org
Environmental groups have accused the American Chemistry Council of manipulating a Lautenberg Chemical Safety Act, which gave the EPA more power to ban potentially dangerous chemicals, but did not give it sufficient funding to do so without primarily considering the cost to companies.
The full article on the trade group can be read here: Trade group airs ads to boost five senators.