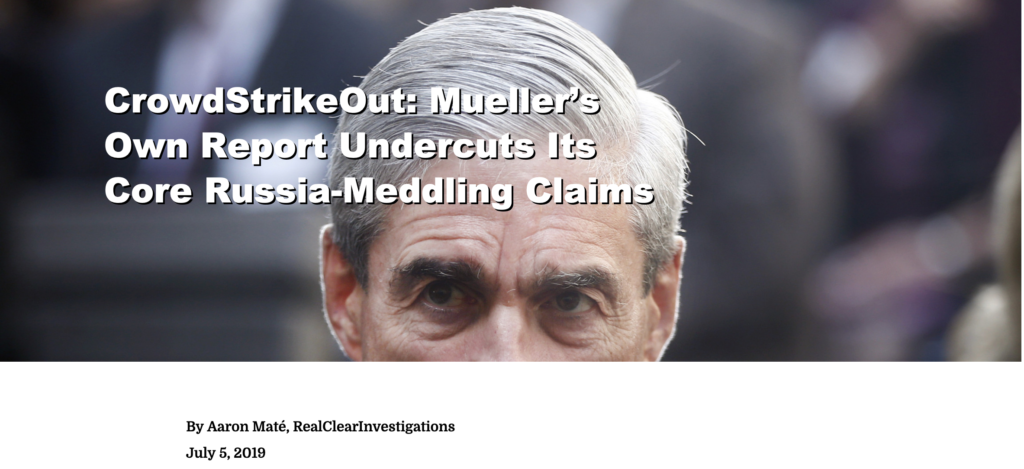 Sensational news headlines after the release of Special Counsel Robert Mueller's report on Trump-Russia collusion often missed the mark. That's according to an investigation by RealClear Investigations entitled: "CrowdStrikeOut: Mueller's Own Report Undercuts Its Core Russia-Meddling Claims."
Further examination of the Mueller report, according to RealClear Investigations, shows that the sensationalist headlines don't hold up under scrutiny and are undermined further by conflicts of interest:
There is no evidence to support Mueller's claim that the Kremlin helped President Trump get elected.
Mueller's investigators do not actually know how stolen Democratic Party emails were transferred to WikiLeaks.
The report "does not allege that the Russian government carried out a nefarious social media campaign."
U.S. intelligence cannot make absolute conclusions regarding the hacking of Democratic National Committee servers, because the servers were not analyzed by a neutral party.
You can read the RealClear Investigations article here: CrowdStrikeOut.
Fight improper government surveillance. Support Attkisson v. DOJ and FBI over the government computer intrusions of Attkisson's work while she was a CBS News investigative correspondent. Visit the Attkisson Fourth Amendment Litigation Fund. Click here.