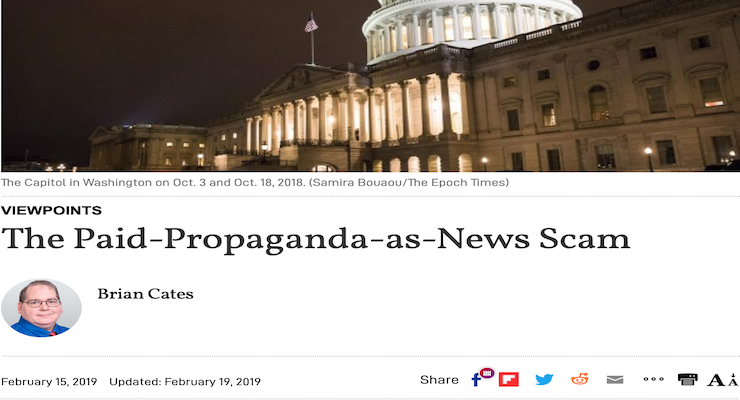 You see it all the time, but you might not have heard of it: paid-propoganda-as-news - or as we'll use the Epoch Times' abbreviation, PPAN.
PPAN is exactly what it sounds like. An interested party pays news outlets piles of cash in order to have them air a biased story. People, corporations, and even countries can pay off news outlets to air biased material. Brian Cates of The Epoch Times wrote an article detailing how he says this can happen.:
Here's how the 'disguise our paying client's propaganda as our own news coverage' scam works: Let's say you're a fabulously wealthy Saudi prince who doesn't like the recent direction that Mohammad Bin Salman has been taking your country for the past few years, and you'd like to try to influence American public opinion and—by extension—U.S. foreign policy toward Saudi Arabia. What you do is, you pay one of these political operative firms big money to get your point of view published in U.S. news outlets.

Brian Cates - The Epoch Times
The next question you probably have is "how can we tell if something is paid propaganda or real news?" As of right now, Cates says, it doesn't look like there's an easy way. He says best way is to do your own research. If a news piece involves a "juicy narrative with a lot of inside details" about power dynamics between big corporations, countries, or even internal American affairs, do a little digging of your own before coming to a conclusion, he advises.
The rest of Brian Cates' article can be read here: Paid Propaganda as News.