Newly-released documents provide details from investigators who worked in Obama administration's Intelligence Community Inspector General's office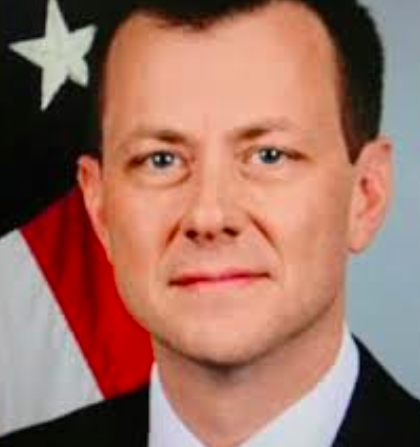 Almost all of Hillary Clinton's emails were surreptitiously sent to mysterious email address.
Foreign hack suspected... and it isn't the Russians.
FBI's Peter Strzok says he doesn't recall investigators telling him of suspected national security breach.
Clinton State Dept. officials allegedly sought to manipulate email classifications.
Investigators in Clinton email probe were followed, burglarized.
---
During the 2016 election year, Intelligence Community investigators briefed the FBI, including lead agent Peter Strzok, on China's possible hack into Hillary Clinton's private server, but got the cold shoulder.
That's according to newly-released documents. They include summaries of transcribed interviews with two former Intelligence Community Inspector General investigators: Frank Rucker and Jeanette McMillian.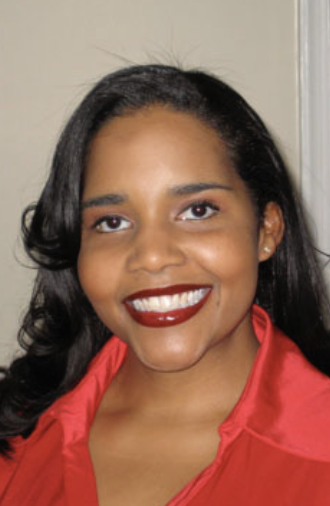 In February 2016, while working for the Intelligence Community Inspector General, Rucker and McMillian had identified a possible national security breach in the Clinton email probe. It was a strange email address found in the metadata within almost every one of more than 30,000 government emails Clinton improperly routed through her private server as secretary of state.
The email address was "Carterheavyindustries@gmail.com."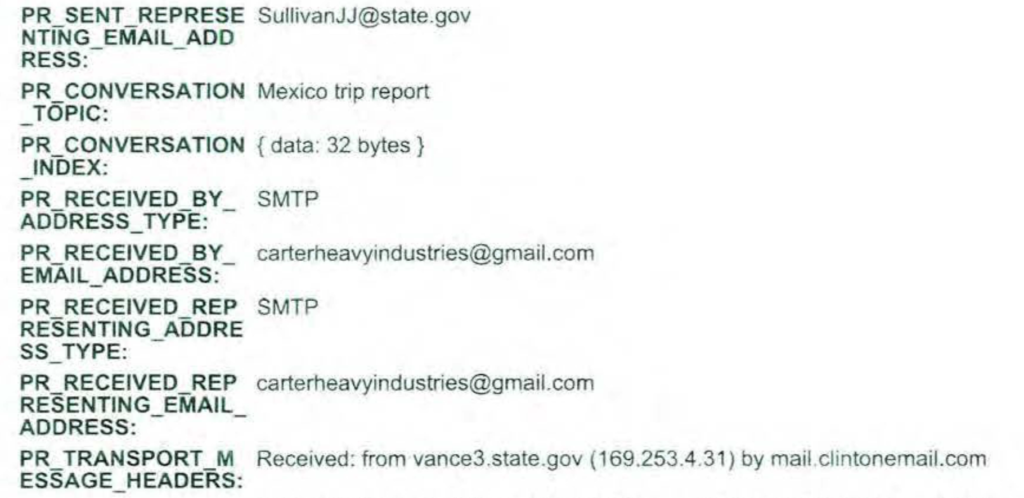 ---
Rucker and McMillian found that nearly all of Clinton's sent and received emails were surreptitiously routed to that mysterious address. Based on their research, they suspected it was a secret repository or "live dropbox" installed by Chinese interests.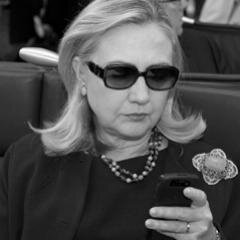 According to their testimony to Congressional investigators last December, but first made public this week, Rucker and McMillian drew the important anomaly to the attention of the FBI in February 2016 at a meeting that included agent Peter Strzok, whom Rucker described as "aloof and dismissive."
FBI agent Peter Strzok was 'aloof and dismissive' during a February 2016 meeting with Intelligence Community investigators who informed him of a possible national security breach of Hillary Clinton's email server containing classified government documents.

Frank Rucker, Intelligence Community Inspector General investigator
Rucker said when he informed Strzok of the potential Chinese hack, Strzok seemed "nonplused" by the information and didn't ask any follow-up questions.
Rucker and McMillian say when they briefed other FBI agents, the agents remained "poker-faced," indicated they were already aware of the issue, and questioned Rucker and McMillian about how they found it.
McMillian testified that she and Rucker, "let the FBI know that [Intelligence Community Inspector General] was not trying to do the FBl's job and that they only found it by means of protecting [Intelligence Community Inspector General] assets and sources."
Rucker and McMillian say they never received any follow up and do not know what work the FBI did regarding the breach.
Based on Congressional testimony from Strzok, it is possible the FBI did nothing.
Remarkably, Strzok testified he doesn't even recall receiving the information about the suspected Chinese hack from the Intelligence Community Inspector General investigators.
At a Congressional hearing in July 2018, Rep. Louis Gohmert (R-Texas) asked Strzok about his meeting with Intelligence Community Inspector General investigator Rucker in February 2016.
Strzok: I remember meeting Mr. Rucker on either one or two occasions. I do not recall the specific content or discussions.
Rep. Gohmert: Mr. Rucker reported to those of you, the four of you there, in the presence of the [Intelligence Community Inspector General] attorney, that they had found this anomaly on Hillary Clinton's emails going through their private server, and when they had done the forensic analysis, they found that her emails, every single one except four, over 30,000, were going to an address that was not on the distribution list. It was a compartmentalized bit of information that was sending it to an unauthorized source. Do you recall that?
Strzok: Sir, I don't.
Rep. Gohmert: He went on the explain it. And you didn't say anything, you thanked him, you shook his hand.
To try to learn more about the possible hack, the Department of Justice Inspector General subpoenaed Paul Combetta, the man who administered Clinton's server, for documents regarding the suspicious email address. Combetta's counsel responded that Combetta had no relevant documents and that "Carterheavyindustries@gmail.com" was "a made-up name."
Combetta is the Clinton associate who, in March 2015, permanently deleted a large number of Clinton's emails after they had been subpoenaed by Congress. He used special software to prevent their forensic recovery.
Combetta declined to be interviewed by the Justice Department Inspector General (DOJ IG). Combetta and two other computer experts who worked on Clinton's private email server, Bill Thornton and Bryan Pagliano, asserted their Fifth Amendment right not to testify to Congress in the investigation. Pagliano and Combetta were ultimately granted immunity from prosecution by the Justice Department.
Two attorneys who worked for Clinton also received immunity: Cheryl Mills and Heather Samuelson. So did John Bentel, head of the State Department information resources management office when Clinton was secretary of state.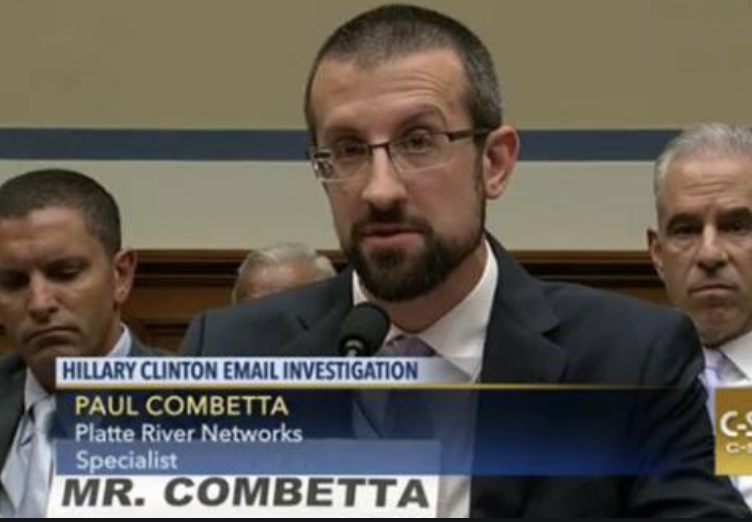 The newly-released documents also confirm the FBI discovered compromises to email accounts of numerous Clinton associates who emailed her, including adviser Sidney Blumenthal and State Department official Jake Sullivan.
Ultimately, then-FBI Director James Comey concluded that while Clinton was grossly negligent in mishandling classified government information on an unsecured, personal server, her abuses were not intentional and she should not be charged with any crime.
Alleged State Dept. attempts to manipulate classification of Clinton's emails
Besides the startling news that Strzok, the lead agent in the FBI Clinton email investigation, doesn't recall the conversation about the possible Chinese hack, there is other new information contained in the documents released Wednesday.
There were deliberate efforts by State Department loyalists to manipulate the classification level of documents, according to Rucker and McMillian. They say the senior Obama State Department officials sought to "downgrade classified material" to reduce the perceived volume of classified, government information discovered on Clinton's unsecured, private server.
The State Department officials they named include Austin Evers, Catherine Duval and Ambassador Patrick Kennedy.
Rucker says that in one meeting, the State Department's Kennedy threw documents across the table at him asked, "Why does this need to be classified?"
Whistleblower career employees within the State Department also reportedly notified the Intelligence Community that others at State involved in the review process deliberately changed classification determinations to protect Secretary Clinton.

Senate Republican staff memo dated Aug. 14, 2019
This is not the first time that State Department officials have been accused of tampering with documents in order to protect Clinton.
During the investigation into the Obama administration's handling of the Islamic extremist terrorist attacks against Americans in Benghazi, Libya in 2012, it was alleged that Clinton loyalists at the State Department took part in an after-hours review and separation of subpoenaed documents.
Read: Clinton officials take part in after-hours Benghazi review in State Dept. basement, according to former State Dept. official
According to the whistleblower, former State Department diplomat Raymond Maxwell, he witnessed the session on a weekend in the basement of the State Department.
Maxwell told me that two Clinton confidents were present: Cheryl Mills, Clinton's chief of staff and a former White House counsel who defended President Bill Clinton during his impeachment trial; and Deputy Chief of Staff Jake Sullivan, who previously worked on Hillary Clinton's and then Barack Obama's presidential campaigns. Mills and Sullivan had no comment when contacted for the news report on the subject.
Maxwell says no law enforcement officials ever interviewed him about the alleged "document sorting."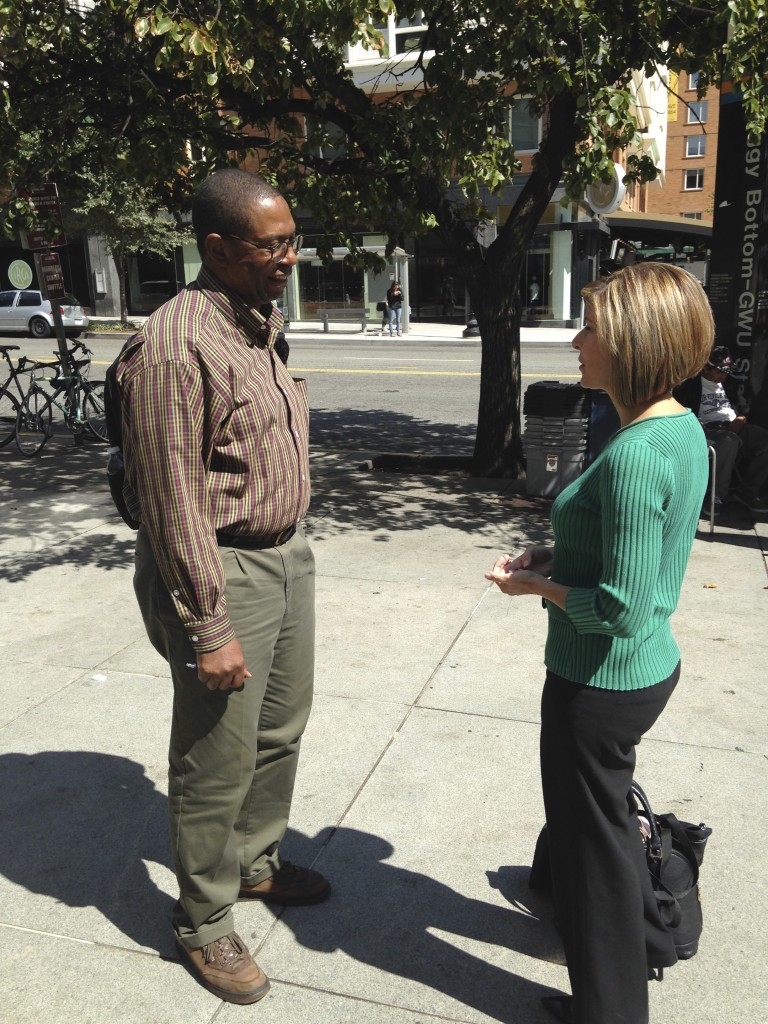 Govt. watchdogs were followed, burglarized during Clinton email probe
Also within the newly-released documents are chilling disclosures from the investigators at the Intelligence Community Inspector General's office working on the Clinton email probe.
Intelligence Community Inspector General Charles McCullough says he noticed a Jeep following him from the State Department to the door of his house. Another Intelligence Community Inspector General official also reported being followed by a Jeep.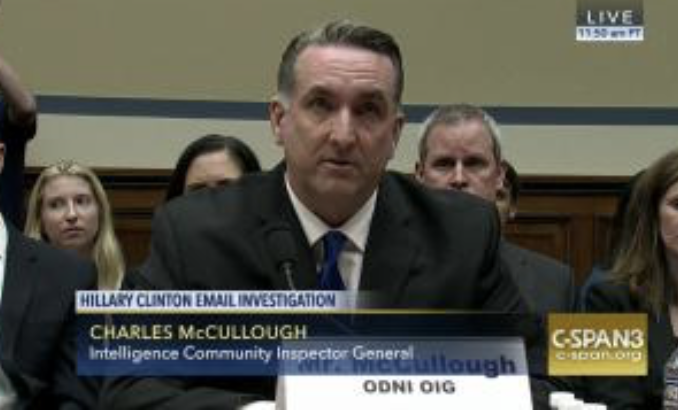 Yet another reported that he was burglarized and all his computers were stolen.
And McCullough says he discovered someone sorting through his recycling bin at home.
The newly-released documents also disclose an alleged leak within the Intelligence Community Inspector General's office.
The suspected leaker was the son of a pastor and adviser to the Clintons. However, Inspector General McCullough made the decision not to confront the official or pursue an investigation into whether he had leaked classified information, and he was not formally accused or charged with anything.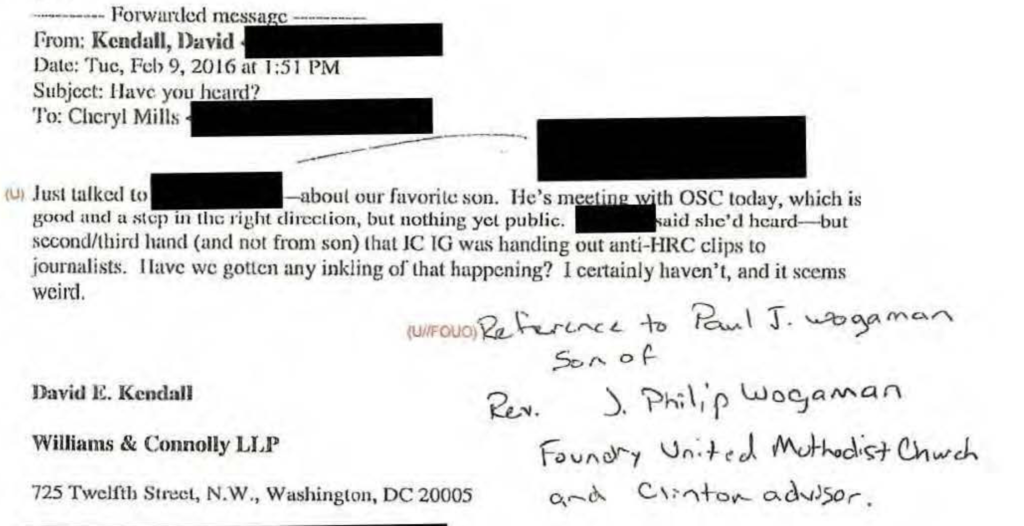 Rucker and McMillian were interviewed last December by bipartisan staff members from then-Senate Judiciary Committee Chairman Chuck Grassley (R-Iowa), Homeland Security and Governmental Affairs Committee Chairman Ron Johnson (R-Wis.), Sen. Dianne Feinstein (D-Calif.) and Sen. Claire McCaskill (D-Mo.).
The summary of their classified interview and relevant exhibits were made public yesterday by Senators Grassley and Johnson.
Strzok and former FBI official Andrew McCabe have both filed lawsuits against the Justice Department this week alleging their firings under President Trump were politically motivated.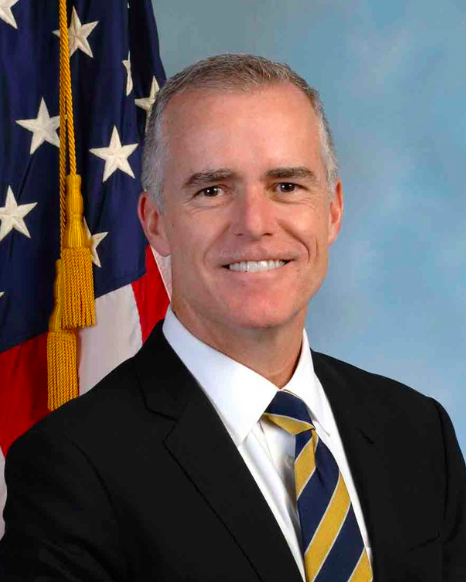 Strzok was removed from the Special Counsel investigation into alleged Trump-Russia collusion after it was learned he sent voluminous anti-Trump text messages to his alleged FBI mistress, attorney Lisa Page.
McCabe was fired after the Justice Department Inspector General found he authorized leaks in the probe into the Clinton Foundation and then allegedly did not tell the truth about them when asked by investigators.
Both men deny any wrongdoing.
---
You can find the released documents by clicking HERE.
Read more by clicking the links below:
https://www.grassley.senate.gov/news/news-releases/chairmen-renew-request-answers-outstanding-questions-fbi-handling-clinton-email
https://www.grassley.senate.gov/news/news-releases/grassley-inquires-about-possible-conflicts-interest-foia-exemption-process-state
DOJ IG: FBI Failed to Review Classified Info 'Potentially Relevant' to Email Investigation before Exonerating Clinton