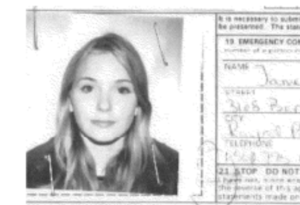 No sexual accusations against Presidents Clinton or Trump
New, notable personalities named, including big money political donors
New flight records, photos, book receipts, message records
---
Thousands of pages of documents regarding sexual predator Jeffrey Epstein were unsealed and released Friday, the day before Epstein reportedly committed suicide in New York's Metropolitan Correctional Center, a U.S. federal facility.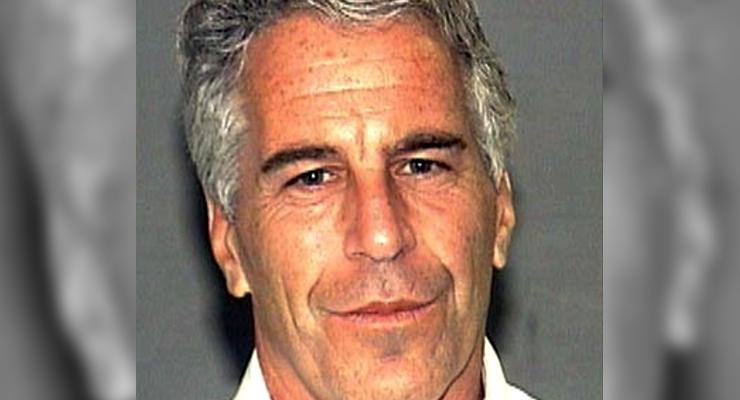 More documents are under court review for possible release.
The court considers any claims in the documents to be unproven allegations that are in dispute.
This article answers some basic questions about the documents and the notable personalities mentioned in them.
What are the documents from?
The documents are from a now-closed 2015 federal defamation case filed by an Epstein victim, 36-year old Virginia (Roberts) Giuffre, against Epstein associate Ghislaine Maxwell.
Maxwell had called Giuffre's abuse claims "obvious lies." In Guiffre's defamation suit against Maxwell, Giuffre accused Maxwell of acting as a "Madame" for Epstein to traffic Giuffre, then 17, and other girls and young women to "The Rich and Famous." Giuffre alleged that she was also sexually abused by "numerous prominent American politicians, powerful business executives, foreign presidents, a well-known Prime Minister and other world leaders."
A key document in the batch is a 74-page filing dated January 2017, made public by the court Friday. It includes an eight-page memorandum of law, a 16-page statement, and about 700 pages of exhibits.
What was Ghislaine Maxwell's response to the lawsuit and allegations?
Maxwell denied all of the allegations, including defamation, sex abuse, sex procurement and underage sex trafficking. She said she did not know that any of the masseuses working for Epstein were minors. Maxwell settled with Giuffre in 2017 for an undisclosed sum before the case went to trial. Giuffre had already received a financial settlement from the 2008 plea deal that put Epstein in prison.
Flight logs indicate Maxwell and Giuffre were together on 23 Epstein flights, but Maxwell has said she does not recall any of them.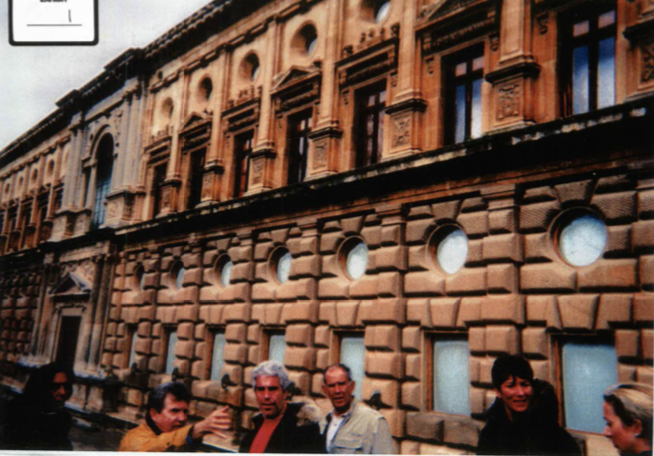 Why were the documents recently released?
The documents were released as a result of a lawsuit filed by former Epstein lawyer Alan Dershowitz, a Harvard law professor. In 2016, Giuffre began to include Dershowitz among those she said she had sex with in the Epstein ring. In a 2016 deposition, Giuffre claimed she performed oral sex on Dershowitz in a limo and had sex with him on an airplane.
Dershowitz strongly denied the allegations and stated that the documents, if released, would prove Giuffre was not telling the truth.
What do the documents say about Alan Dershowitz?
Included in the documents is an email showing a reporter that appears to suggest to Giuffre that she add Dershowitz's name to those she accused, as a way to pitch a book. The email from the reporter to Giuffre appeared to state that the claim against Dershowitz would be treated as plausible because Giuffre "probably met him." Dershowitz says that indicates Giuffre did not actually recall meeting him, let alone have sex with him.
Professor Dershowitz is pleased that these documents are finally coming to light and is confident that the truth will prevail.

Imran Ansari, Alan Dershowitz lawyer
Dershowitz also says that while he flew on Epstein's plane a number of times, it was "never, never, never, in the presence of any underage or even close to underage person."
What do the documents say about two U.S. Presidents?
Epstein once had ties to both President Clinton and President Trump. Both men claim to have broken off any friendship with Epstein years ago. It is important to note that neither Clinton nor Trump has been accused of any sexual impropriety in the Epstein case. Giuffre specifically stated in her 2016 deposition that there were no allegations of sex involving Trump.
What do the documents say about Donald Trump?
During Epstein's abuse of underage girls, Epstein was a regular customer (though not a member) at Trump's Mar-a-Lago resort in Palm Beach, Florida. Giuffre worked there and says Maxwell recruited her to provide sex and other young girls to Epstein. Earlier-released court records indicate Trump banned Epstein from the property after Trump learned of Epstein's alleged sexual abuse of a girl there.
Prior to the ban, in 2002, Trump remarked that Epstein was "terrific" and that "[Epstein] likes beautiful women as much as I do, and many of them are on the younger side."
The newly-released documents include flight records indicating Trump flew one time on Epstein's private plane. The trip was with a small group that travelled from Palm Beach, Florida to Newark, New Jersey on January 5, 1997.
Giuffre says she never saw Trump and Epstein together. She also contradicted a previous statement quoting her as saying Trump had flirted with her.
It's true that [Trump] didn't partake in any sex with us, but it's not true that he flirted with me. Donald Trump never flirted with me.

Virginia (Roberts) Giuffre, Epstein victim
What about Bill Clinton?
Epstein reportedly visited the White House numerous times while Bill Clinton was president, and the two were at the same fundraising dinner in 1995. Maxwell was reportedly a guest at Chelsea Clinton's 2010 wedding.
Clinton previously acknowledged, through a spokesman, that he took four trips on Epstein's private plane in 2002 and 2003: one to Europe, one to Asia, and two to Africa. The spokesman indicated that some of the stops were linked to Clinton Foundation work and that "Staff, supporters of the Foundation, and his Secret Service detail traveled on every leg of every trip."
One trip in the early 2000s included Epstein, Clinton, comedian Chris Tucker and actor Kevin Spacey for a tour of an African AIDS treatment center.
Other reports claimed that flight manifest records appeared to indicate Clinton took many more flights, up to 27, on Epstein's plane from 1999-2005.
In a deposition released with the new documents Friday, Giuffre said she flew on jets with Clinton and said she believed Clinton also flew on Epstein's private helicopter, though she said she did not personally witness the helicopter travel. Giuffre testified that Clinton's Secret Service detail was present with him on flights, though not physically next to him at all times.
New flight documents released Friday span from November 1995 through August 2013.
President Clinton knows nothing about the terrible crimes Jeffrey Epstein pleaded guilty to in Florida some years ago, or those with which he has been recently charged in New York...He's not spoken to Epstein in well over a decade, and has never been to Little St. James Island, Epstein's ranch in New Mexico, or his residence in Florida.

Angel Urena, Bill Clinton spokesman (July 2019)
What do the documents say about Prince Andrew?
Prince Andrew is a member of the British royal family, the second son of Queen Elizabeth II and Prince Philip, eighth in line to the British throne. The newly-released documents include a photo purporting to show Giuffre, then 17, with Andrew.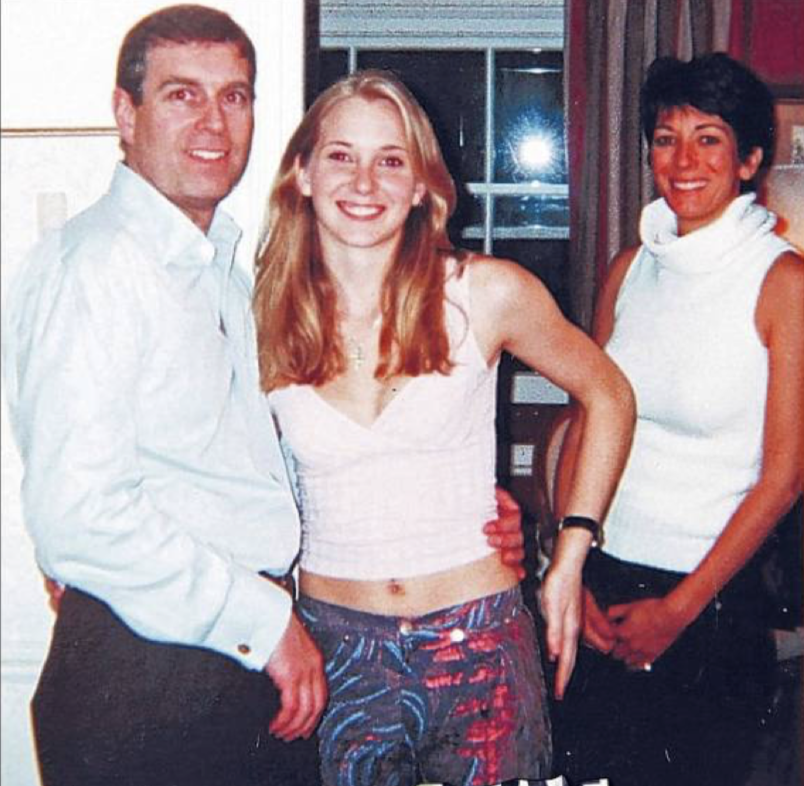 Giuffre alleges she was sent to have sexual encounters with Andrew, and described one such alleged incident in her deposition released Friday. Giuffre also says Andrew participated in an orgy with underage girls on Epstein's island of "Little Saint James" in the U.S. Virgin Islands. Andrew denies all of the claims.
In a videotaped deposition among the newly-released documents, another Epstein victim, Johanna Sjoberg, claimed Andrew touched her breast as she sat on Andrew's lap at Epstein's New York residence where they were all staying.
I just remember someone suggesting a photo, and they told us to go get on the couch. And so Andrew and Virginia (Giuffre) sat on the couch, and they put the puppet, the puppet on her lap. And so then I sat on Andrew's lap, and I believe on my own volition, and they took the puppet's hands and put it on Virginia's breast, and so Andrew put his on mine.

Johanna Sjoberg deposition
Giuffre also stated that Maxwell once asked Andrew how old he thought Giuffre was "and he guessed 17 and they all kind of laughed about it and Ghislaine made a joke that I was getting too old for Jeffrey. She said, 'He'll soon have to trade her in'."
In addition to Andrew's denials, Buckingham Palace also says any claim that Andrew committed improprieties is false.
What about Thomas Pritzker?
The Pritzer Group, of the Hyatt hotel chain, has donated to both political parties but primarily to Democrats, giving a total of $23 million in 2016, according to Open Secrets. Pritzer was Hillary Clinton's second biggest donor, giving her campaign $16.6 million in 2016.
Executive Chairman Thomas Pritzker's name was included in Epstein's "little black book" and his private plane logs. In the newly-unsealed documents, Giuffre named Pritzker as someone she was directed to have sex with in the Epstein ring.
Pritzker denies the accusations.
What information is there about Bill Richardson?
Bill Richardson (D-N.M.) is a former New Mexico governor, and U.S. Ambassador to the U.N. and Energy Secretary under President Bill Clinton. Richardson's name reportedly appeared in Epstein's "little black book" of contacts, and Richardson was said to be a guest of honor at Epstein's Zorro Ranch in New Mexico. Giuffre named Richardson as one of the powerful politicians she was directed to have sexual encounters with. Richardson has strongly denied the allegations.
These allegations and inferences are completely false...To be clear, in Governor Richardson's limited interactions with Mr. Epstein, he never saw him in the presence of young or underage girls. Governor Richardson has never been to Mr. Epstein's residence in the Virgin Islands. Governor Richardson has never met Ms. Giuffre.

Madeleine Mahony, Bill Richardson spokeswoman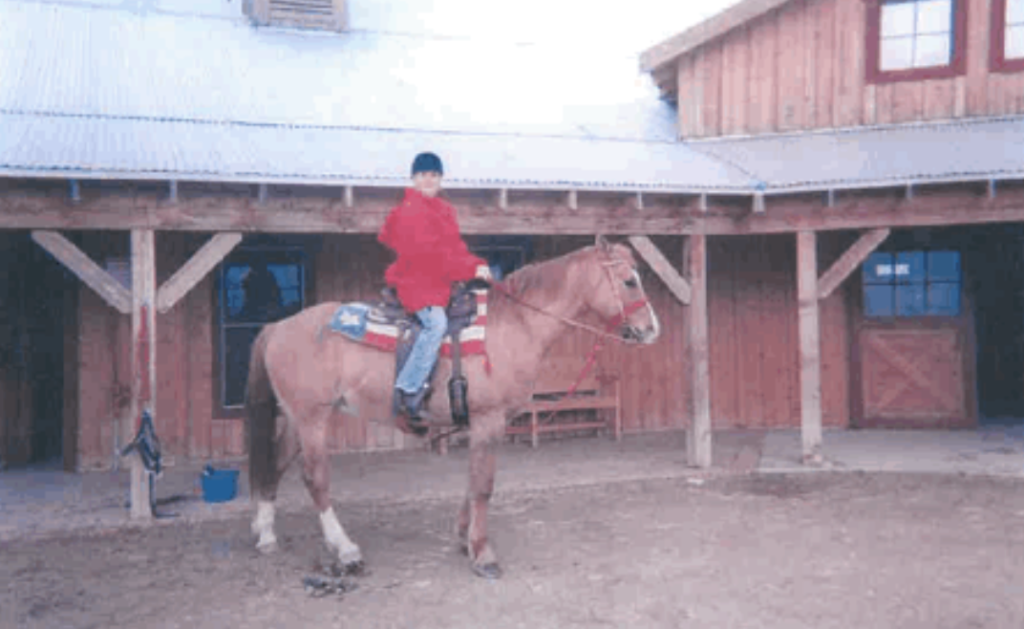 How about George Mitchell?
George Mitchell (D-Maine) is the Democrats' former leader of the Senate, and served as President Clinton's Special Envoy for Northern Ireland, and President Barack Obama's envoy to the Middle East. He once praised Epstein as a supporter of philanthropic projects and someone who had organized a fundraiser for Mitchell. In a deposition, Dershowitz stated that Mitchell was a house guest of Epstein's. Giuffre named Mitchell as one of the politicians that Epstein and Maxwell sent her to for sexual contact.
Mitchell says that allegation is false and "I have never met, spoken with or had any contact with Ms. Giuffre."
In my contacts with Mr. Epstein I never observed or suspected any inappropriate conduct with underage girls. I only learned of his actions when they were reported in the media related to his prosecution in Florida. We have had no further contact.

George Mitchell, former Clinton official
What is in the documents about Glenn Dubin?
Giuffre also named wealthy New York financier Glenn Dubin as being part of the sex ring. Dubin and his wife, Eva, were said to be close friends of Epstein's. Eva Dubin is a former Epstein girlfriend and former model. She is also a doctor and was an in-house physician at NBC.
The Dubins are listed as significant donors to both Democrats and Republicans including former Republican presidential nominee Mitt Romney, President Obama, Hillary Clinton, Richardson and former Republican presidential nominee Sen. John McCain (R-Arizona)
In a deposition released in the documents, a former house manager for the Dubins, Rinaldo Rizzo, tearfully testified that he consoled a 15-year old Swedish girl in 2005 at the Dubins' house after she said Maxwell took part in transporting her to Epstein's island and instructed her to have sex. The girl says she refused, and that Maxwell held her passport and phone and told her not to speak of the incident.
Rizzo said the young girl was "distraught and shaking... literally quivering" as she told the story.
[She said] "I was on an island, I was on the island and there was [Maxwell], there was Sarah, she said they asked me for sex, I said no." And she is just rambling, and I'm like "What?" ...And she says "Yes, I was on the island, I don't know how I got from the island to here. Last afternoon or in the afternoon I was on the island and now I'm here...She was shaking uncontrollably."

Rinaldo Rizzo recounting his conversation with 15-year old girl
The Dubins say the allegations are false.
Glenn and Eva Dubin are outraged by the allegations in the unsealed court records, which are demonstrably false and defamatory. The Dubins have flight records and other evidence that definitively disprove that any such events occurred.

Dubin family spokesperson to Daily Beast
In a statement after Epstein's more recent arrest, a spokesman for the Dubins said the couple is "horrified by the new allegations against Jeffrey Epstein. Had they been aware of the vile and unspeakable conduct described in these new allegations, they would have cut off all ties and certainly never have allowed their children to be in his presence."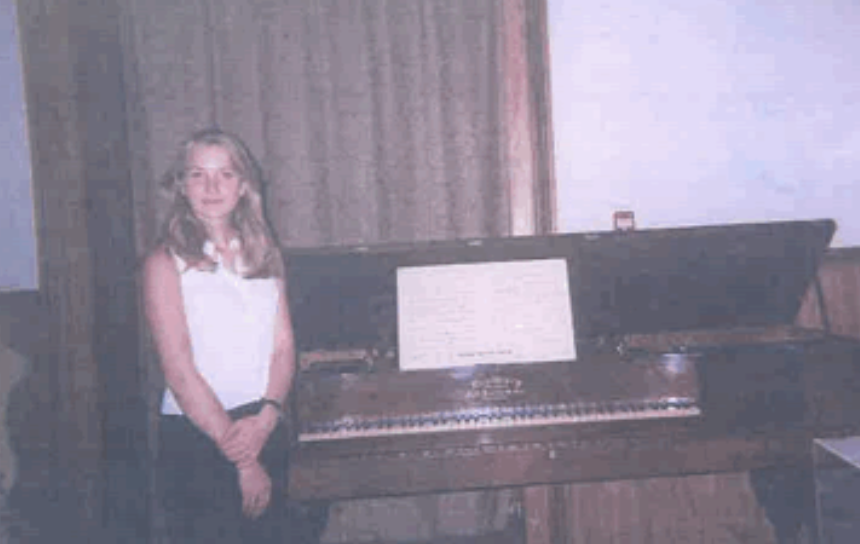 What is William Barr's involvement?
Attorney General William Barr is not accused in the lawsuit or named in any documents. In 2007, Barr was working for the same law firm that defended Epstein in his original criminal case, though Barr was not assigned to the case. Barr has recused himself from any review of the original, controversial "sweetheart" plea deal Epstein obtained.
Who else?
In her 2016 deposition, Giuffre also named former MIT scientist Marvin Minsky as someone she was sent to have sex with while she was underage. (Minsky passed away in 2016.)
Giuffre previously claimed modeling agent Jean-Luc Brunel recruited underage girls for Epstein through his modeling agency. He denies it.
Astronaut and former Sen. John Glenn (D-Ohio) was listed on one of the flight logs as having travelled on Epstein's plane. Dershowitz previously said in an interview that Glenn flew to Ohio with Dershowitz, Epstein and former Israeli Prime Minister Shimon Peres for a birthday party. There are no allegations of impropriety against Glenn. (Glenn passed away in 2016.)
They instructed me to go to George Mitchell, Jean Luc Brunel, Bill Richardson, another prince that I don't know his name. A guy that owns a hotel, a really large hotel chain, I can't remember which hotel it was. Marvin Minksy....There was, you know, another foreign president, I can't remember his name. He was Spanish. There's a whole bunch of them that I just—it's hard for me to remember all of them. You know, I was told to do something by these people constantly, told to—my whole life revolved around just pleasing these men and keeping Ghislaine [Maxwell] and Jeffrey [Epstein] happy. Their whole entire lives revolved around sex.

Virginia (Roberts) Giuffre, Epstein victim, 2016 deposition
Included in the newly-released documents is a photo of a half-nude young girl allegedly confiscated from Epstein's residence.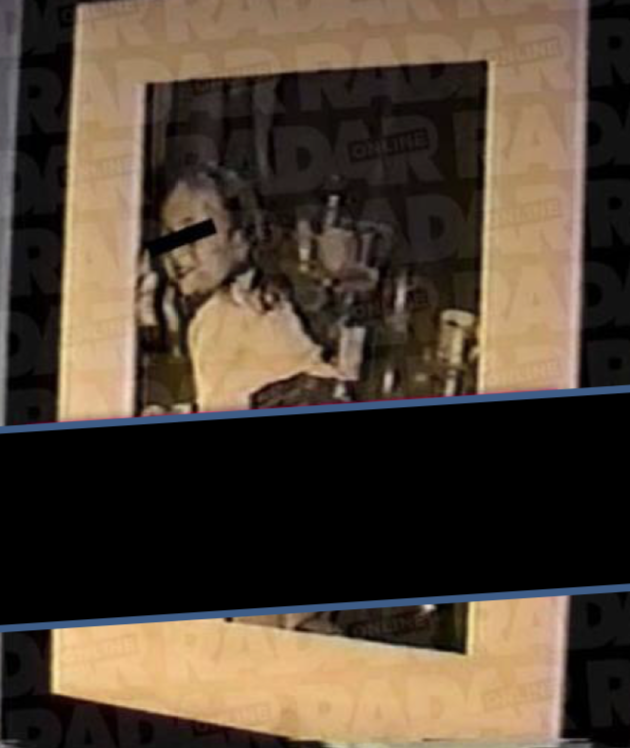 Other material in the newly-released documents
Among the material in the newly-released documents is an Amazon.com receipt that Palm Beach Police collected from Jeffrey Epstein's trash showing books that allegedly give instruction on sex slavery:
(1) SM 101: A Realistic Introduction, Wiseman, Jay;
(2) SlaveCraft: Roadmaps for Erotic Servitude – Principles, Skills and Tools by Guy Baldwin; and
(3) Training with Miss Abernathy: A Workbook for Erotic Slaves and Their Owners, by Christina Abernathy.
Below are examples of dozens of notepad messages submitted to the court.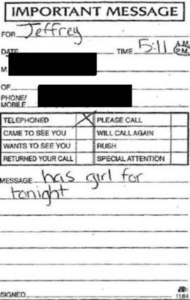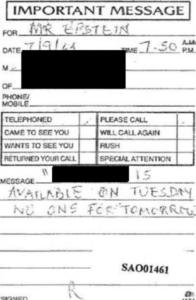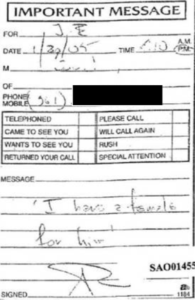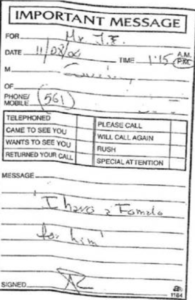 The appeals court that ordered the release of documents Friday has ordered more records to be reviewed for release by a district court judge.
Leave your comments below.
Read the 74-page court filing by clicking the link below:
https://www.courthousenews.com/wp-content/uploads/2019/08/Giuffre-unseal.pdf
You can view all of the documents by clicking the link below:
Link to 2,024 pages of related documents.