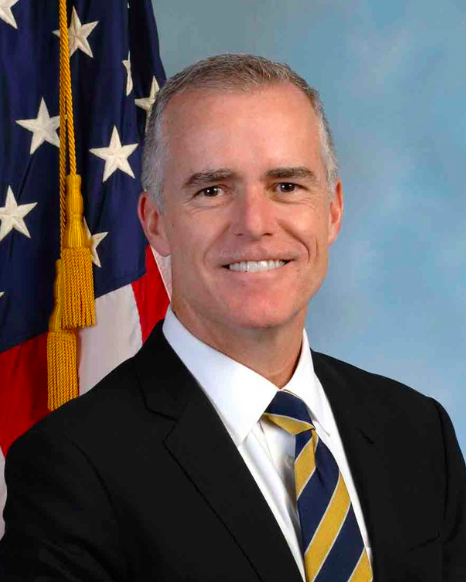 Employee was facing unprecedented challengers [sic] and pressures.

Justice Department Office of Professional Responsibility
In 2018, both the Department of Justice Inspector General and FBI Office of Professional Responsibility concluded that former FBI Acting Director Andrew McCabe had "made an unauthorized disclosure to the news media and lacked candor − including under oath − on multiple occasions."
However, internal FBI documents indicate the Department of Justice, under Attorney General Jeff Sessions, decided to give McCabe the benefit of the doubt and credit for his years of devoted service in deciding not to charge him with a crime.
The documents, obtained by the watchdog Judicial Watch, appear to show that the case against McCabe was closed on March 20, 2018, about the time he was fired from the FBI. But the decision not to charge him was not announced publicly.
McCabe was a top FBI official during the agency's controversial efforts to wiretap Trump associates and use political opposition research collected by Democrats to attack Trump.
The treatment of McCabe is in stark contrast to that of other figures in the Trump-Russia probe. Not only were details of their cases leaked to the press, but they were not afforded similar benefit of the doubt or credit for their service.
Lt. Gen. Michael Flynn is among those who-- unlike McCabe-- were prosecuted for allegedly lying to the FBI. On December 1, 2017, Flynn plead guilty to a felony count of "willfully and knowingly" making "false, fictitious and fraudulent statements" to the FBI.
Before briefly serving as advisor to President Trump, Flynn was Director of the Defense Intelligence Agency. Flynn had served multiple military tours and offices, including assignments in military intelligence and deployments in Afghanistan and the Iraq War.
Critics say that opponents of President Trump appear to be receiving more favorable treatment than Trump's allies.
Former Trump campaign chairman Paul Manafort and his business partner Rick Gates were indicted on charges related to failing to register as foreign agents while lobbying for a pro-Russia group in Ukraine. However, their partner on the account, Tony Podesta, was not charged. Podesta is a Democrat lobbyist and brother of John Podesta who was President Clinton's chief of staff, an adviser to President Obama and Hillary Clinton's campaign chairman. A Podesta group spokesperson said at the time that all appropriate legal disclosures were made about the work for Ukraine.
There's also been no public action announced regarding the Senate's criminal referral to the Department of Justice more than year and a half ago of Christopher Steele for allegedly lying. "Steele compiled the 'Trump dossier' on behalf of Fusion GPS for the Clinton Campaign and the Democratic National Committee and also provided to the FBI," Republican Senators Charles Grassley and Lindsey Graham noted in their January 2018 referral to the Department of Justice.
Grassley and Graham are referring Steele for making potentially false statements about the distribution of claims from the dossier.

Referral by Senators Charles Grassley and Lindsey Graham, Jan. 5, 2018
Besides the documents regarding the decision not to prosecute McCabe, Judicial Watch also recently received records of 13 other referrals of FBI employees for leaking sensitive or classified information.
"Collectively, these documents show lenient treatment for evident criminal activity. Only four of the 14 employees found to have made an unauthorized disclosure were dismissed from the FBI," said Judicial Watch President Tom Fitton.
McCabe is now suing the Justice Department and FBI. He alleges his firing was politically motivated.
Read excerpts from the McCabe document below:
(Name redacted) (DOJ/O&R) Closed: 3/20/2018 References: 2.5, 2.6, 4.10
SES [Senior Executive Service] employee released the FBI Sensitive information to a reporter and lacked candor not under oath and under oath when questioned about it, in violation of Offense Codes 4.10 (Unauthorized Disclosure – Sensitive Information); 2.5 (Lack of Candor- No Oath); and 2.6 (Lack of Candor – Under Oath).
The proposed decision in this matter was made by the AD, OPR. The final decision was made by Attorney General Jeff Sessions. DOK retains final decision-making authority for certain high-ranking FBI officials.
MITIGATION: Employee as (redacted) years of FBI service and a remarkable performance record. Employee was facing unprecedented challengers and pressures.
AGGRAVATION: Employee held an extremely high position and was expected to comport himself with the utmost integrity. Lack of candor is incompatible with the FBI's Core Values.
FINAL ACTION(S): OPR PROPOSED DECISION Proposed DISMISSAL
OPR FINAL DECISION: DISMISSAL
McCabe was fired from the FBI on March 16, 2018, for leaking to the media and lacking "candor." Then-U.S. Attorney General Jeff Sessions in a statement said:
After an extensive and fair investigation and according to Department of Justice procedure, the Department's Office of the Inspector General (OIG) provided its report on allegations of misconduct by Andrew McCabe to the FBI's Office of Professional Responsibility (OPR).
The FBI's OPR then reviewed the report and underlying documents and issued a disciplinary proposal recommending the dismissal of Mr. McCabe. Both the OIG and FBI OPR reports concluded that Mr. McCabe had made an unauthorized disclosure to the news media and lacked candor − including under oath − on multiple occasions.
Pursuant to Department Order 1202, and based on the report of the Inspector General, the findings of the FBI Office of Professional Responsibility, and the recommendation of the Department's senior career official, I have terminated the employment of Andrew McCabe effective immediately."
Read more by clicking the link below: