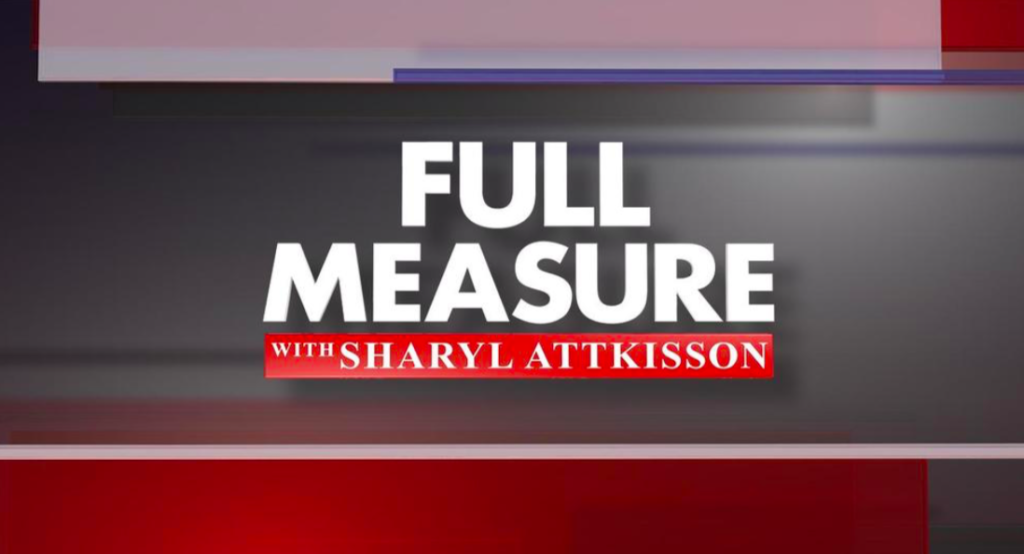 The last couple of years you've gotten all the political news you want (and then some) when it comes to President Trump. But with a single topic saturating so much of the media environment, there's a lot more going on in the world you may not have heard about...
...Unless you've been watching my Sunday TV news program: Full Measure.
Below are some of the topics we've been covering. We promise to never waste your time by rehashing news you've already heard all week.
You can read and watch any or all of these stories by clicking the links below or find them here. It's never too late to binge watch!
Meantime, don't miss Full Measure each week on TV, online or on demand. To find out how you can watch, click here.
Health and Medicine
5G Whiz: Sept. 15, 2019: What are the health risks of the new mobile phone and computer technology?
The Pill Pitch: April 14, 2019: The controversy and possibly harm over TV advertising of prescription drugs,
The Montana Solution: Feb. 3, 2019: One senior citizen went up against the hospital and insurance industries and solved Montana's health care crisis. Could national costs be slashed the same way?
The Vaccine Debate: Jan. 6, 2019: A shocking admission from a pro-vaccine government scientist who says vaccines can cause autism, after all, in "exceptional" cases.
Blurred Vision: Dec. 9, 2018: Government scientists accused of the worst kind of conflicts of interest in a major story about moderate drinking.
The Statin Wars: Nov. 4, 2018 Who's behind the government guidelines and deciding what's good for us?
The Forgotten Tobacco Wars: Sept. 23, 2018 Decades later, cigarette lawsuits are quietly being fought by the thousands in Florida.
Ryan's Story: May 13, 2018 The undertold story of Traumatic Brain Injury commonly found–yet widely ignored–in our troops. Part 2
Short on Time: April 22, 2018 The incredible story of unethical human experiments conducted by a researcher who was dying of cancer. Did his herpes vaccine damage innocent patients–or help them?
MRI dye: April 15, 2018 A follow up to our groundbreaking report on the dangers of MRI dye and what happened to Chuck. Norris' wife.
Outside Obamacare: Feb. 11, 2018 Three new doctor-patient models that go around Obamacare and the traditional health insurance system.
Various Topics
Not Yet, Brexit: Sept. 22, 2019: What's really behind the British vote to exit the European Union and what does it have to do with us?
Deep Fakes: June 2, 2019: New technology has made it where you can't believe your eyes.
Surviving the Jonestown Cult Massacre: May 12, 2019: More than 900 American men, women and children were killed. One investigator who survived is now a member of Congress.
Media Madness: April 27, 2019: Media mistakes in the era of Trump and what lies ahead.
Media Miss: March 31, 2019: How did so many get the Trump-Russia collusion story so wrong?
Being Carter Page: March 31, 2019: For more than two years, the FBI and media made him out to be Trump's nexus to Putin. He wasn't.
The Big Spin: March 24, 2019: How much of our tax money the government spends — to spin us.
The Curators: March 10, 2019: Who's behind the efforts to teach "media literacy" and fight "fake news"? Watchdogs on left and right say: Beware the Curators.
Blue Water Vets: March 3, 2019: The amazing fight by so-called Blue Water Vets who were denied V.A. benefits after their exposure to Agent Orange in Vietnam.
Immigration and National Security
The Greek Burden: Sept. 8, 2019 Europe is suffering an illegal immigration and refugee crisis and the debate sounds a lot like ours.
Saved in America: Dec. 2, 2018 American girls trafficked as sex slaves become fallout from border crime.
Anti-Sanctuary Cities: Sept. 16, 2018 The movement against sanctuary cities and the true crime statistics attributed to illegal immigrants.
Anti-Sanctuary City: March 4, 2018 One of the most unexpected finds along the southern border: a primarily Hispanic town that is against sanctuary cities.
Border Security: Dec. 3, 2017 An eye-opening ride-along on the southern border with the men and women protecting us.
China Rising: Nov. 19, 2017 China's massive "One Belt One Road" initiative is raising its profile in places the U.S. needs to remain strong and influential.
Lone Survivor: Oct. 29, 2017 Why is former ICE agent Victor Avila being treated like an outcast after he was shot in an attack by Mexican drug cartels?