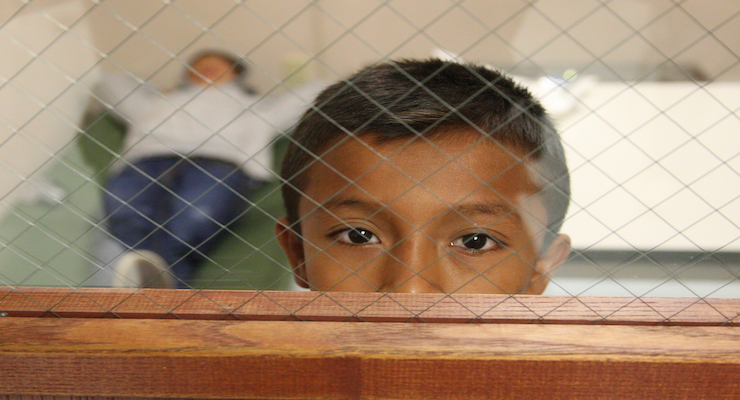 The following is a news analysis.
It's a new phenomenon in the era of Trump.
First, illegal immigrant supporters have worked hard-- using political figures, advocacy groups, news organizations and social media-- to controversialize Immigration and Customs Enforcement (ICE) and its work.
ICE defines its mission as protecting America from "the cross-border crime and illegal immigration that threaten national security and public safety" by enforcing federal laws.
As part of this effort to controversiaize ICE, the illegal immigrant supporters point to what they call inhumane conditions and treatment of the migrants in federal custody as the system has been overwhelmed.
That's where part two of the phenomenon comes into play. At the same time they complain ICE isn't providing the illegal immigrants proper medical treatment, shelter, food and care-- the activists are working to discourage companies and contractors that are doing just that.
A new article on the website Medscape, which is owned by Web MD, "outs" medical centers that have contracts with ICE, as if the business relationship something to be considered controversial.
Some of the medical centers say they are doing the humane thing to assist with care of the illegal immigrants. But other medical officials say the business ties are wrong because it enables ICE.
The title of the Medscape article is: "Does Your Medical Center Have a Contract With ICE? These Do."
You can read an excerpt below, followed by a link to the full article.
Does Your Medical Center Have a Contract With ICE? These Do.
As controversy swirls around physician involvement with migrant detention centers, a Medscape analysis has found that four major medical centers have contracts with US Customs and Border Protection (CBP) or Immigration and Customs Enforcement (ICE) to provide services they say will improve conditions for migrants at the US-Mexico border, including developing medical and triage protocols for adults and children.
Medscape Medical News' analysis found that Brigham and Women's Hospital, Columbia University, Johns Hopkins University, and Texas Tech University Health Sciences Center have or have had contracts ranging from just under $10,000 up to $2 million for medical services. For both medical and nonmedical services, a dozen institutions were found to have 17 contracts total, and some institutions have multiple contracts.
Medical centers have had contracts with CBP and ICE in the past, but of the currently running contracts, all but one of the 17 began in 2017, after the Trump administration took a more hardline approach to immigration.
At least one institution, Harvard Medical School-affiliated Brigham and Women's Hospital, has said it is canceling its contract with CBP to provide "guidance for medical triage protocols at the southern border," Medscape Medical News has learned.
The institutions have contracted to provide a variety of services, including tactical medical training, university-level education and training services, strategic planning facilitation services, and medical direction services.
Hospital administrators and many physicians say they have a moral obligation to do what they can to help ease the suffering at the southern US border, but other physicians and healthcare workers contend it is wrong to support a system they believe abuses detainees attempting to seek asylum in the United States.
In a commentary published online August 30 in JAMA, Paul Spiegel, MD, MPH, and colleagues from Johns Hopkins University provide recommendations for how clinicians should work with migrants at the border. "Whatever the future of US immigration policy, decent and humane treatment of children, as well as all other detainees, and preservation of the independence of physicians and other health professionals to meet patients' medical and psychological needs are essential," they write. "Now is not a time to change the commitments, reputation, and integrity of physicians and the medical profession."
In response, an ICE spokesperson told Medscape Medical News in an emailed statement that the agency has "several levels of oversight in order to ensure that residents in ICE custody reside in safe, secure and humane environments."
Those levels of oversight include receiving "a comprehensive physical exam within 14 days of arrival to identify medical, mental health and dental conditions that require monitoring or treatment." In addition, all detainees should expect "timely and appropriate responses to emergent medical requests, and timely medical care appropriate to the anticipated length of detention. At no time during detention will a detainee be denied emergent care," the statement continues.
CBP did not respond to multiple requests for comment.
Read the rest of the Medscape article by clicking the link below.