The following is a news analysis.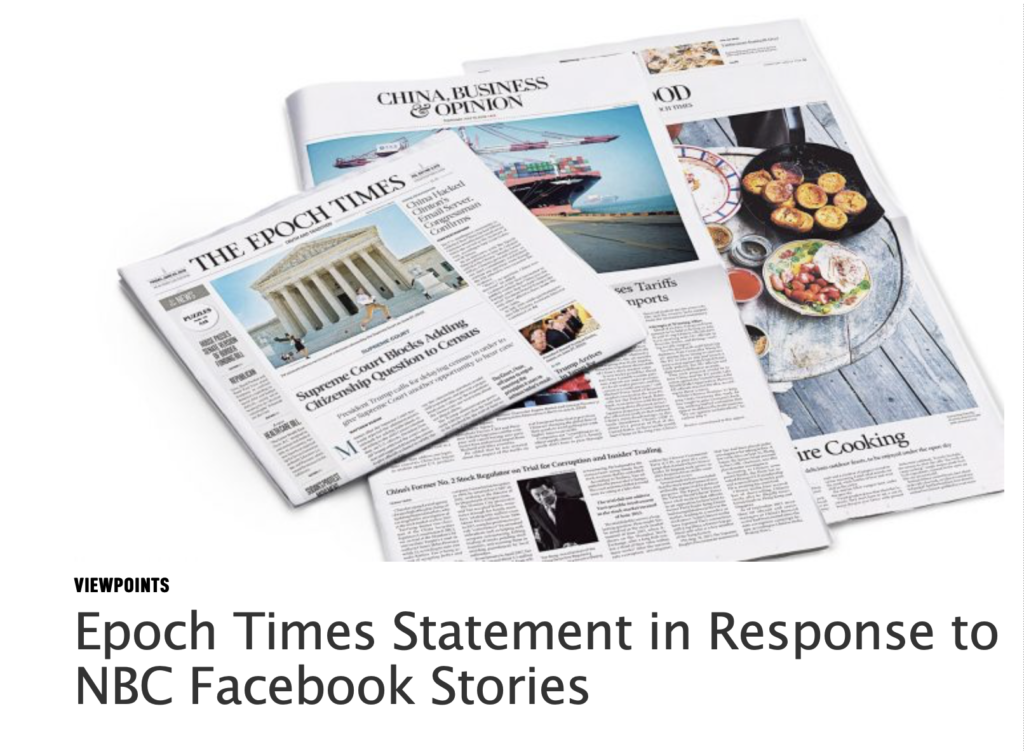 I hadn't heard of The Epoch Times when it first crossed my radar in the past year or so.
I read some of their investigations and found them extremely in-depth, well researched and well sourced. Complex topics were also explained in a way far less arcane than other print publications.
I also noticed that The Epoch Times takes on topics and controversies without the typical slant. American readers are thirsty for such options. Since that time, I have contributed a few news articles to the publication.
Other readers have discovered The Epoch Times, as well. And its independence--the fact that it offers factually clean news coverage of various current events--has now made it a target.
Other news media-- utterly lacking in self-awareness-- have attacked The Epoch Times as if the publication is partisan or irresponsible. The attackers themselves exhibit an overtly partisan stance but do not seem to understand the irony. They see their own partisanship as acceptable. The norm. Or they believe it to be invisible.
The following is an article written by the publisher of The Epoch Times. It addresses continued alleged bias among media and social media for the sake of suppressing information that does not line up with certain agendas.
Meantime, you can check out The Epoch Times for yourself and make up your own mind.
Epoch Times Statement in Response to NBC Facebook Stories
We were surprised to learn from media reports that Facebook has blocked The Epoch Times' ability to advertise for print subscriptions. This appears to be a response to NBC News' reporting on us.
Despite a vast "dark money" political conspiracy alleged in NBC News reporting, the reality is much simpler.
The Epoch Times has been running a very popular digital marketing campaign for our print-newspaper subscriptions. In the video advertisements, we discuss The Epoch Times' editorial and feature content and encourage people to subscribe to our print newspaper.
Facebook has specific rules for advertising that require everyone—including publishers like The Epoch Times—to label content as political advertising if it touches on social issues or politics, something some news content naturally does. Many other media run advertising campaigns for their content and products in the same category on Facebook.
For example, click here to see Facebook advertisements by The New York Times in that category.
And click here to see Facebook advertisements by CNN in that category.
Facebook blocked our ability in July to advertise on our main Epoch Times page, and didn't provide us with a reason despite multiple requests for clarification. We have no reason to believe this is due to the content of the ads, as they were all approved by Facebook.
Since then, The Epoch Times has published its advertising on a number of other, new Facebook pages. Without exception, these ads are overtly Epoch Times advertisements for our subscriptions. And there is no secret there, since it's all public.
Just as with our ads on our own Facebook page, every single advertisement went through Facebook's review process and was approved and placed in the appropriate category before running.
NBC's representation of our print-subscription advertisements is blatantly incorrect. None of our advertising was done to "obfuscate" the connection to The Epoch Times; all the advertising was clearly for Epoch Times print subscriptions. (Continued...)
Read the rest of the story in The Epoch Times by clicking the link below:
https://www.theepochtimes.com/epoch-times-statement-in-response-to-nbc-facebook-stories_3053492.html