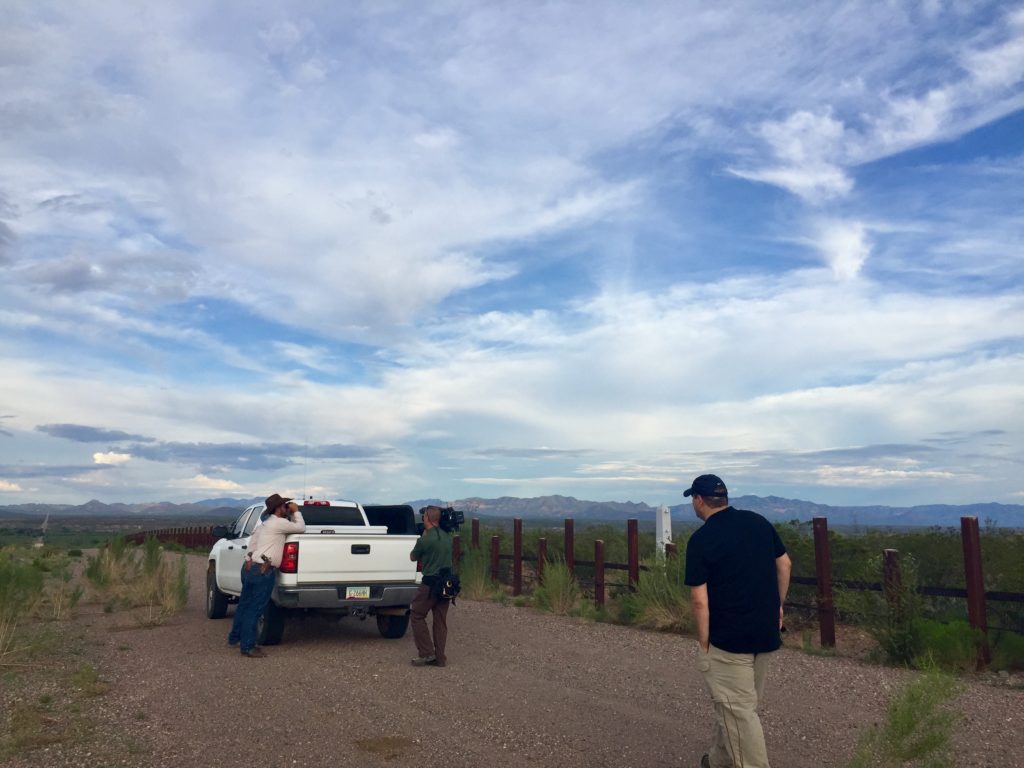 The following is an excerpt of my Full Measure report. Watch the video and read the rest of the article by clicking the link at the end.
Today, we head to the Southwest border for an incredible story about an Arizona county that felt overrun by Mexican drug cartels for years. Now they claim they've been able to slow that to a trickle— without a lot of money, high tech, federal help or even a wall. How are they doing it? Today's cover story is: Desert Eyes.
Sharyl: John Ladd is a fourth generation rancher. His great-grandparents settled this land in Arizona along Mexico's border in 1896.
Listen to the related Podcast from Full Measure After Hours
John Ladd: Originally the ranch was about twice as big.
By Ladd's count, the Border Patrol has caught hundreds of thousands of illegal immigrants on his 16,000 acres over the past thirty years.
John Ladd: It's an every day deal.
Sharyl: What do you do?
John Ladd: We used to help them, but when you get 200 a day it gets overwhelming. They've stole about every car or truck we owned, and saddles, and horses.
Sharyl: The march of illegal immigrants into Arizona from Mexico is virtually nonstop. Here, a large group crosses over a so-called Normandy fence— like it's not even there.
And with the traffic comes a steady stream of crime. This man crossed from Mexico and fired off a few shots.
These five drug smugglers brought 7 backpacks of meth and marijuana.
In a matter of days 380 pounds of pot, heroin, and meth, 1600 pounds of pot, Fentanyl opioids hidden in shoes, smuggled in bras, Meth disguised as ice pops, in vehicles, 50 pounds, 227 pounds.
But in Cochise County, where John Ladd lives, we found there's been an incredible turnaround you may not have heard about.
Sheriff Mark Dannels: What I'm talking about is a virtual system of cameras, up to over 500 cameras now, that we've implemented.
Sharyl: One camera covers about 200 square feet. The success has been so dramatic, it surprised even those responsible, including Cochise County Sheriff Mark Dannels.
Sheriff Mark Dannels: We're doing something right, and it's fair to our citizens. It's what they expect. I'm pretty proud of what we've done here.
Sharyl: And to point out, you've done this improved enforcement and you've gotten this result without a wall?
Sheriff Mark Dannels: Without a wall. Without a wall.
Sharyl: To see firsthand, we took to the air with Sheriff Dannels over the 6,200 rural square miles of Cochise County
Sharyl: Flying over the rugged terrain, it's easy to see why some people think you don't need a big wall here it's too tough to cross but is that actually the case?
Sheriff Mark Dannels: No. The cartel likes this area out here. Though it's rugged, it provides great concealment for them to smuggle both humans and drugs into this country.
Sharyl: That led to the simple but ingenious concept to deploy a carefully placed network of motion-activated cameras in areas where there are gaps in federal surveillance.
Sheriff Mark Dannels: Remember that the end of that fence is where the federal government stops their protective plan. We pick that up here and that's where our virtual system has become effective. We have cameras inserted, throughout this region, this grid.
Sharyl: We landed to see the type of area where the hidden cameras have been put to good use, their precise locations a tightly held secret.
Sheriff Mark Dannels: You know this is where our virtual system was implemented, in places like this.
Sharyl: There are cameras out here, we just don't know where?
Sheriff Mark Dannels: Yeah, we have, this is part of our virtual system.
Sharyl: Dannels explained that cartels learned to evade Border Patrol cameras by traveling in gullies and ditches. The new system plugs some critical holes.
Sheriff Mark Dannels: You know, the surface systems that the federal government has in place are up on top surface areas. They don't get down to the washes like this. So the cartels have exploited these areas. So we came into our areas with our virtual system. This is the areas we watch cause we know they're coming through here just like we're standing and, and that's one of the reasons we've been successful. We went to areas that the federal government didn't go.
Sharyl: So Mexico is right there?
Sergeant Timothy Williams: And we're probably being watched right now.
http://fullmeasure.news/news/cover-story/desert-eyes