U.S. Customs and Border Protection (CBP) reports an historic increase in new applications and renewals for its Trusted Traveler Programs (TTP), and significant delays processing them.
Backlogs blamed on:
Historic increases in new applications and renewals
Humanitarian and security crisis on southern border
Extended, partial government shutdown
CBP processes 100,000 - 200,000 applications and renewals/month
The Transportation Security Administration (TSA) "Precheck" program started in December 2011 at Las Vegas' McCarran International Airport. It has since expanded to several hundred airports.
It's part of a group of programs, including "Global Entry," that are administered by the Department of Homeland security. They enable travelers to go through quicker security at participating airports and when crossing international borders-- after paying a fee and passing a background check.
But customers have been suffering long delays in having their applications processed.
I discovered this for myself when I applied to renew my "Global Entry" pass on July 23, 2019.
It's as if the application went into a black hole.
Actually, it just went somewhere into the bowels of the Department of Homeland Security. After four months, I'm beginning to wonder if it will ever be heard from again.
Here's how the process works. After applicants fill out an online form and pay a fee, they're told to wait for "conditional approval." The website warns you won't get an email or other notification when approval is given: you have to log into the website to check every day (or as often as you figure it's worth checking).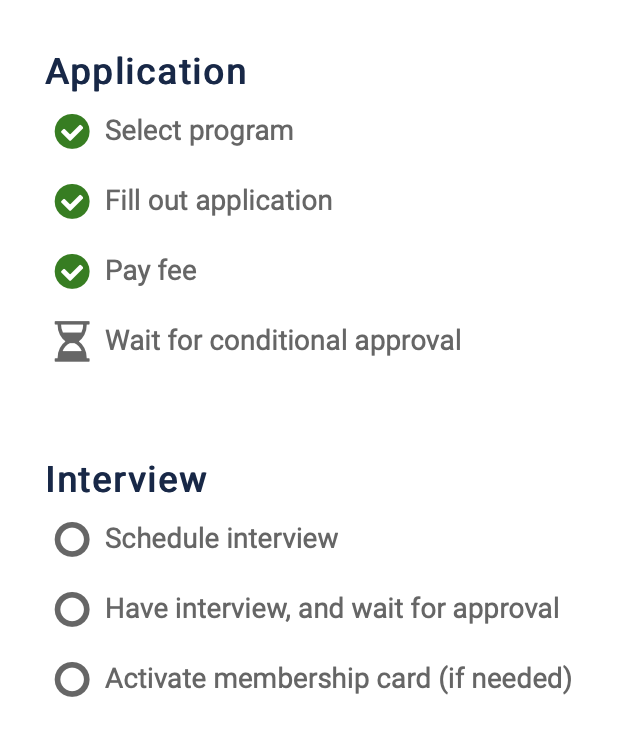 After checking daily for awhile, you may start to realize this is a process that isn't going to take a day or two. Maybe weeks. You keep logging in to check. Weeks go by. Still--nothing.
For me, a big moment of realization came when the wrong mail was delivered to my home about a month and a half after I'd filled out my application and paid the fee. This particular mail was intended for my next door neighbor. It was his Global Entry renewal pass. When I delivered it, the neighbor's wife lamented about her spouse had waited months for his "conditional approval," logging into the TSA website to check day after day, week after week, month after month.
One clue as to what's wrong comes from a red alert that appears when applicants log into the Homeland Security website to check their status. It explains that "the extended partial government shutdown has resulted in a substantial backlog."

Until reading this, I wasn't aware we were even having an "extended partial government shutdown." It was time to put in a query to the Department of Homeland Security!
I got a timely response from Customs and Border Protection (CBP), where my query was referred.
First, they explained that we are not in an extended, partial government shutdown. The shutdown referred to in the red alert is the one that spanned about two months during December 2018 and January 2019. Apparently, that brief shutdown is still drastically slowing the processing of applications almost a year later.
But perhaps an even bigger factor, says CBP, is the "historic increase in new applications and renewals." And there's a third issue impacting the time it takes to process: the border crisis.
"These record numbers combined with the partial government shutdown and the additional deployment of CBP personnel in response to the ongoing humanitarian and security crisis on our southern border created a considerable backlog," a CBP spokesman told me.
The spokesman went on to say that, in recent months, there's been "significant progress" in reducing the backlog.
For new Global Entry applicants, about 65% of applications are processed within zero to 15 days, and about 30-35% of applications require more than 90 days to process.

Customs and Border Protection spokesman
CBP told me that only about one-third of applications require more than 90 days to process.
(Lucky me. I'm about to enter my fifth month...)
CBP also notes: "As of April 2019, membership is being extended from 6 months to 1 year beyond the expiration date provided that the member submits a renewal application before their membership expires. During this 1-year extension, cards will remain valid for use."