The following is a news analysis.
Note: On Sat. Nov. 30 Newsweek reported firing the reporter in question. Details here.
This point isn't to pick on someone in particular. It's to learn what the latest media mistake in the era of Trump tells us about some badly broken national journalism.
The misreporting occurred on Thanksgiving Day. It made #100 on my list of major media mistakes. It was committed by a political writer at Newsweek.
The writer called it an "honest mistake." But I suggest it's something far more serious, from a journalistic standpoint. I'll explain why.
First, we'll review the errors.
Newsweek's Jessica Kwong wrote: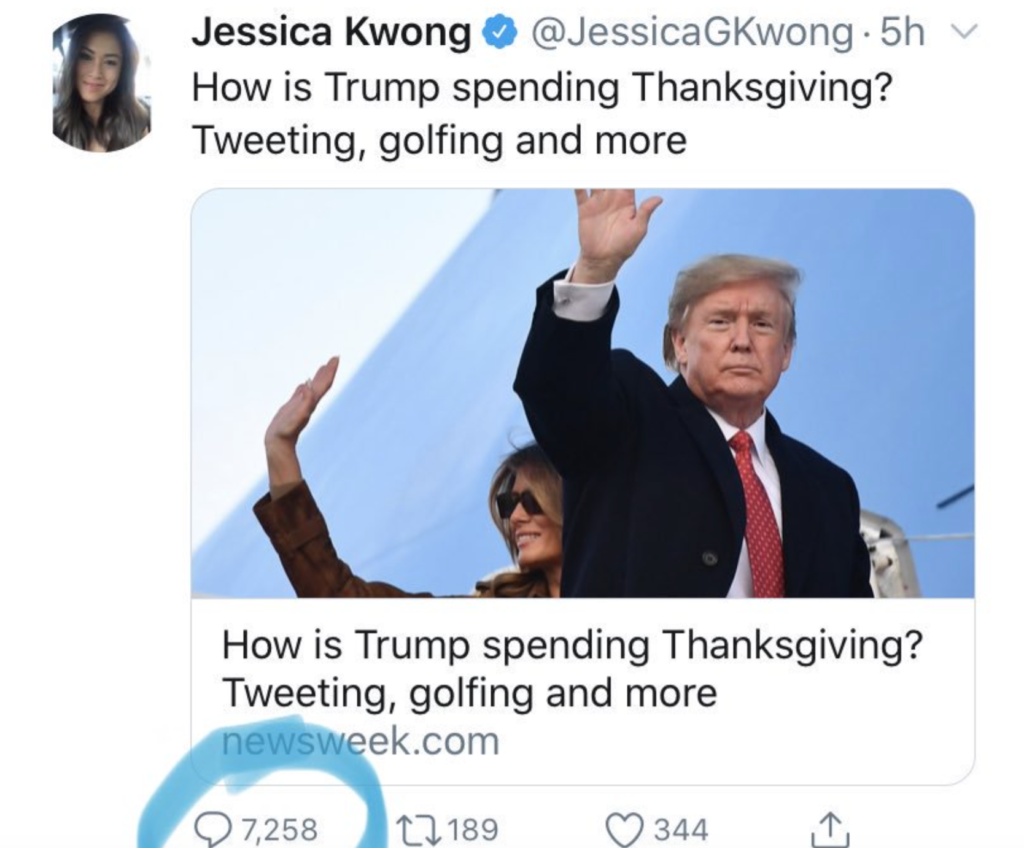 And...

Of course, this proved to be untrue. President Trump actually spent Thanksgiving traveling to Afghanistan, speaking with U.S. troops, and serving them dinner.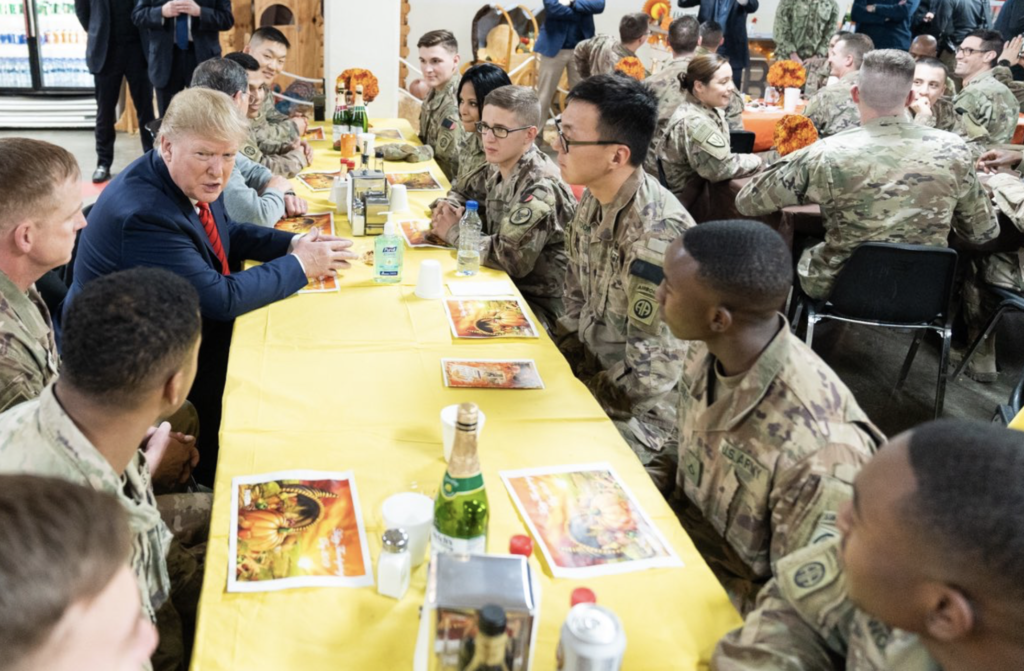 Even more startling: it's the second year in a row that national media made the same mistake. Last year, NBC falsely reported that Trump was the first President since 2002 not to visit the troops at Christmastime.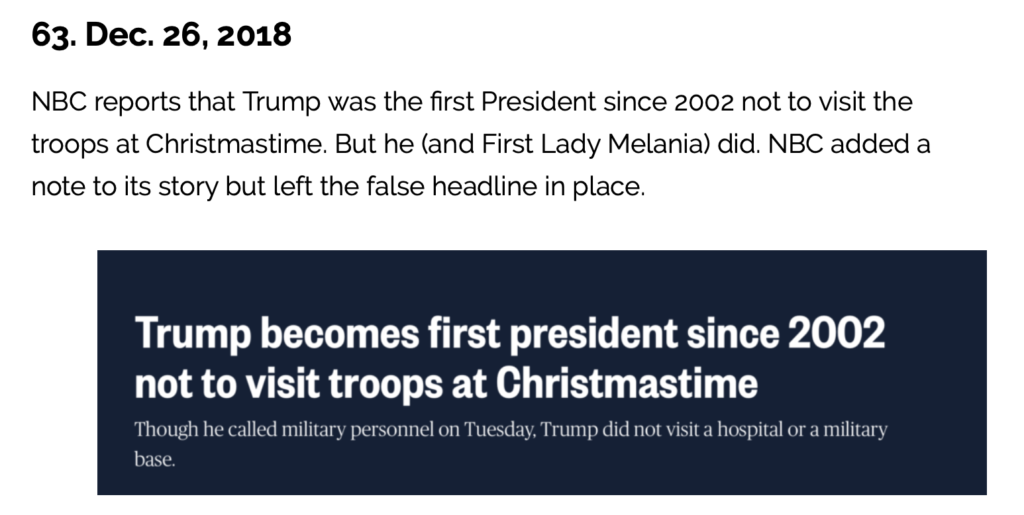 Here are the main issues behind the Newsweek reporting.
1. Lack of basic reportorial knowledge
I'm not a political reporter nor do I closely follow the White House. Yet one thing I wondered on Thanksgiving morning was whether Trump would visit the troops on Thanksgiving or Christmas (or both) this year. All recent presidents have done so.
One would think a national political reporter and any editors would know to be watching for the annual "surprise visits." It's hard to imagine that someone entrusted to write and edit political material for a national publication doesn't have this basic thought process. It makes one wonder about the supposed expertise about those writing important national political stories.
2. Failure to attribute
The Newsweek article would not have been wrong and unjournalistic had the reporter, Kwong, not included her own assumptions and supposition. Or, if she received the bad information from a source, she would not have been wrong if she had she included proper attribution as basic standards call for. For example she could have written:
President Donald Trump has been spending his Thanksgiving holidays at his Mar-a-Lago resort in Palm Beach, Florida, which he calls the "winter White House," and [resort officials/White House officials say] this year [will be] no exception."
Often in today's news stories, journalists have abandoned the basic practice of attributing information to its source. They improperly declare information to be factual even though they do not know it firsthand to be true. This was one of the problems with the Newsweek snafu.
3. Failure to fact check
There's an old saying: "assume" makes an "ass" out of "u" and "me." As silly as it may sound, these are words for a journalist to live by. One thing I've learned in all my years is that no matter how obvious something seems, no matter how many other reporters have the same interpretation, no matter what the video seems to clearly show -- it is frequently wrong. Frequently.
That's why when writing a news story it's important to follow the basic journalism standard of checking your assumptions. Kwong should have contacted the White House to see if her assumption that Trump would be golfing on Thanksgiving was true. If they told her it was, she need only attribute that and -- even if he ended up in Afghanistan -- she couldn't be journalistically faulted for the bad information because it would have been attributed to its proper source, not words as if coming out of her mouth directly.
4. Failure to "correct"
Although Newsweek corrected the story-- they didn't really correct the story. They called it an "update." This disingenuous. There was no real update. The story hadn't changed. The reporter simply learned that her information was false and had to change it.

That's a correction. At least it should be. It's probably worth an apology, as well.
5. False information remains
Even after the correction, Newsweek retains the false headline stating that Trump golfed on Thanksgiving. He didn't.

The same lessons can be said of many media mistakes. If Time magazine had bothered to follow basic journalism standards and ask the White House, they would not have falsely reported that Trump had removed the bust statue of Martin Luther King from the Oval Office the day he was inaugurated.
If proper attribution had been used and fairness standards followed, NBC, CNN and The Washington Post would not find themselves being sued for hundreds of millions of dollars by a Catholic High School student who was smeared and whose actions were widely misrepresented on the news.
I'm not suggesting that we should be infallible and never make mistakes. We're all human.
However, I think that given the evidence now in hand, it's hard to argue there's not bias at the root of this rash of mistakes. They are bush league errors that would have garnered students in journalism colleges an automatic "F" on an assignment. At least that's the way it used to be. National journalists and their editors should know better.
But more significantly, the mistakes are almost entirely-- if not entirely--in one direction: the one that makes Trump look worst. If they truly were "honest mistakes," wouldn't half of them.. or at least a handful.. cut the other way?
Yet nobody mistakenly reported that Trump spent the holiday in Afghanistan with the troops when he'd actually been golfing at his resort. The opposite was reported.
Nobody mistakenly reported that Trump paid a high rate of taxes only for us to learn, when the records were released, that he didn't pay any taxes. The opposite was reported.
On election night in 2016, nobody called a state win for Trump that he'd actually lost. The opposite was reported.
The misquotes, the anonymous sources who prove wrong, the improper context-- they all cut in the direction of being anti-Trump.
I often hear people retort that Trump lies more than the media. The implication is that somehow the media's mistakes are justified because of what we believe the flawed moral character of the target to be.
These are dangerous arguments, in my opinion, from a journalistic standpoint. Our obligation is to cover our subjects fairly and to maintain the same standards even when we don't like the subject-- especially, perhaps, when we don't like him.
Otherwise, why have standards?
The way we cover those we perceive as the enemies of our own views helps define how good we are, as journalists, at the job we're entrusted to do: covering the news.