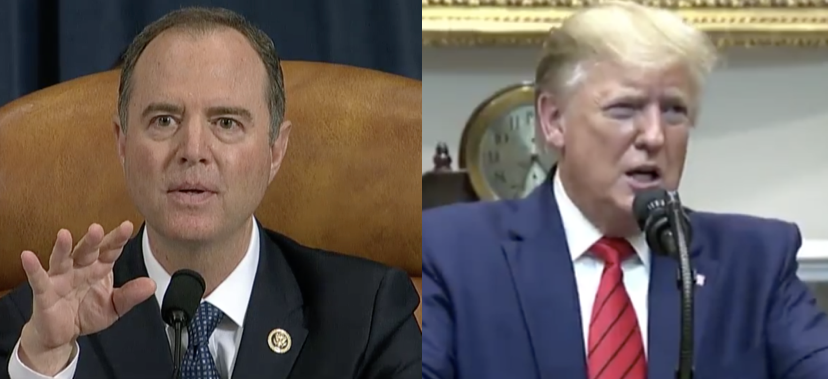 The following is a news analysis.
In recent weeks, many people have asked me questions such as, "What's going on with impeachment?" and "Is someone trying do something to President Trump?"
I know that most people probably don't have the time or perhaps the interest to follow this story in great detail. But when they look for news summaries, they often end up with one-sided accounts.
That's why I'm putting together this "Least biased impeachment guide." It's an attempt to summarize some basic, key information to help people who want to get read-in a bit. Resources are included so that readers can look at original material and make up their own minds, rather than rely solely on what they may think is suggested in my language or other news reports.
Time permitting, I'll be adding specific allegations and counterpoints, so please check back in! (By clicking on the topic you are interested in, an internal link will take you directly to that spot.)
Table of Contents:
1. Trump's phone call
On July 25, 2019 President Trump spoke with the recently-elected President of Ukraine, Volodymyr Zelenskyy in a telephone call.
Zelenskyy said he was trying to "drain the swamp" in Ukraine.
Trump said Europe isn't doing enough to help Ukraine, and the U.S. is doing more, particularly in sanctioning Russia.
Zelenskyy said he was assigning a new ambassador to the U.S. to help the nations could get closer.
Trump asked Zelenskyy to pledge to get to the bottom of Ukrainian-linked 2016 U.S. election interference. Trump also said he heard that Joe Biden bragged he'd stopped a prosecution in Ukraine involving his son.
Zelenskyy pledged "all investigations will be done openly and candidly."
Trump said he wanted Zelenskyy to speak to Trump adviser and lawyer Rudy Giuliani and Attorney General William Barr.
Zelenskyy said that Ukraine's next prosecutor "would look into this situation" after he was sworn in in September.
Trump said former U.S. ambassador to Ukraine Marie Yovanovitch, whom he had removed several months before, had dealt with Ukrainians who were "bad news."
Zelenskyy stated that the Yovanovitch "admired the previous [Ukrainian] president and she was on his side…She would not accept me as a new president…"
The two men exchanged invitations to visit.
Read the transcribed summary of the July 25 call.
2. Ukraine "interference" in 2016 U.S. election
There has been substantial reporting on alleged Ukrainian connections to U.S. Democrats in an attempt to interfere in the 2016 presidential campaign to "sabotage" President Trump and assist Hillary Clinton.
Some call this a "debunked conspiracy theory."
Much of the discussion stems from a Politico investigation published in January 2017. It reported on a Ukrainian-American operative working with the Democratic National Committee (DNC), Alexandra Chalupa, who outlined her efforts to work with American reporters, and to publicly connect Trump officials, such as Paul Manafort, to Russia.
Politico concluded:
Ukrainian government officials tried to help Hillary Clinton and undermine Trump by publicly questioning his fitness for office. They also disseminated documents implicating a top Trump aide in corruption and suggested they were investigating the matter, only to back away after the election. And they helped Clinton's allies research damaging information on Trump and his advisers.
A Ukrainian-American operative who was consulting for the Democratic National Committee met with top officials in the Ukrainian Embassy in Washington in an effort to expose ties between Trump, top campaign aide Paul Manafort and Russia, according to people with direct knowledge of the situation.
The Ukrainian efforts had an impact in the race, helping to force Manafort's resignation and advancing the narrative that Trump's campaign was deeply connected to Ukraine's foe to the east, Russia.
Read the Politico investigation about Ukraine's alleged anti-Trump election interference here.
3. Alleged Burisma corruption
Another area in need of investigation, according to both President Trump and the Democrats' impeachment witnesses, involved the Ukrainian gas company Burisma. The company was founded by a former top Ukrainian official, Mykola Zlochevsky, who is accused of self-dealing and corruption by all sides in the current debate.
During a prosecutor's investigation into Burisma and Ukraine corruption involving millions of U.S. tax dollars, U.S. officials say a key Ukrainian prosecutor was bribed, and the investigation was halted.
During this time frame and while under suspicion in 2014, Zlochevsky hired several notables to join Burisma's board, including the son of then-Vice President Joe Biden.
U.S. diplomats have testified they were concerned about the appearance of a conflict of interest with Biden's son on the board and Vice President Biden overseeing corruption issues. One of these diplomats, a State Department witness for Democrats named George Kent, testified he filed a concern with Vice President Biden's office at the time but does not know how it was addressed, if at all.
Biden's son, Hunter, remained on Burisma's board from 2014-2019, reportedly collecting up to $50,000 a month, amounting to several million dollars.
In a January 2018 public appearance, Vice President Biden said that while he was still in office, he had demanded Ukraine's president fire its top prosecutor within six hours in order to receive a billion dollars in U.S. aid. Biden say Ukraine quickly met his demand.
The prosecutor was reportedly investigating Burisma at the time. Democrats have said that is not why the Obama administration demanded he be fired and, in fact, they didn't think the prosecutor was strong enough in investigating corruption, so he needed to be replaced.
However, once replaced, the new prosecutor reportedly did not substantively investigate Burisma. Multiple Democrats' witnesses have said this is something that needs investigating. This is one area President Trump asked Ukraine's new president to investigate in the July phone call.
Watch former Vice President Joe Biden's January 2018 public appearance here.
4. "Whistleblower" complaint
Anti-Trump: On Aug. 12, 2019, an alleged whistleblower in the U.S. intelligence community filed a complaint with the Intelligence Community Inspector General (IG). It expressed an "urgent concern."
This person alleged that numerous government officials told the whistleblower they believed President Trump had used the July 25 call to demand Ukraine's assistance in interfering in the 2020 U.S. presidential election for his own political gain.
The complaint also took issue with various views and reporting on alleged Ukrainian efforts to assist Hillary Clinton in 2016.
Read the original whistleblower complaint here.
Pro-Trump: The Intelligence Community IG stated the whistleblower had an "arguable political bias...in favor of a rival political candidate" to Trump. The Office of Legal Counsel determined the whistleblower complaint did not meet the legal definition of an Intelligence Community "urgent concern" because it is not "in connection with the operation of any U.S. government intelligence activity, and the alleged misconduct does not involve any member of the intelligence community. Rather, the complaint arises out of a confidential diplomatic communication between the President and a foreign leader that the intelligence-community complainant received secondhand."
The complaint acknowledged "I was not a direct witness to most of the events described."
The identity of the whistleblower is being withheld or protected. After first indicating he would be called to testify in private, Democrats have said there is no need to hear from him.
5. The transcript
On September 24, after public allegations that he had pressured Ukraine to investigate his political rival for political purposes, President Trump released a transcript of the actual July call.
Pro-Trump: The transcript did not reflect the "quid quo pro" or "eight mentions" of investigating the Bidens that some reports had claimed. It did not mention the 2020 campaign. Ukraine's president stated that he did not feel pressured.
Anti-Trump: The quid pro quo and "bribery" later alleged by Democrats did not have to be explicitly stated because they were implicit. Also, the "transcript" is not a verbatim transcript, but a reflection of notes taken by various observers to the call, so it may not be accurate. The call should have been recorded.
Pro-Trump: The Democrats' own witnesses testified the transcript is substantively accurate, and they did not believe any differences were nefarious in origin. They also stated it is not unusual for such a call not to be recorded.
Read the White House-released transcript of the July call here.
More context, information and resources will be added.