There was another tragic mass shooting in Chicago over the weekend; at least the fourth one this year. However, most national media seem to be avoiding using the word "mass" to describe the latest shooting.
And it's part of a trend.
In the latest incident, 13 people were wounded-- four seriously-- at a memorial gathering on Sunday.
That's the most people injured in a single shooting event in the area than any time since at least 2013, according to The Chicago Tribune, when 13 people were shot in Back of the Yards. There were at least three other Chicago-area mass shootings in 2019, according to The Chicago Tribune. Last February, 45-year-old Gary Martin shot and killed five co-workers at the Henry Pratt Company plant in the Chicago area. This past August, there were two mass shootings during the same weekend in Chicago.
A Google search shows that some in the local Chicago news media, including The Chicago Tribune and abc7 Chicago, refer to this past weekend's mass shootings as "mass shootings" in their headlines. However, NPR, CBS News, the Washington Post and CNN omitted the word "mass" from their headlines.
USA Today referred to the shootings as "mass violence."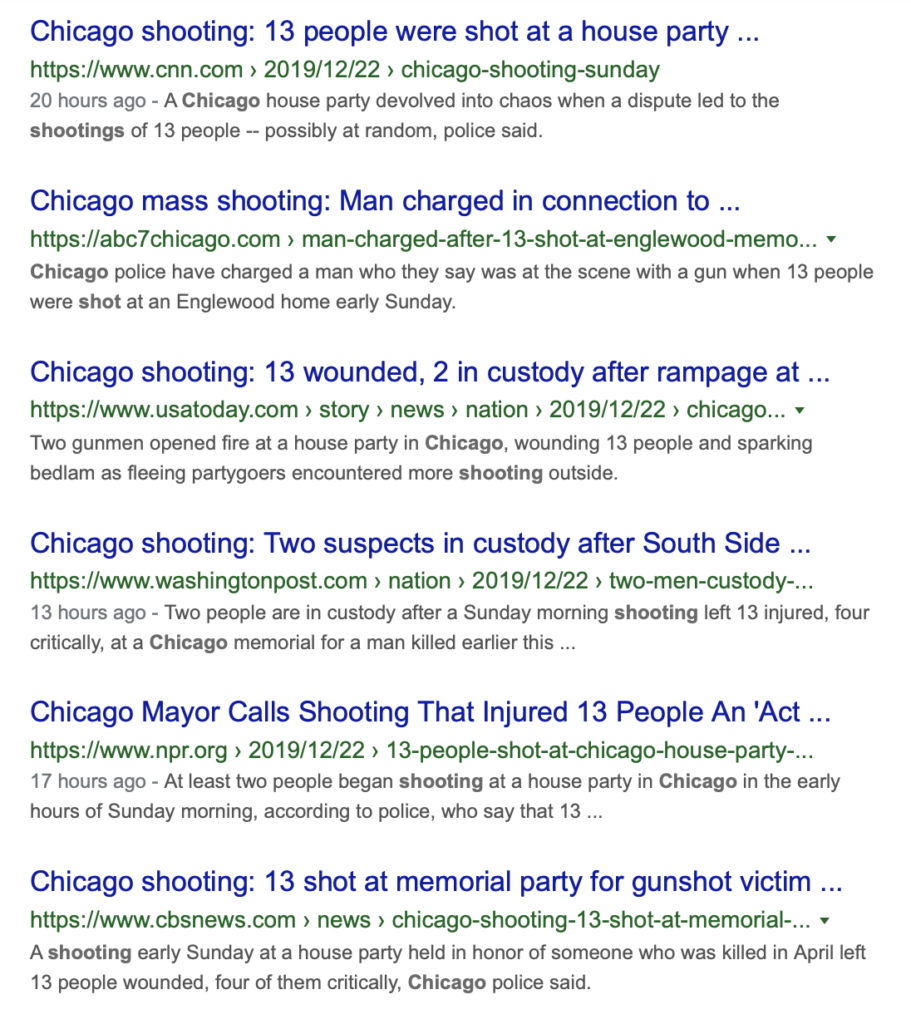 Last August, many in the national media also omitted mention of two Chicago area "mass shootings" that happened during the same weekend as two non-Chicago mass shootings (for a total of four mass shootings in the same weekend.) In Chicago, dozens of people were wounded in two mass shootings less than three hours apart on August 4. The two non-Chicago mass shootings the same weekend happened in El Paso, Texas and Dayton, Ohio.

Most national news media did not count or mention the two Chicago mass shootings when reporting on the two non-Chicago mass shootings.
For example, CNN reported there had been just two mass shootings, instead of four, over that August weekend.

NBC also referred to "2 mass shootings in less than a day," leaving out the Chicago mass shootings. Vox and Forbes made the same omission.

The news media does not have a standard definition for what qualifies as a "mass shooting." Some reserve the term for use only when a certain number of people are killed in a shooting event.
CBS Channel 2 in Chicago recently looked into what qualifies as a "mass shooting." The television station reported on the standard used by left-leaning Mother Jones noting, "Mother Jones has been tracking mass shootings for years.  Originally it used the FBI's standard definition: 'A mass shooting is a single attack in a public place in which four or more victims were killed." Then a 2013 federal mandate lowered that fatality threshold to three, and Mother Jones adjusted accordingly'."
The memorial service where this past weekend's Chicago shootings happened was being held for a 22-year old man who, himself, was shot and killed during an attempted carjacking last April.
From a pure accuracy standpoint, it's hard to argue that 13 people being shot does not qualify as a "mass shooting," even if nobody dies.
Read the story in Chicago Tribune by clicking the link below:
https://www.chicagotribune.com/news/breaking/ct-englewood-11-wounded-shooting-20191222-mrad2j42ffenpawbh5yo4adzba-story.html