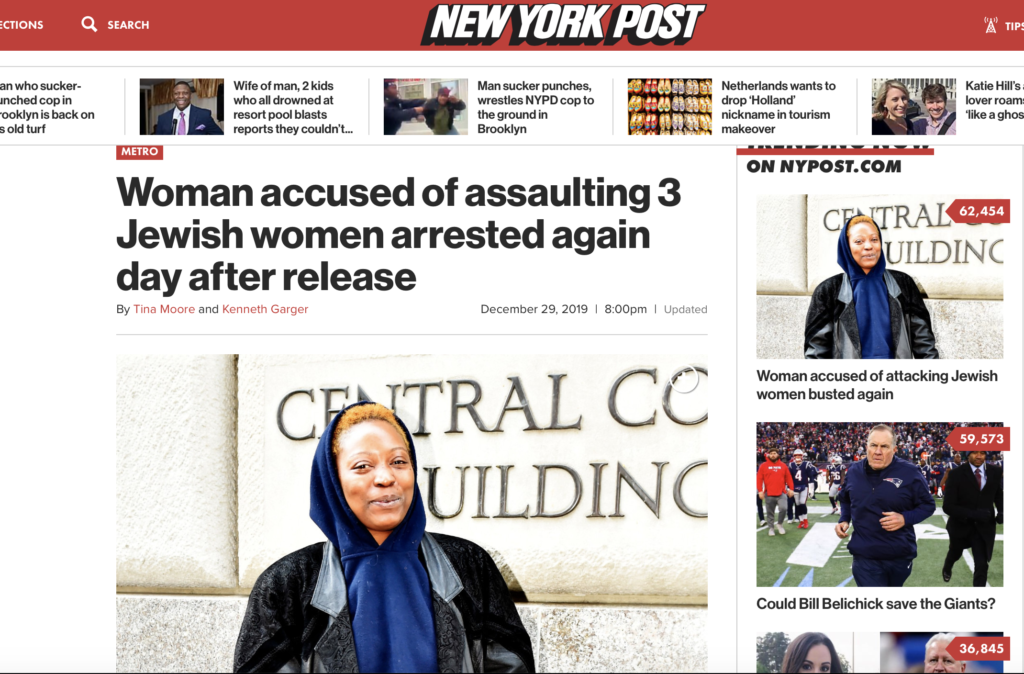 This story was updated on Dec. 31 with details of an additional anti-Semitic attack.
On December 24, a group of men in Brooklyn attacked an Orthodox Jewish man. Surveillance video shows that one of the men was first to hit the Jewish man with a chair. Then, several men chased after the Jewish man and punched him.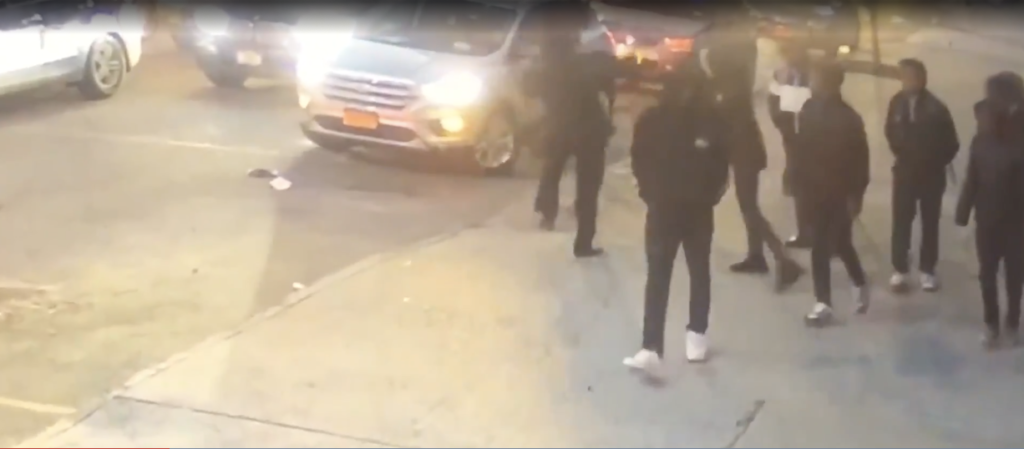 Read the New York Post's article on the attack by clicking here.
Below is the original article.
A New York woman accused of assaulting three Jewish women, beating them in the face and the head, has been arrested for another assault. Police say Tiffany Harris punched another a 35-year-old woman who was walking down the street in Prospect Heights Sunday. It happened shortly after Harris shortly after was released from jail without bond for the earlier assault.
F--- you, Jews!

Alleged remark of accused attacker Tiffany Harris in earlier attack of three Jewish women
According to the New York Post, the 30-year old Harris already had "an open harassment and assault case on the Brooklyn docket from November 2018," and received no jail time last month for a case of felony criminal mischief in Manhattan, "a case for which she had repeatedly failed to make court appearances."
Harris's alleged anti-Jewish attacks are the latest in a string of anti-Semitic hate crimes in New York. Police there have reportedly received eight reports of hate crimes against Jews since December 13.
On Sunday, police arrested a man from New York in the anti-Semitic stabbing of five people Saturday night in Monsey, New York.
Thomas Grafton allegedly crashed a Hanukkah gathering at the home of Rabbi Chaim Leibish Rottenberg and used a machete to attack. He then fled. Police captured him in the area. He is charged with five counts of attempted murder.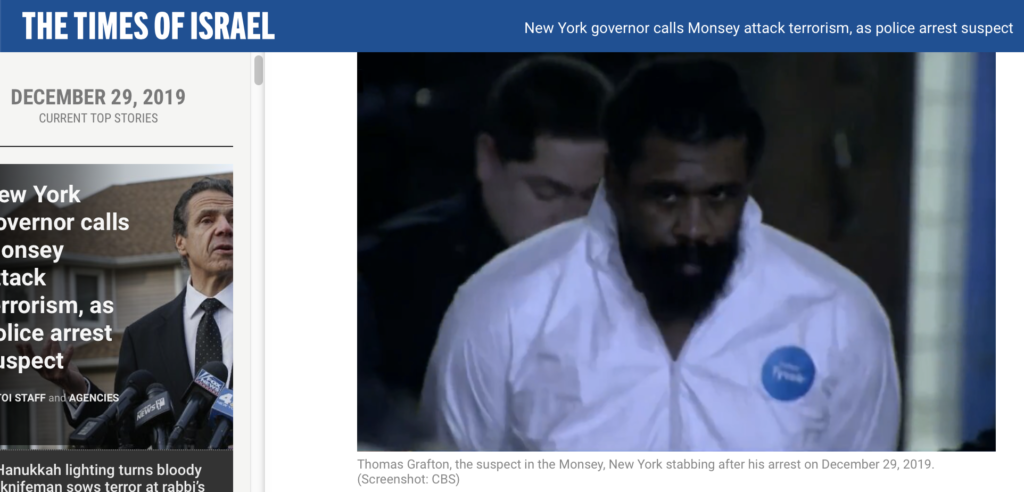 It was the second stabbing attack in the ultra-Orthodox community within a month. In the earlier attack, two shooters linked to the Black Hebrew Israelite movement killed a police officer and then fled to a kosher grocery shop in Jersey City and killed three people, including two Hasidic Jews. One of the shooters was killed by police.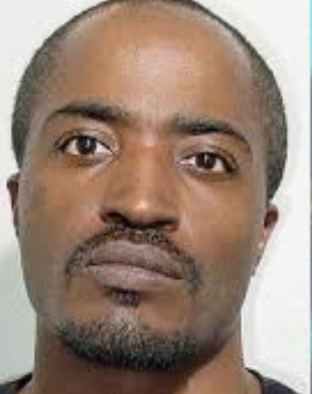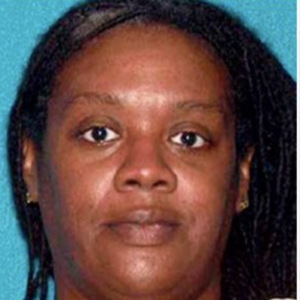 The leader of a prominent Black Hebrew Israelite group condemned that attack.
In another assault, police say a homeless woman, 42-year old Ayana Logan, attacked a mother who was with her three-year-old son and shouted, "You f- -king Jew, the end is coming for you!"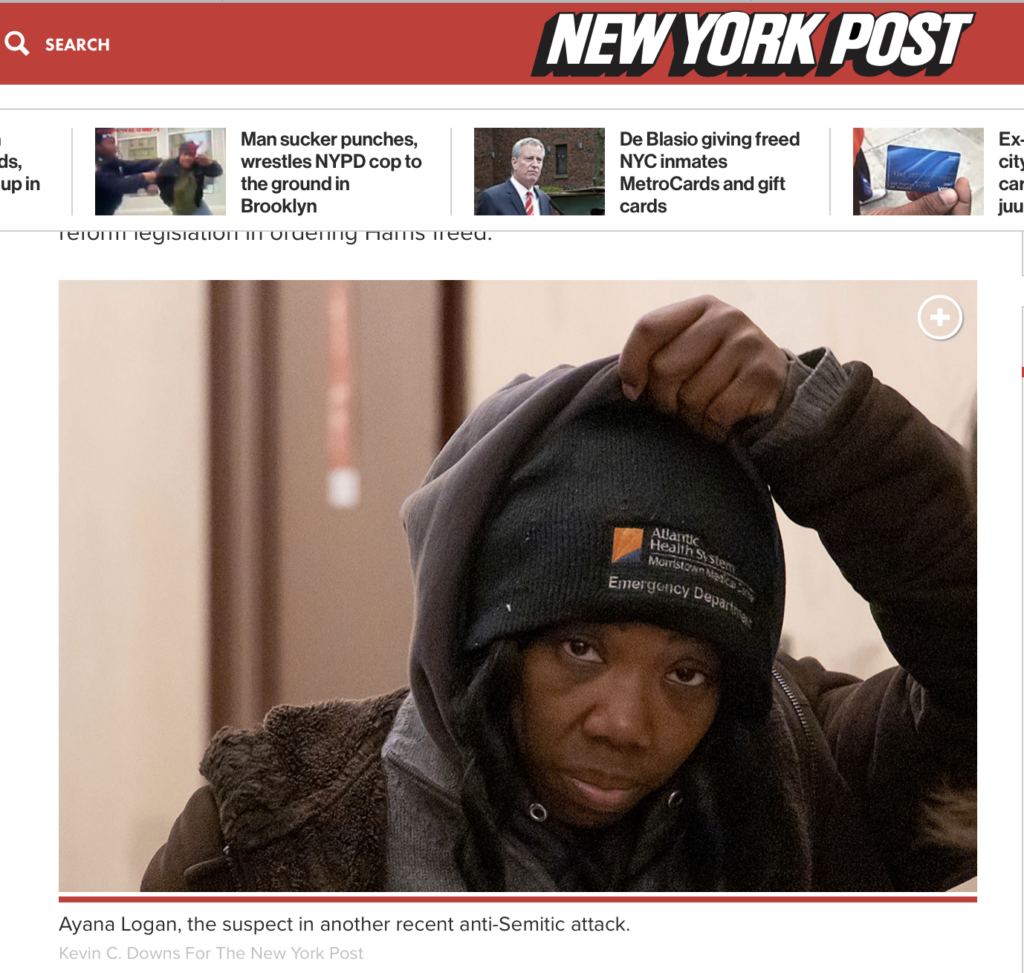 The New York Post reports that suspects in six recent anti-Jewish crimes were released without bail.