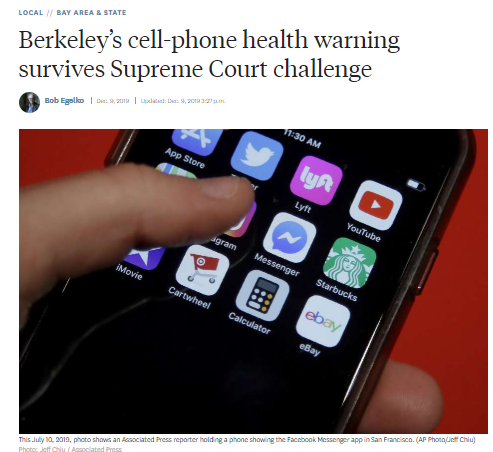 A 2016 Berkeley, California city ordinance requiring cell phone retailers to warn customers about the possible radiation dangers will stand after the U.S. Supreme Court declined to hear the case.
A similar ordinance that required retailers to give buyers a warning that described cell phone emissions as a "possible carcinogen" had previously been successfully struck down in Court.
The Berkeley ordinance informs cell phone customers that carrying cell phones close to the body may expose them to radiation exceeding Federal Communications Commission standards.
Cell phone companies argued that the ordinance violates their free speech rights, and noted that the Federal Communications Commission has declared that "no scientific evidence establishes a causal link" between cell-phone use and human illnesses.
Federal Courts have permitted enforcement of the ordinance tied to the Federal Communications Commission standards.
Read more by clicking on the link below:
https://www.sfchronicle.com/bayarea/article/Berkeley-s-cell-phone-health-warning-survives-14893869.php
Fight government overreach and double-standard justice by supporting the Attkisson Fourth Amendment Litigation Fund for Attkisson v. DOJ and FBI for the government computer intrusions. Click here.