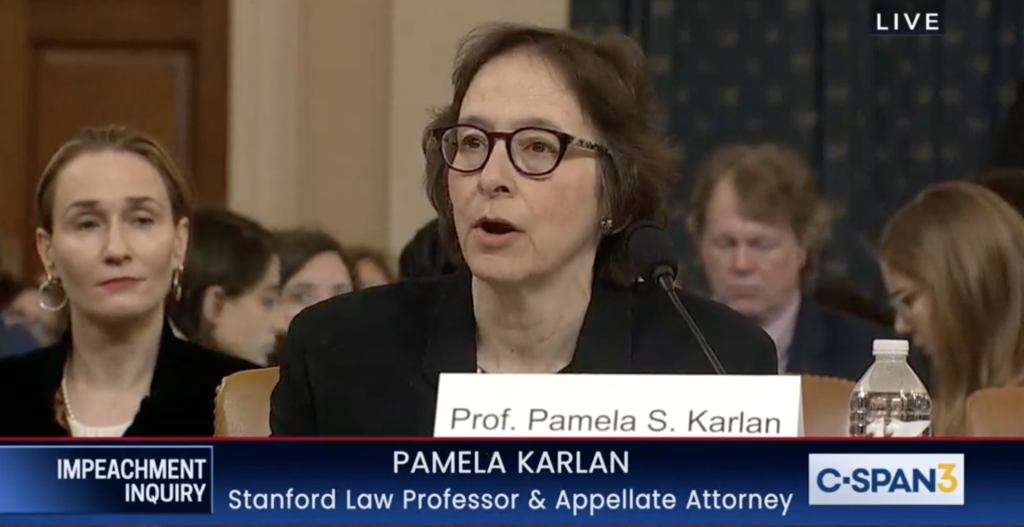 One of the Democrats' witnesses at today's public impeachment hearing against President Trump was a Stanford Stanford Law School professor who is also a supporter of presidential candidate Democrat Elizabeth Warren (D-Mass).
The professor, Pamela Karlan, attacked President Trump by bringing up his 13-year old son, Barron. Karlan told Rep. Sheila Jackson Lee (D-Texas) that "the president can name his son 'Barron,' [but] he can't make him a baron."
After much backlash social media from the comment, particularly on social media, Karlan apologized.
"I want to apologize for what I said earlier about the president's son," Karlan said. "It was wrong of me to do that. I wish the president would apologize, obviously, for the things that he's done that's wrong, but I do regret having said that."
When Karlan was questioned by Rep. Matt Gaetz (R-Florida) during the hearing about her $1,000 donation to Sen. Warren this year, Karlan "became indignant, invoking foreign intervention in American elections."