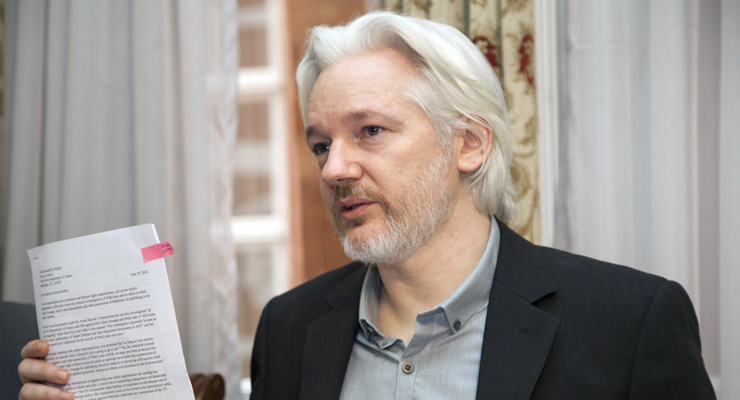 If one goal was to make sure the WikiLeaks founder was discouraged from publishing leaked documents that could reflect poorly on political figures and government officials during campaign 2020, and if another was to chill whistleblowers and leakers from leaking them, it may be: Mission Accomplished.
The following is an excerpt from an article by Consortium News written by a journalist who visited Assange in London at Her Majesty's Prison Belmarsh.
...As a remand prisoner he is entitled to wear his own clothes, but when the thugs dragged him out of the Ecuadorean embassy last April, they prevented him bringing a small bag of belongings. His clothes would follow, they said, but like his reading glasses, they were mysteriously lost.
For 22 hours a day, Julian is confined in "healthcare". It's not really a prison hospital, but a place where he can be isolated, medicated and spied on. They spy on him every 30 minutes: eyes through the door. They would call this "suicide watch".
In the adjoining cells are convicted murderers, and further along is a mentally ill man who screams through the night. "This is my One Flew over the Cuckoo's Nest," he said. "Therapy" is an occasional game of Monopoly. His one assured social gathering is the weekly service in the chapel. The priest, a kind man, has become a friend. The other day, a prisoner was attacked in the chapel; a fist smashed his head from behind while hymns were being sung.
When we greet each other, I can feel his ribs. His arm has no muscle. He has lost perhaps 10 to 15 kilos since April. When I first saw him here in May, what was most shocking was how much older he looked.
"I think I'm going out of my mind," he said then.
According to a recent article by NBC:
Assange, 48, who spent seven years holed up in Ecuador's embassybefore he was dragged out in April, faces 18 counts in the United States including conspiring to hack government computers and violating an espionage law. He could spend decades in prison if convicted...
Assange is being held in British jail pending the U.S. extradition, having served his sentence for skipping bail.
He fled to the embassy in 2012 to avoid being sent to Sweden to face sex crimes accusations. He says the U.S. charges against him are a political attempt to silence journalists and publishers, and the Swedish allegations were part of a plot to catch him. Sweden is reviewing the sex crimes cases...
Assange's lawyer Mark Summers argued that Assange's extradition hearing, scheduled for February 2020, should be delayed by three months due to the complexity of the case...
Australian-born Assange made international headlines in early 2010 when WikiLeaks published a classified U.S. military video showing a 2007 attack by Apache helicopters in Baghdad that killed a dozen people, including two Reuters news staff.
WikiLeaks later angered the United States by publishing caches of leaked military documents and diplomatic cables.
Admirers have hailed Assange as a hero for exposing what they describe as abuse of power by modern states and for championing free speech. As he entered the dock, people in the public gallery raised their fists in solidarity with him.
His detractors have painted him as a dangerous figure complicit in Russian efforts to undermine the West.
(Attkisson note: Assange also published Democrats' important internal documents in 2016 that revealed damaging information about some of their practices and communications, including allegations involving Hillary Clinton, the Clinton Foundation and Clinton campaign chairman John Podesta.)
Read the entire Consortium News article by clicking the link below: