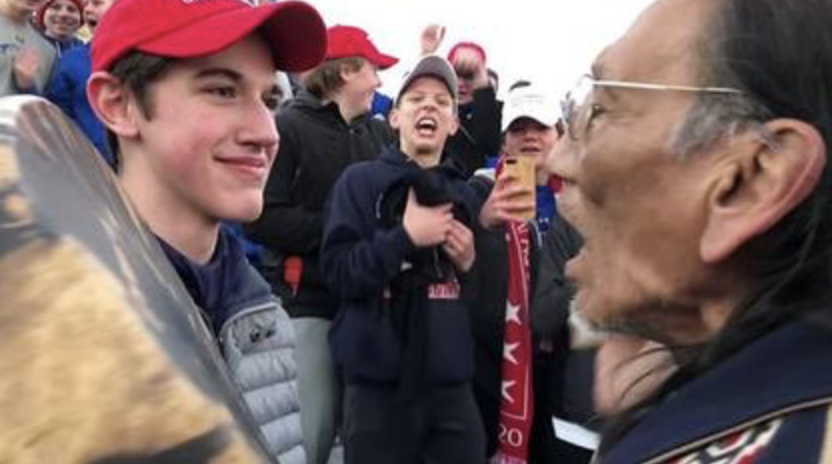 CNN has settled a defamation lawsuit filed by Covington Catholic High School student, Nick Sandmann. The case was over CNN's coverage of Sandmann's videotaped interaction with an Omaha Tribe elder, Nathan Phillips, at the Lincoln Memorial early last year.
According to reports, Sandmann and his classmates were waiting for a bus after an anti-abortion event in Washington D.C. in January 2019. Phillips was attending the Indigenous Peoples March.
Sandmann and Phillips were seen on videotape facing one another; Sandmann, wearing a red "Make America Great Again" hat, was smiling at Phillips; Phillips was beating a drum and chanting.
Widespread media reports accused Sandmann of engaging in a confrontation with Phillips. Sandmann said he was trying to defuse the situation. Later, fuller context showed that a group of black men had taunted the high school group with racial slurs and disparaging comments. Some commentators apologized for mistakenly blaming Sandmann for the confrontation.
Sandmann sued CNN for $275 million, alleging that its coverage of the interaction falsely attacked, vilified, and bullied him. Details of CNN's settlement were not made public.
Sandmann still has defamation suits against several other media outlets, including NBC and The Washington Post.
Read the full story as reported by CNN and the USA Today by clicking on the links below:
https://www.usatoday.com/story/news/nation/2020/01/07/nick-sandmann-cnn-confirms-settlement-covington-catholic-student/2837478001/
https://www.cnn.com/2020/01/07/media/cnn-settles-lawsuit-viral-video/index.html