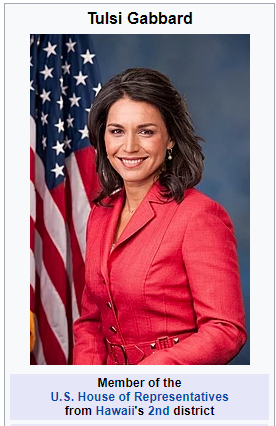 Democratic presidential candidate Tulsi Gabbard recently filed a lawsuit against former Secretary of State Hillary Clinton, claiming that Clinton defamed her by suggesting that she is a "Russian asset."
Clinton did not specifically mention Gabbard's name during the podcast last October, but she stated that the Republicans were grooming a Democratic presidential candidate for a third-party bid and that the candidate was a "favorite of the Russians." Clinton went on to say, "..she's a Russian asset. Yeah, she'a a Russian asset, I mean totally."
The Epoch Times reports that Clinton's office had not yet responded to its request for comment on the lawsuit, but when asked if Clinton was referring to Gabbard, a Clinton spokesperson told CNN, "If the nesting doll fits...."
Gabbard is reportedly seeking around $50 million in damages.
Click on the link below to read more at Epoch Times:
https://www.theepochtimes.com/tulsi-gabbard-sues-hillary-clinton-for-defamation-over-alleged-russian-asset-smear_3212279.html