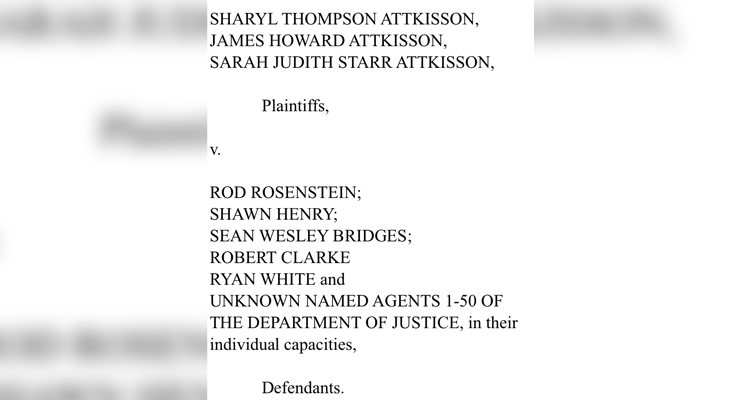 The case Sharyl Attkisson has filed against former Justice Department official Rod Rosenstein and other former federal agents is moving ahead in Maryland court.
Attkisson recently announced a new lawsuit naming some of the federal officials involved in the illegal spy operation on her and other U.S. citizens. According to one of the agents involved in the spying, the operation was based in the U.S. attorney's office in Baltimore, Maryland under then-U.S. Attorney Rosenstein. It allegedly involved illegal spying on hundreds of innocent Americans.
To date, the Department of Justice has taken no action in response to the original 2013 announcement by CBS News, where Attkisson worked as an investigative reporter at the time, confirming that forensics proved Attkisson had been the victim of uninvited, long-term remote surveillance of her CBS computers.
Since that time, independent forensics teams have identified the government pathways and I.P. addresses used in the illegal operation. A former FBI Unit Chief has confirmed his part in helping Attkisson get an early forensics exam from a government forensics expert, identifying the fact that the surveillance software used to monitor her was government-owned. And a former National Security Agency (NSA) forensic specialist has signed a sworn affidavit confirming the government nature of the intrusions.
Read an article on Attkisson's lawsuit here. Attkisson's take can be found here.
However, going seven years, the Department of Justice under three different attorneys general has used taxpayer money to obstruct Attkisson's attempts to hold the guilty parties responsible in court.
Attkisson and her attorneys say they recently "jumped through a final hoop" in closing out the federal lawsuit against the federal agents, which the Department of Justice would not allow to move forward, and filing the new case in Maryland.
Read more on the case by clicking here.
Read the complaint filed in Maryland by clicking the Download below.