More than 80% say they view the U.S. Postal Service, National Park Service, NASA, and the CDC favorably. That's according to a recent Pew Research study.
Fourteen of sixteen federal agencies are viewed more favorably than unfavorably by the public, according to the survey conducted last September.
A majority of both Republicans and Democrats viewed the FBI favorably at the time, reflecting a rebound in Republican opinion, according to Pew. However, the survey was conducted before the Department of Justice Inspector General found serious lapses and abuses in FBI behavior regarding the controversial wiretap of former Trump campaign volunteer Carter Page.
Immigrations and Customs Enforcement (ICE) is the only agency asked about that respondents viewed more negatively than positively, says Pew.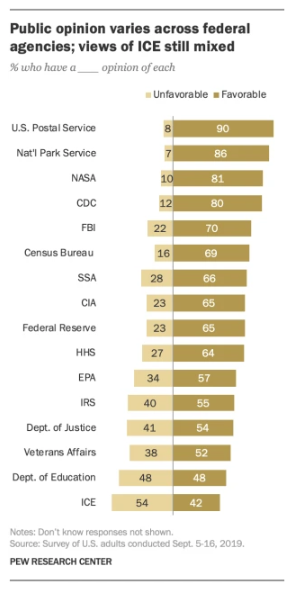 Opinions about ICE appear divided along party lines with Republicans more favorable about the agency than Democrats, but partisan opinion gaps about the Environmental Protection Agency and the Department of Education are reportedly narrowing.
Click the link below to view more from Pew: