Republicans report satisfaction with 19 of 30 different aspects of the United States, while Democrats report satisfaction with only four, according to a recent Gallup poll.
Gallup's scorecard included features of the country's cultural, business, and government climates.
Both Republicans and Democrats report satisfaction with two broad features: the overall quality of life and the opportunity people have to get ahead by working hard, according to the poll.
Political affiliations mark diverging opinions on many other areas, such as the economy, healthcare, and the environment, according to Gallup.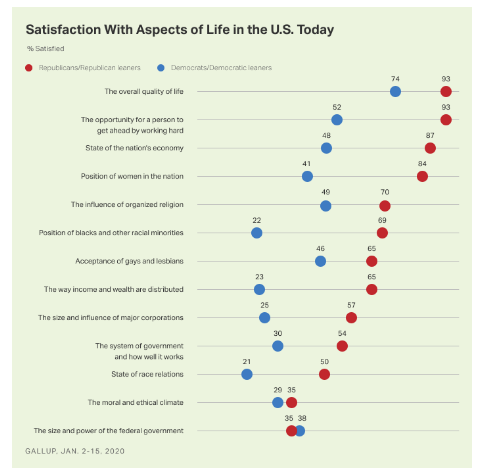 Click on the link below to read the full article on News.Gallup.com:
https://news.gallup.com/poll/284198/state-union-depends-one-political-party.aspx?utm_source=alert&utm_medium=email&utm_content=morelink&utm_campaign=syndication