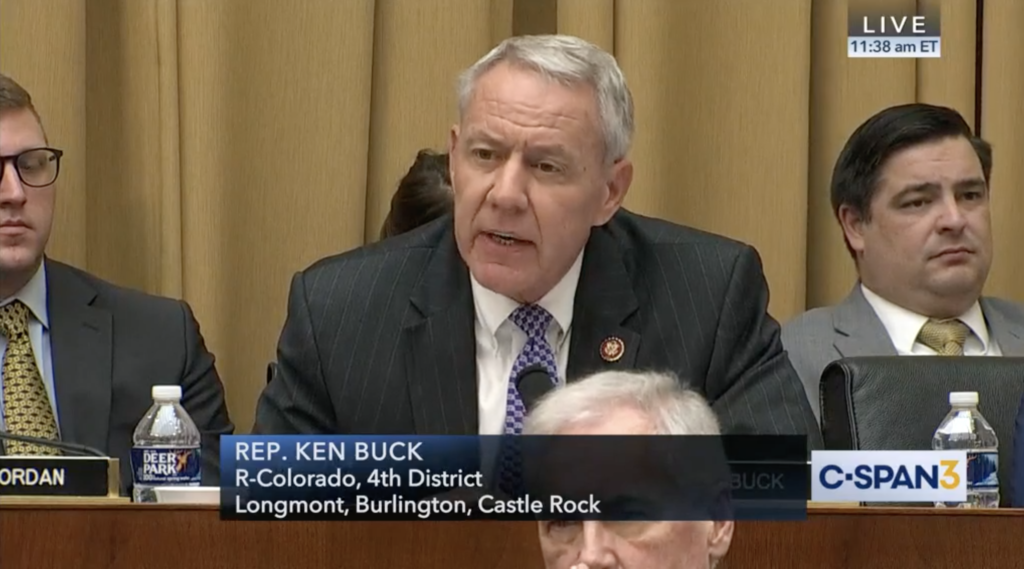 It's going on seven years since CBS News first announced the remote intrusions into my CBS computers.
With multiple independent forensic exams confirming the government's role in the surveillance, and with an admission from a former agent involved in the surveillance operation, the Justice Department is still protecting the guilty parties rather than hold them accountable.
Today, Rep. Ken Buck (R-Colorado) raised the controversy with FBI Director Christopher Wray at an oversight hearing before the House Judiciary Committee.
Watch the video clip and read the transcript below.
Read more about Attkisson v. Rosenstein et al by clicking here.
WATCH: https://www.c-span.org/video/?c4852538/user-clip-buck-wray
Congressman Ken Buck: Director Wray, For twenty-five years, I was a prosecutor. I have seen the professionalism of the men and women of the FBI firsthand. I know how hard-working, thorough, and honest FBI personnel are.
I am deeply concerned with revelations about the corrupt actions of the FBI leadership. I am particularly troubled with the FBI's treatment of investigative journalists like Sharyl Attkisson. When the FBI spies on journalists, it undermines the public trust. It tarnishes the badge.
In early 2011, Sharyl Attkisson began reporting on Fast and Furious – where the Obama ATF recklessly allowed illegal gun sales and watched as straw purchasers "walked" guns across the Mexican border straight into the hands of drug cartels. Attkisson exposed this scandal and the fact that the illegal guns were found at several crime scenes, including where U.S. Border Patrol Agent Brian Terry was murdered.
For her work on Fast and Furious, Attkisson received an Edward R. Morrow award, an Emmy Award, and an Investigative Reporting Award.
Another Attkisson story involved Solyndra, a solar company involving an Obama donor. Obama Energy Secretary Chu approved more than half a billion dollars in taxpayer-backed loans to Solyndra. Chu ignored Treasury's legal guidance and put the rights of private investors above taxpayer interests. When Solyndra went bankrupt, taxpayers lost $528 million. The Administration sought to delay Solyndra's layoff announcement until after the 2010 election.
Ms. Attkisson also covered Obama's Benghazi coverup. Thanks to her, we know Secretary of State Hillary Clinton ignored the warning signs. As allies were withdrawing from Libya, we did not. We know four Americans died waiting in vain for our government to send help. We know Susan Rice, Hillary Clinton, and Ben Rhodes then lied, blaming the attack on a video. Attkisson was nominated for an Emmy for her Benghazi reporting.
Director Wray, you and I are public officials. Media criticism comes with the territory. Some criticism may be unfair, but a free press is indispensable to democracy.
The stories that investigative journalists work on are important. The American people deserve to know the truth about their government, including with respect to Fast and Furious, Solyndra, and Benghazi.
Did the Obama Administration thank Sharyl Attkisson for her work? Did the White House recognize her for keeping the public informed and holding government accountable? Did President Obama present her with a Presidential Medal of Freedom? No, using a highly politicized FBI, the Administration spied on her. That's what small-minded people do.
Government emails show the Obama White House plotted to silence her stories.
After suspicious incidents involving her home internet, computers and phones, Attkisson hired a forensic computer expert who determined she was hacked by an IP address used by the FBI to conduct domestic surveillance - and that spyware proprietary to the federal government and several classified files - had been inserted on her computer.
CBS News, Ms. Attkisson's employer, undertook a second forensic exam, confirming those conclusions.
Former government officials, including one from the FBI, later admitted they took part in this illegal surveillance.
When confronted with the facts, Attkisson did what a good investigative journalist does – she sought the truth. As a last resort, she sued DOJ and the FBI in search of justice. Did the FBI come clean and admit what happened? No, they engaged in delay tactics, prompting Federal Judge James Wynn, an Obama appointee, to write a scathing rebuke of the government's conduct.
I am short on time, so I will forward to your office several written questions for a response.
Has any employee working at or for the FBI ever obtained any record concerning Sharyl Attkisson, James Rosen, AP Reporters Matt Apuzzo, Adam Goldman, Kimberly Dozier, Eileen Sullivan, or Alan Fram or AP Editor Ted Bridis and shared that record with anyone in the Obama White House, including for purposes of creating or maintaining an enemies list?
Has any employee, contractor or other representative of DOJ, to include the FBI, ever attempted to remove, exfiltrate, or transfer data to or from any electronic device used by Sharyl Attkisson, James Rosen or anyone with the AP previously mentioned, without that individual's consent?
In each instance where you answered "yes" to a prior question, please identify under what legal authority such actions took place.
Director Wray, the FBI must put restrictions in place to prevent an Administration, regardless of party, from using the FBI for political purposes.
Given how politicized the FBI and intelligence community have become, I will not support an effort in Congress to renew the expiring provisions of FISA unless and until the FBI and national security agencies clean up their act.
I yield back.