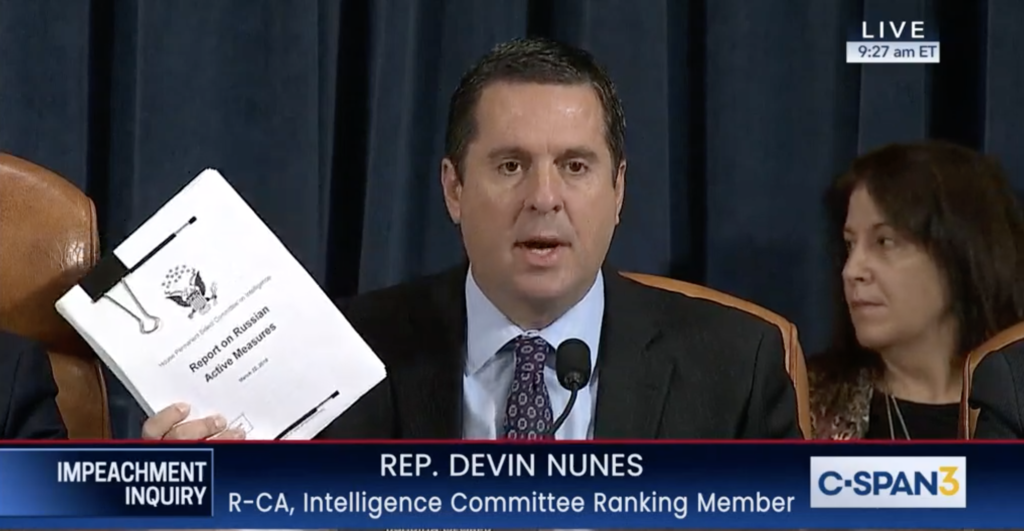 Rep. Devin Nunes (R-Calif.) says he plans to file a federal lawsuit against The Washington Post this week for what he claims was their false and reckless reporting about him.
In the report, The Post claimed that Nunes went to the White House and talked to President Trump about a Congressional briefing. The briefing was given by then-Acting Director of National Intelligence Joseph Maguire about prospects of Russia interference in the current 2020 campaign. The Post report then claimed that Trump "erupted" at Maguire before replacing him.
Today on Fox's Sunday Morning Futures with Maria Bartiromo, Nunes, who is the lead republican on the House Intelligence Committee, said he never talked to the president about Maguire and did not go to the White House when The Post claimed he did.
None of this was true. It was all invented by someone. I don't know if The Washington Post was conspiring with Democrats to make up this fake news story.

Rep Devin Nunes, R-Calif. on Sunday Morning Futures
Nunes is already suing CNN over a separate report that he says also contains provably false information.
"They said I was doing nefarious things in Vienna, Austria. And I wasn't in Vienna when they said I was. I have proof I was in Tulsa, Oklahoma on the days in question. All they had to do was go to my social media," says Nunes.
News outlets are offered broad protection from libel lawsuits when reporting on public figures. To win a claim, public figures have to not only show the information was false, but that it was also due to malice on the part of the reporter or "reckless disregard for the truth."
The Trump campaign recently filed suit against the New York Times.