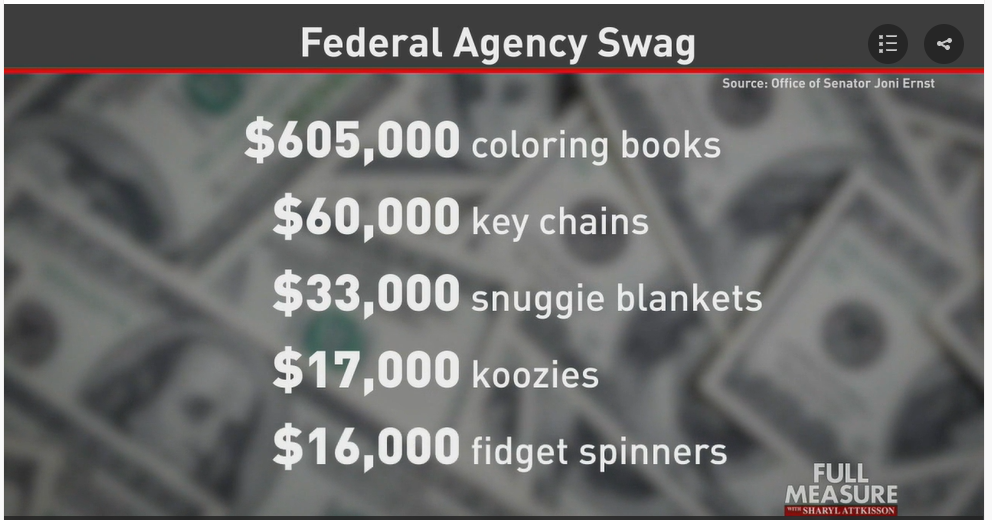 U.S. Senator Joni Ernst's Stop Wasteful Advertising by the Government Act, or SWAG Act recently unanimously passed the Senate Homeland Security and Governmental Affairs Committee.
Ernst's SWAG Act targets the over $1.4 billion the federal government spends each year on public relations and advertising campaigns.
There's zero reason for the federal government to blow a quarter of a million dollars of your hard-earned money on mascots and millions more on needless trinkets and gimmicks.

U.S. Senator Joni Ernst
Wasteful spending on propaganda include over $250,000 for custom-made costumes for "mascots" for various federal agencies.
The State Department spent over $630,000 to buy fake Facebook fans and treat a group of social media influencers from abroad to a two-week junket to locations of popular U.S. television shows to promote American values.
Recently, Senator Ernst joined Full Measure to discuss her SWAG Act. Click on the link below to watch the full interview.
http://fullmeasure.news/news/follow-the-money/follow-the-money-bag-the-swag
Ernst's SWAG Act would:
Prohibit the federal government from spending money to create a "mascot" to promote an agency, program, or agenda, unless such a character is explicitly authorized by statute—like "Smokey Bear" or "Woodsy Owl."
Require agencies to publicly disclose spending on public relations and advertising.
Prohibit the purchase and distribution of "swag"—merchandise such as buttons, coloring books, fidget spinners, keychains, koozies, or stickers, for example—by federal agencies, unless agencies can show that the purchases will generate a positive return on investment or are explicitly authorized by statute.
Click on the link below to read Senator Ernst's press release:
https://www.ernst.senate.gov/public/index.cfm/press-releases?ID=8811113F-48A1-4B65-8DA7-7D45069ED993