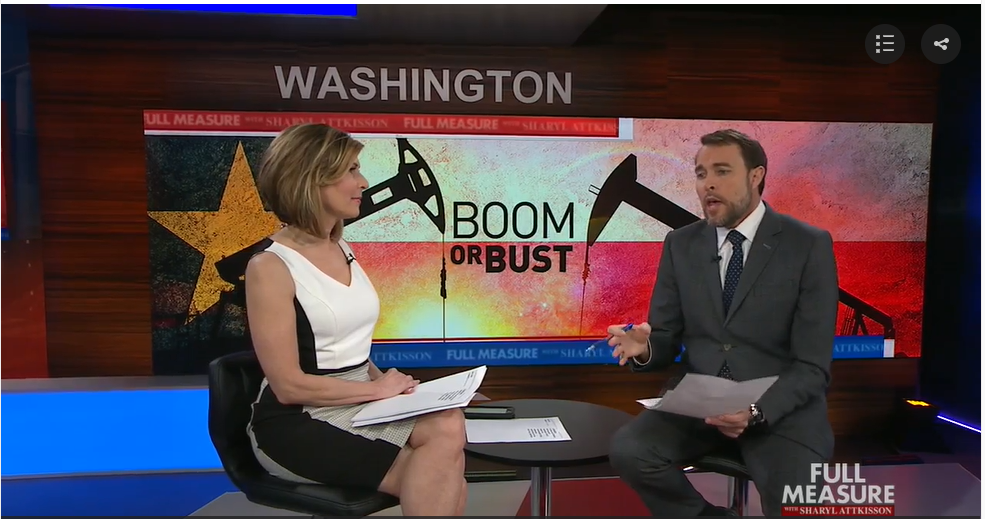 The following is a transcript of a story that recently appeared on Full Measure News. Click on the link at the end of the transcript to watch the video report.
The U.S. financial markets are suffering under the coronavirus pandemic. Added to the mix, an oil price war between Russia and Saudi Arabia. It's driving down oil prices and hurting the U.S. oil industry. And that's big, as Scott Thuman found out last year while reporting on our position as the world's largest oil producer and the wild growth in jobs. Here's an excerpt from Scott's report last year.
(video shows map of the United States with Texas zoomed in)
Scott Thuman: This 86,000 square mile swath of land known as the Permian Basin stretches from the Rio Grande into Southeast New Mexico, possibly containing a mind-blowing 46 billion barrels of oil. Tapping into these giant reserves has just made America the number one crude oil and natural gas producer in the world, outpacing Saudi Arabia, Russia and Iran.
George P. Bush: Some research shows that the average Texan that's employed in the oil and gas industry makes about $130,000.
Scott: So workers from across the country are flooding in, like Chris Woods and Thomas Clayborn, who came from Louisiana, they're just two of thousands here.
Scott: What drew you guys out here?
Chris: The money
Thomas: Yeah, the money.
Sharyl: So what does the sharp fall in price mean for America's oil industry?
Scott: Well, the first thing is jobs. The boom is fading and fewer companies are investing in new wells. With the price of oil, per barrel, falling so low, there is little to no prospect for profit, for now, so everything goes on hold. This isn't like the oil crises of the 1970s when America was hugely dependent on foreign oil, we now produce much more, which means we aren't going to run out, and prices aren't going to go up, because we now control our production.
https://fullmeasure.news/news/politics/boom-or-bust-03-13-2020