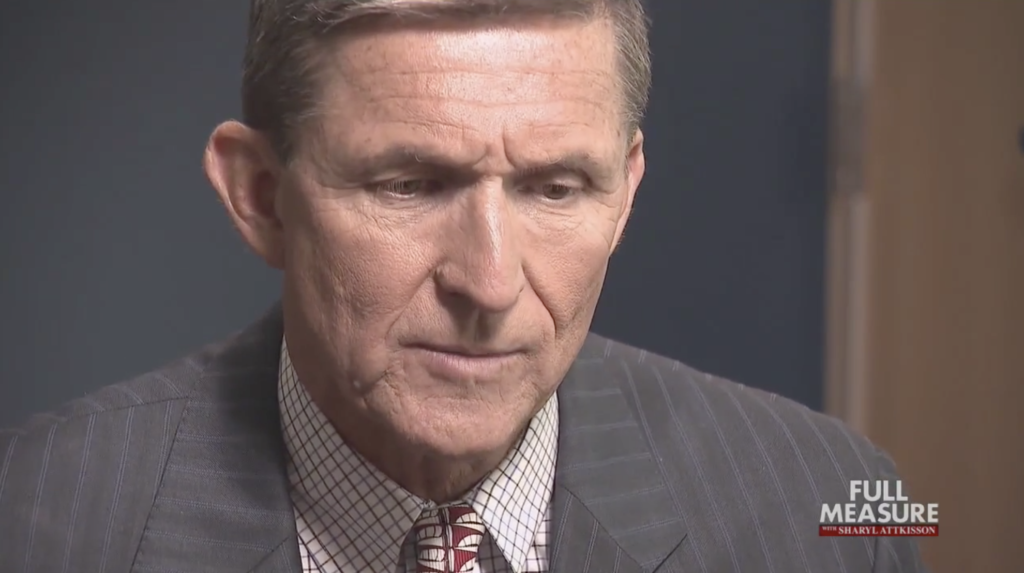 The following updates a Blast From The Past (BFTP).
Lt. General Michael Flynn is now seeking to withdraw his guilty plea for "lying" in a case that stemmed from the Trump-Russia probe, but that did not involve Russia.
Flynn was Donald Trump's national security adviser, and was targeted by Obama officials once Trump got elected.
The Trump administration fired Flynn in early 2017, saying Flynn had not been truthful about conversations he had with a Russian official. (The conversations were not illegal, and Flynn was not charged in relation to them.)
Prior to his firing Flynn, formerly head of the Defense Intelligence Agency under President Obama, had announced plans to 'clean up' alleged wrongdoing and abuses in the intelligence community once Trump was in office.
In this interview with me for Full Measure in 2016 (see link below), Flynn describes how he was originally fired by the Obama administration in 2014 after calling out the "Islamic extremist terrorist" threat at a time when some did not want to use that phrase.
Obama policy not to use the phrase Islamic extremism "treats us like we're a bunch of idiots."

Lt. Gen. Michael Flynn to Sharyl Attkisson on Full Measure, Sept. 11, 2016
Flynn says then Director of National Intelligence James Clapper personally fired him.
Clapper went on to work against President Trump, claiming that Trump had colluded with Russia. After a lengthy investigation, Special Counsel Robert Mueller concluded that was not true.
Flynn is moving to recant his guilty plea based on allegations of serious misconduct by prosecutors, which they deny.
Watch the 2016 Full Measure interview with Gen. Flynn by clicking the link below:
https://fullmeasure.news/news/one-on-one-interviews/fmr-lt-general-michael-flynn-on-ending-war-on-terror?fbclid=IwAR2M6jvKLq4WkAoSmceNGbYO83-i8jsN1lGtS_0P7OHOahAlIZshq2GaySI