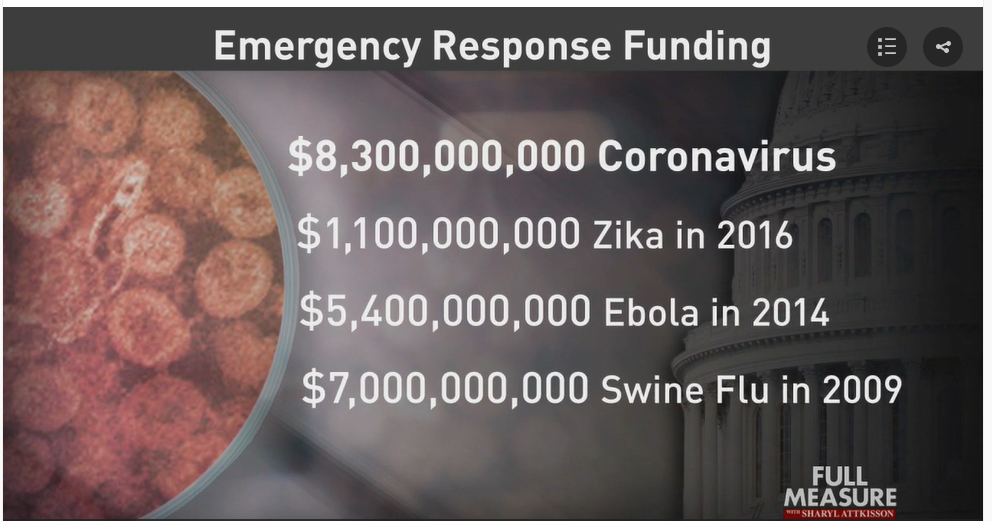 The following is a transcript of a report from "Full Measure with Sharyl Attkisson." Watch the video by clicking the link at the end of the page.
As America continues its battle against coronavirus, help is on the way in terms of money. A trillion dollar economic relief plan is coming up, 100 billion dollar paid sick leave law was just passed. And before that, Congress passed an emergency response bill.
If you're wondering what took that measure from $2 billion dollars to $8.3 billion in the blink of an eye we did too. Here's what we found in it.
President Trump signed the emergency response bill into law more than two weeks ago.
President Trump: So we're signing the 8.3 billion, I asked for two and a half, But I got 8.3 and I'll take it.
At $8.3 billion dollars, it exceeds the $1.1 billion for Zika in 2016, $5.4 billion for Ebola in 2014, and $7 billion for swine flu in 2009.
Where's all the coronavirus money going? You might be surprised to learn that when Congress doles out emergency funds, it doesn't include calculations as to how it arrived at the huge numbers. Giant pots are given under general headings.
Here's a basic breakdown of the $8.3 billion dollars.
Under salaries and expenses: $20 million for the federal Disaster Loans Program and $60 million for FDA. No description of how the numbers were estimated.
CDC gets $2.2 billion on top of its $7 billion dollar annual budget.
$950 million of that goes to state and local governments.
Local health centers get $100 million more through the Department of Health and Human Services HHS.
Lots of money is going into big pots of Emergency Funds.
In all, $3.1 billion goes to the HHS Public Health and Social Services Emergency Fund for four years. $300 million of that for vaccines and medicine, including money to pharmaceutical companies that will own and sell any new products developed.
At least $200 million more goes to the State Department Foreign Operations Emergency Reserve Fund.
$264 million to State Department Foreign Affairs for diplomatic response and evacuation over the next two and a half years.
$300 million dollars to CDC's Infectious Disease Rapid Response Reserve Fund, adding to $185 million already given in recent years.
And separate from the much larger economic relief bill, there is $250 million for an "Economic Support Fund."
In terms of foreign assistance, The U.S. Agency for International Development gets $435 million for "Global Health Programs."
There's $300 million more for "international disaster assistance."
$300 million dollars for global disease detection and emergency response under CDC.
And $836 million more for the US or global response under the National Institutes of Health.
The emergency response bill included about three million dollars to pay to conduct oversight of the programs funded.
http://fullmeasure.news/news/cover-story/coronavirus-emergency-funding