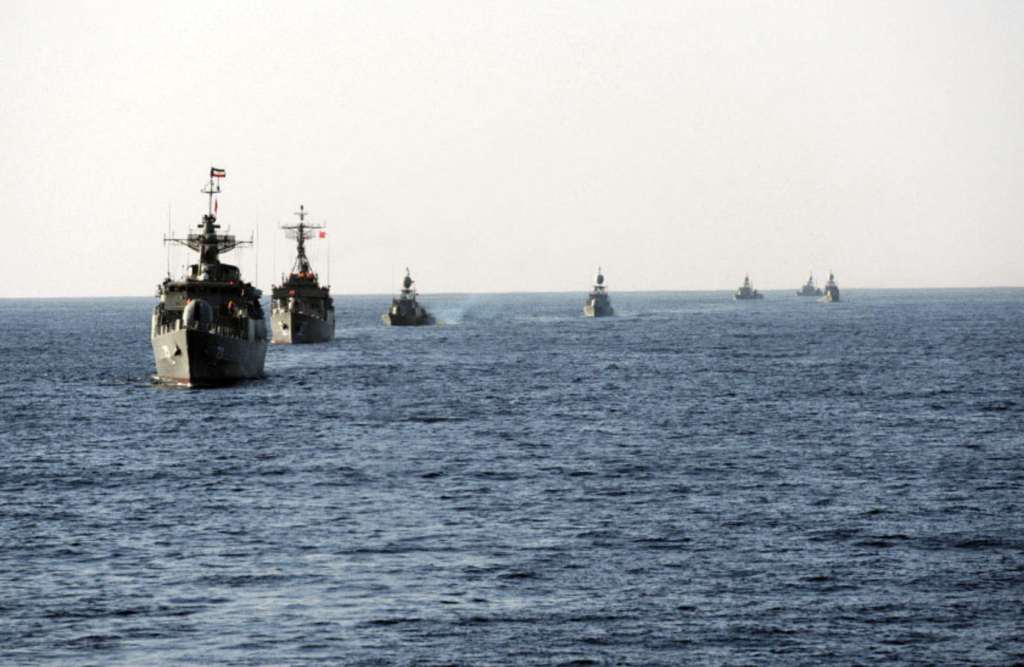 Amid President Trump"™s recent promise to push back against any naval threats by Iran, the State Department has published "Iran's History of Naval Provocations."
I have instructed the United States Navy to shoot down and destroy any and all Iranian gunboats if they harass our ships at sea.

President Donald J. Trump, Twitter, April 22, 2020
The following are excerpts from the State Dept's fact sheet:
In March 2017, the USNS Invincible was forced to change course to avoid collision with multiple approaching IRGCN fast-attack small crafts.

In July 2017, an IRGCN vessel came within 150 yards of the USS Thunderbolt in the Persian Gulf, forcing it to fire warning shots.

In August 2017, an unarmed Iranian drone flew close to the USS Nimitz as fighter jets landed at night, threatening the safety of the American pilots and crew.
On May 12, 2019, IRGC naval personnel placed and detonated limpet mines on two Saudi, one UAE, and one Norwegian-registered ships while they were harbored in UAE territorial waters near Fujairah Port.

On June 13, 2019, IRGC naval personnel placed and detonated limpet mines on one Japanese ship and one Norwegian owned ship while they transited the Gulf of Oman. The U.S. later released a video showing IRGC naval personnel removing one of their limpet mines off the side of the Japanese tanker.

On June 19, 2019, IRGC personnel deployed a surface-to-air missile to shoot down a U.S. unmanned aircraft operating over international waters in the Strait of Hormuz. IRGC Commander Hossein Salami announced that Iran had shot down the drone, claiming that it was operating within Iran"™s territorial waters.

On July 19, 2019, the IRGC Navy seized the British-flagged, Swedish-owned Stena Impero tanker while it was transiting the Strait of Hormuz. On the same day, the IRGC also temporarily detained the Liberian-flagged Mesdar tanker. The Stena Impero and her crew were detained in Iran for more than two months as negotiating leverage.
On April 14, 2020, the IRGC Navy forcibly boarded and detained the Hong Kong-flagged SC Taipei oil tanker in international waters, and sailed the tanker into Iranian waters.
On April 15, 2020, eleven IRGC Navy small boats disrupted five U.S. naval vessels conducting a routine exercise by repeatedly engaging in high speed, harassing approaches. The Iranian vessels repeatedly crossed the bows and sterns of the U.S. ships coming as close as to within 10 yards of a US Coast Guard Cutter.
President Trump will not tolerate or appease Iran"™s foreign policy of violence and intimidation. Iran must act like every other normal nation, not a nation that sponsors piracy and terror.

U.S. Department of State, 4/22/20
Click on the link below to read the State Dept. fact sheet:
https://www.state.gov/irans-history-of-naval-provocations/