A record low number of Americans, 50%, say it's a good time to buy a house. That's according to a new gallup poll.
That represents the lowest percentage of Americans with that opinion since Gallup began measuring it in 1978.
The previous low point was 52% during the housing bubble in 2006.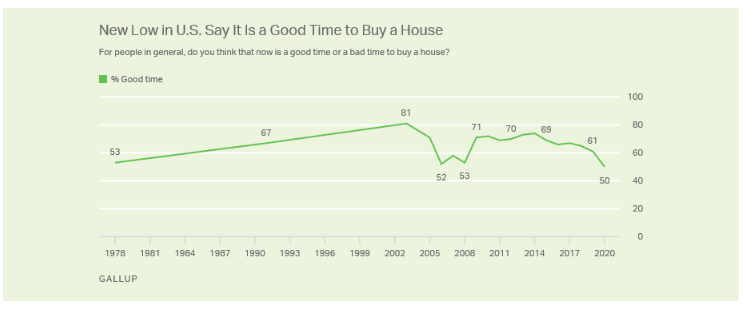 The new low coincides with a record drop in Amercans' economic confidence and worry about their own financial situation due to the coronavirus epidemic, says Gallup.
Forty percent (40%) of Americans say the average price of homes will increase over the next year. That's down from 62% a year ago.
Twenty-five percent (25%) say that home prices will decrease in the coming year. That's compared to 9% who said that last year.
Americans were more pessimistic about home values between 2008 and 2011 than they are now.
Click on the link below to read the Gallup poll story:
Gallup: New Record Low in U.S. Say It's a Good Time to Buy a House
To help fight government overreach, support Attkisson v. Dept. of Justice/FBI over the government computer intrusions. Click here to support.