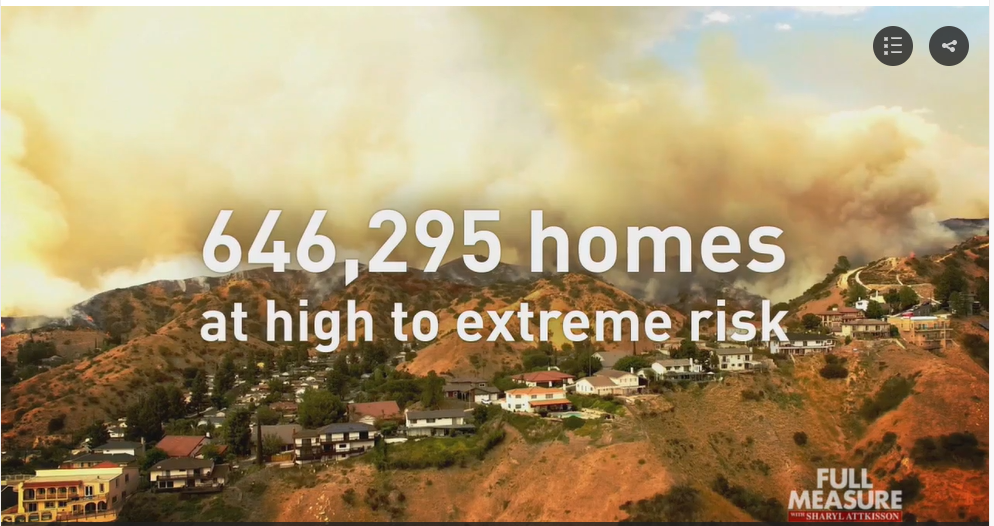 The following is a transcript of a report from "Full Measure with Sharyl Attkisson." Watch the video by clicking the link at the end of the page.
Californias big power company PG&E is paying victims more than $13 billion dollars for deadly California wildfires sparked by its faulty power lines. Now, as in other part of the U.S., the shape of where California residents are able to rebuild and live is changing, based on risks of whether they could suffer a repeat disaster. Lisa Fletcher has the story.
Lisa: The Tubbs Fire tore through Santa Rosa California in October of 2017, killing 22 people, and torching more than 3,000 homes.
By some estimates, Santa Rosa's economic loss was more than $1 billion.
Today, almost 2 and a half years later, many are still waiting to rebuild their homes.
Tom Schwedhelm: Theres not enough capacity of the building industry to build that quickly.
Lisa: Santa Rosa Mayor Tom Schwedhelm has lived in the area 40 years. We met with him in the dark, during a blackout designed to keep electrical equipment from sparking new fires.
He says, insurance at the time of the Tubbs fire only covered two years of living expenses, and for some families, that time has run out.
Schwedhelm: So now we have folks who are - their houses being rebuilt, but they're out of their two year deal, so they're paying rent to live somewhere and they're paying the mortgage for their house, so Santa Rosa is left out in the cold there.
Lisa: According to a 2019 analysis, California has nearly 650,000 homes at high to extreme risk from wildfire.
And a crisis has emerged along the sidelines. Insurance companies can't shoulder the cost to rebuild in the highest risk zones.
Dave Jones: We are steadily moving towards a future where people more broadly wont be able to find insurance.
Lisa: Dave Jones was California's insurance commissioner for 8 years.
Jones: Theres no question that as the severity and frequency of wildfires has increased in California, insurers are responding in two ways. One is theyre raising prices, and the other is theyre declining to renew insurance or write new insurance in high risk wildfire areas.
Lisa: According to the current insurance commissioner, over the last 4 years, about 350,000 Californians have lost their fire insurance. Many have been forced into California's FAIR plan, which provides insurance only as a last resort.
Lisa: Is this a crisis?
Dave Jones: I think for the people that cant find insurance...for those people, it is a crisis.
Lisa: For some the crisis is finding coverage they can afford.
Lisa: Do you foresee a time if things dont change where large swaths of California will be uninhabitable by virtue of the fact that people just cant afford the insurance for those areas?
Jones: Theyll continue to be inhabited but people wont have insurance. It will make these areas less and less affordable, make it more difficult for lower income Californians to stay in or to purchase these areas.
Lisa: Higher premium prices could reveal a silver lining that moves people out of high risk areas.
It's just what has happened over years in flood zones. Reforms are being called for there, because for years taxpayer dollars went to rebuilding homes that were sometimes destroyed every time a hurricane or flood hit.
Jones: You have this circumstance where we end up with people rebuilding over and over again, in areas that are going to flood over and over again.
Lisa: Back in California you can see charred earth just steps away from this upper class neighborhood outside Los Angeles, a reminder that communities are under a near-constant threat.
Jones: Unless we address underlying drivers more aggressively, insurance is going to continue to be the canary in the coal mine so to speak, sending out the warning that the risk is too high, the risk is too high. And well see less and less insurance available in these areas.
Californias legislature was working on an insurance plan to balance cost, versus risk, until coronavirus arrived, and sent lawmakers home.
https://fullmeasure.news/news/politics/fire-insurance-04-13-2020