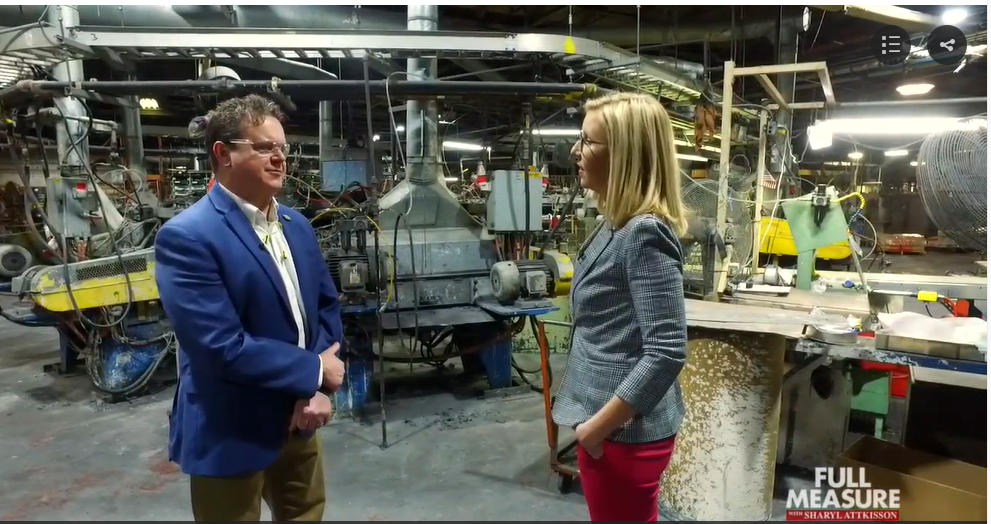 The following is a transcript of a report from "Full Measure with Sharyl Attkisson." Watch the video by clicking the link at the end of the page.
With coronavirus ravaging public health and the economy, the U.S. is taking a new look at its dependence on China. We rely on China's supply chain for everything from prescription drugs to stainless steel, making it easy for China to wreak havoc. Joce Sterman recently visited the *only* manufacturer of flatware in the US, about to play a much bigger role in supplying Americans.
Joce Sterman: A bustling factory, 40 minutes outside Syracuse, New York, is the only place in the US that makes stainless steel forks and spoons. Each one is 100% made in America.
Matt Roberts: Some products that we manufacture have 20, 30 steps in the process just to make a fork and spoon.
Joce: Matt Roberts owns Sherrill Manufacturing.
Roberts: It started with two families. We talk to everybody on a daily basis about how their family is doing.
Joce: A family affair, the factory, home to the brand Liberty Tabletop, now has about 55 employees, who churn out up to 15,000 pieces of flatware every single day.
And now, they're about to get a lot more busy.
That's thanks to the SPOONSS Act, that's "Support Procurement of our Nation's Stainless Steel Act." It requires the Department of Defense to buy American made flatware and silverware. The bill was championed by Congressman Anthony Brindisi, who lobbied for it on Capitol Hill, along with the factory's other owner, Greg Owens.
Greg Owens: We're ramped up and ready to go, as soon as that dial starts turning up.
Joce: He says more orders will start to arrive in the next year, with their products moving all over the world.
Owens: Mainly the Navy, because of the way we ship and package and we're agile enough to be able to send it where the ships are. It also goes to embassies all throughout the world. It could go to the troops in Iraq or Afghanistan. It could go anywhere.
Joce: For Sherrill Manufacturing, this isn't just about dinnerware. It's about America's spot at the table.
Roberts: If you don't make things, you rely on other countries and when certain things happen, for example the Coronavirus, we're starting to see problems with supply chains. So if we have a manufacturing base in the United States, it certainly helps the economy and helps us become more stabilized in my opinion.
Owens: What do forks and spoons have to do with our national defense? Bringing these products back to the United States doesn't just support the spoons and forks industry. It supports our steel industry, which is central to our national defense.
Joce: And it brings a sense of pride to this booming factory in the heart of Central New York.
Joce: This spoon that you made, it could be around the world in the hands of someone who fights for our freedom.
Owens: When you talk to veterans and they look at, oh I remember this, I ate off this during the entire time I was in the service, and that's kind of cool too.
Joce: Table service that also serves to support American manufacturing.
https://fullmeasure.news/news/politics/made-in-america-03-30-2020