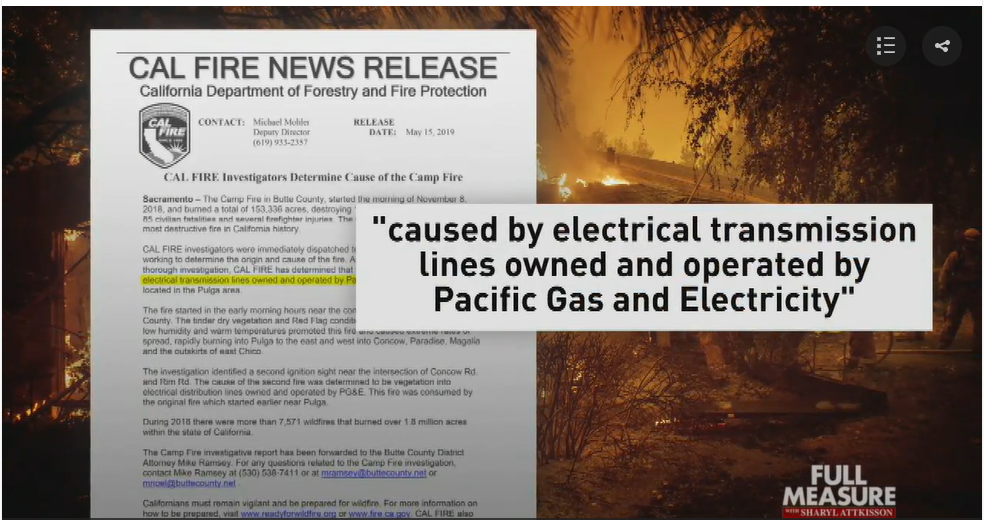 The following is a transcript of a report from "Full Measure with Sharyl Attkisson." Watch the video by clicking the link at the end of the page.
We've been reporting on California's deadly wildfires and all the federal tax money spent trying to control them. Now, an update. Utility company Pacific Gas and Electric, PG&E, recently pleaded guilty to 84 counts of involuntary manslaughter for its role in the deadliest fire in the state's history, known as the Camp Fire, in 2018. Lisa Fletcher has been following the investigation.
Lisa: It was November of 2018, flames blew through Paradise in less than 24 hours, torching more than 31 square miles. It became known as the Camp Fire, killing 85 people and destroying nearly 19,000 homes. The fire was caused by electrical transmission lines, owned and operated by PG&E.
PG&E supplies electricity and natural gas to 16 million people. Its system was built beginning over a century ago, to carry water powered electricity from the Sierra Nevada Mountains in Eastern California, to the San Francisco Bay Area.
According to a 700-page investigation by the state, PG&E failed to inspect and maintain an aging electrical tower.
It wasn't an isolated case. PG&E equipment reportedly sparked 19 major blazes in 2017 and 2018.
Now that there's been a guilty plea, PG&E will shell out $13.5 billion to victims of the Camp Fire and other fires and hundreds of millions to the town of Paradise and its county. The big question now is whether PG&E can pull itself out of bankruptcy. It recently struck a deal with California's governor that's awaiting approval by a judge but if a decision isn't reached by June 30th, PG&E says it will put itself up for sale.
http://fullmeasure.news/news/politics/update-california-fires