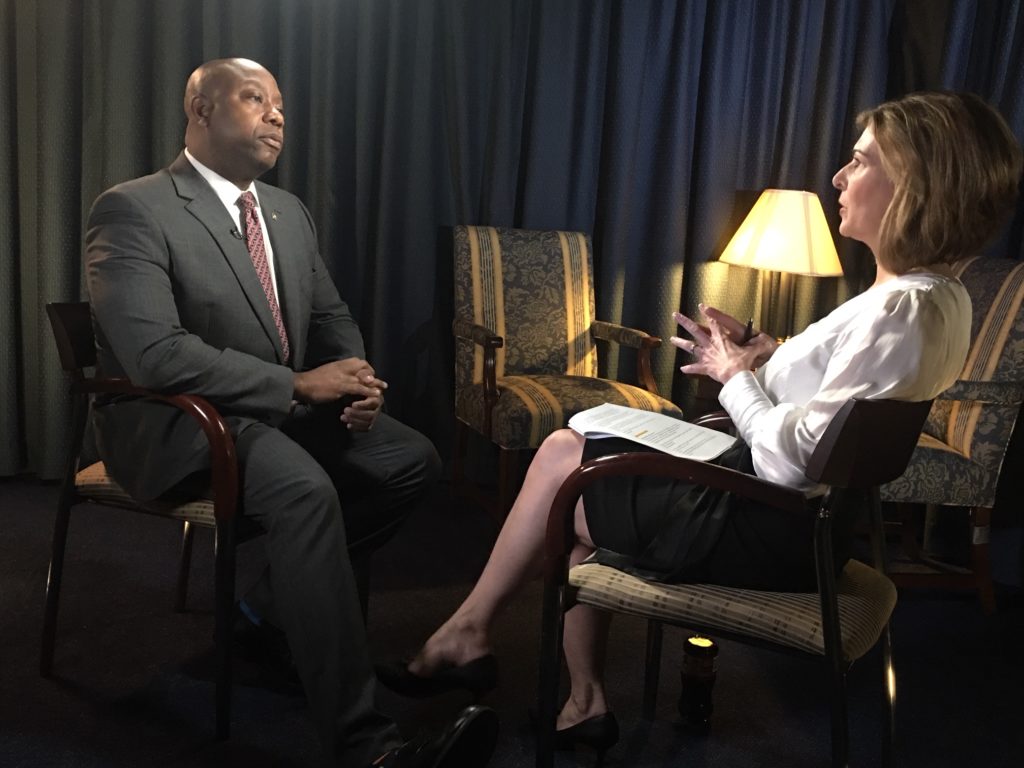 The following is from Full Measure with Sharyl Attkisson. Watch the video by clicking the link at the end of the story.
As the country strives to heal the economic damage from coronavirus, some say "opportunity zones" can play a special role. Senator Tim Scott of South Carolina came up with the idea of opportunity zones and explains what they can do.
Tim Scott: Opportunity zones are a way for us to bring more resources from the private sector into the parts of the country that are in desperate need of new development and new resources.
Sharyl: In practical terms, is this offering really favorable loan terms for somebody that starts a business in a dilapidated area or an area that needs help?
Scott: Well, what this requires for you to take advantage of the opportunity zones is a longterm investment in one of the areas. What we don't want our folks to come in, make a quick turnaround, make a profit and run out. You have to be there at least five years, optimally seven years, in order to get the bigger benefits of the zones. But these are not loans. They're not government handouts. It is specifically designed to bring entrepreneurs into neighborhoods to refurbish homes, to start businesses, to attract more wealth into the neighborhoods so that the residents of those neighborhoods have a chance to prosper and succeed because of this notion called opportunity zones.
Sharyl: What do they, the people who come into these areas, get out of it?
Scott: If you stay for seven years, you get a 15% reduction on the capital gains tax that you owed at the beginning 2019. You pay that tax to 2026. So you get a seven year delay in paying the tax. You get a reduction of 15% if you will make a longterm investment of those capital gains into those neighborhoods. Then whatever you're investing in, if you stay there for 10 years, then you eliminate the capital gains tax that would have been owed on the new investment.
Sharyl: Did it used to be called enterprise zones?
Scott: Jack Kemp, the forerunner of the opportunity zone concept, started the conversation with enterprise zones, which was focusing on bringing more government resources into those same neighborhoods. I inverted the idea and decided that the government had done a lot of work, just falling short though for the kids in the neighborhood. I wanted to bring the private sector in. So the idea was birthed because of Jack Kemp. Jack Kemp was what we considered the bleeding heart conservative of his era, and so I wanted to see his dream that I found when I was a younger politician come to reality.
Sharyl: When did the opportunity zones start?
Scott: We started working on this in about 2013, 2012, 2013. And it became a law in 2017 in December.
Sharyl: And how many opportunity zones are there?
Scott: There are almost 9,000.
Sharyl: And who has benefited?
Scott: I think Memphis, Tennessee is a classic example of a $1 billion investment by folks who are investors in Memphis. They're now refurbishing a neighborhood and providing longterm opportunities. I like the one in Dallas, Texas, since I'm a Dallas Cowboys fan. There's a joint venture that's putting $400 million on the south side of Dallas, 2000 plus jobs being created, affordable housing happening. And my good friend John Gettys, who's the mayor of Rock Hill, South Carolina, is doing a half a billion dollar investment over the next five years, bringing affordable homes to the downtown Rock Hill area for the very first time, he says, in more than 40 years.
Not everybody favors Opportunity Zones. The CEO of the Houston based real estate firm Hines recently called them "really bad public policy" saying that "anything you do to artificially affect the market forces for real estate is sort of a problem.
https://fullmeasure.news/news/one-on-one-interviews/opportunity-zones