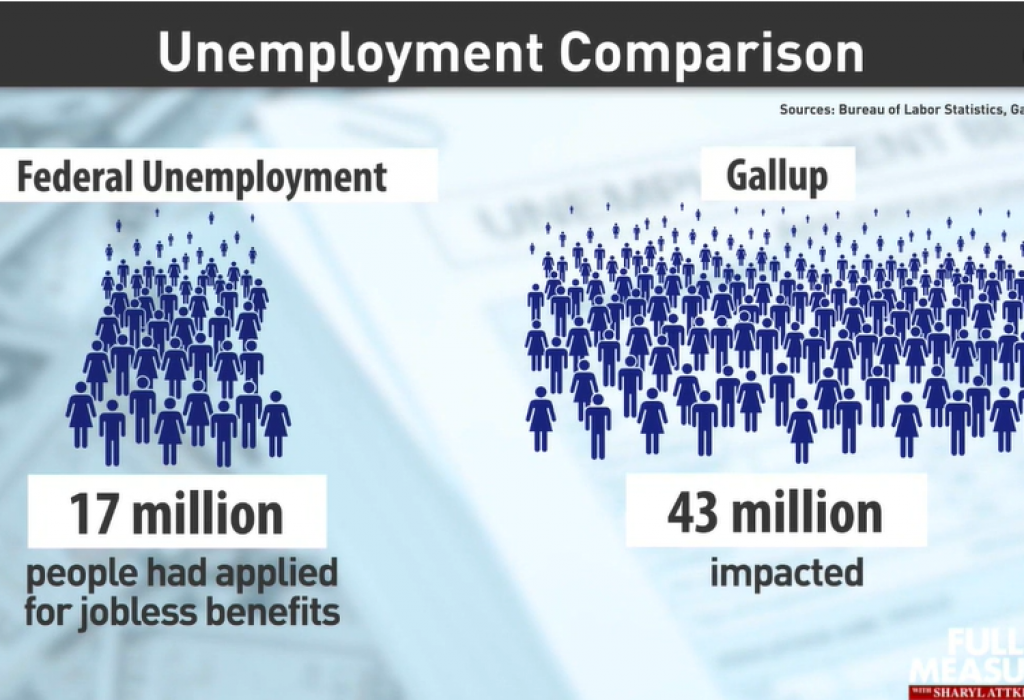 The following is a transcript of a report from "Full Measure with Sharyl Attkisson." Watch the video by clicking the link at the end of the page.
A record 20.5 million jobs were lost in April and unemployment rate jumped to 14.7%. But as bad as those official government numbers are, they don't don't take into account people who are laid off or had their hours reduced, a much higher figure. Gallup has been working to capture that number. Johnathan Rothwell, principal economist at Gallup, tells what they're finding.
Sharyl: What are the trends that you're seeing in your Gallup surveys as far as who is reporting that they are temporarily or permanently out of work now?
Johnathan Rothwell: We've seen really big differences by industry, as you might expect. So people in the restaurant industry, people in accommodations, and people in transportation are much more likely to have seen either permanent job loss, temporary job loss, or reduced hours. If you add those categories together, you get that half of people in those industries have been already harmed by the coronavirus.
Sharyl: Were there any sectors or industries that you were surprised to learn were not as impacted that are able to still operate?
Johnathan Rothwell: Well, one is the construction industry. I just can't say I'd have the number right off the top of my head, but I have seen that a number of cities and state governments have deemed them to be in the essential industries. So hopefully many of those projects can continue without mass layoffs.
Sharyl: In simple layman's terms, how are the unemployment numbers calculated by the federal government?
Johnathan Rothwell: So they basically take anyone who doesn't have a job but is looking for work, and count those people as unemployed.
Sharyl: Gallup has been looking at the job situation a little differently since March first, and getting even more worrisome results.
Sharyl: How are you calculating those numbers?
Johnathan Rothwell: We're asking in a very direct way, have you been affected by the coronavirus in terms of having either reduced hours, been laid off temporarily, or been laid off permanently?
Sharyl: Here's the difference.
Going by the federal unemployment figures, by the second week of April, 17 million people had applied for jobless benefits over the previous four weeks.
But Gallup polling suggests far more, 43 million, had actually been impacted, when factoring in those laid off or with their hours cut back.
And at the same time federal unemployment was tallied at 4.4%
Gallup estimated 28% of the work force had been impacted.
Sharyl: Why is it important do you think, to have those numbers, the greater numbers of everybody impacted, not just to fit into one particular category?
Johnathan Rothwell: I think it's crucial to understanding the necessary public policy responses. There's some questions as to whether or not that funding is going to be adequate, whether it's proportionate to the people who really need it, because some people will go from making 100% of their salary to making 0% of their salary. And it's, it's not clear that replacing 40 to 50% of their income, which is what's likely to happen through the unemployment insurance system, is really going to be enough to sustain them, particularly if this crisis goes on past two or three months.
Taking into account all workers impacted by coronavirus, including by layoffs and reduced hours, Gallup now estimates one-third of the workforce is impacted. That amounts to 54.2 million Americans.
http://fullmeasure.news/news/politics/unemployment-in-america