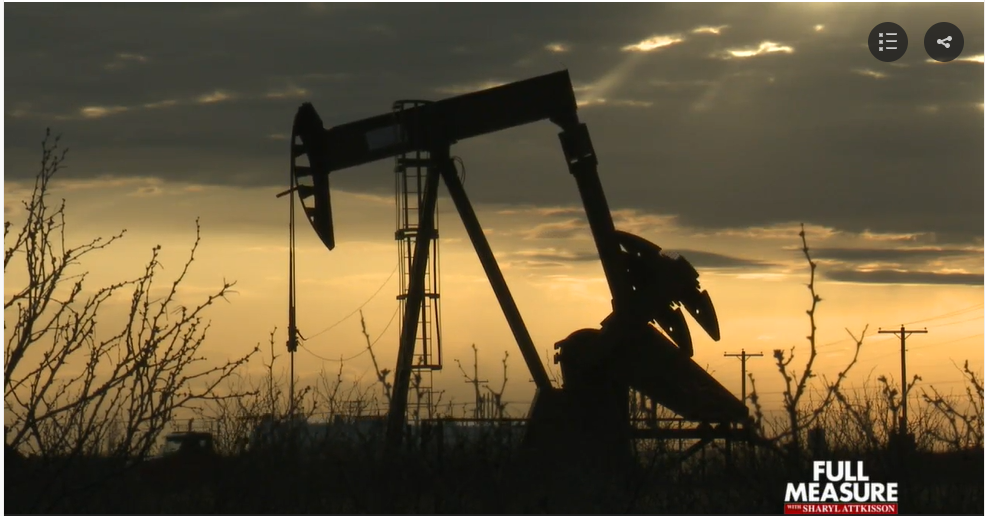 The following is a transcript of a report from "Full Measure with Sharyl Attkisson." Watch the video by clicking the link at the end of the page.
We begin with the Texas oil boom-now-turned-bust thanks to a bad case of coronavirus. The pandemic has added a terrible new chapter to one of the most epic economic stories of our time. In 2018, the U.S. became the world's largest producer of crude oil. And just as that helped lift the whole nation's wealth, the bust impacts all of us too. Today, we look at what's happened and what's next.
Sharyl: Can you describe how things were in Texas just a couple of months ago when it comes to the oil and gas industry and did things literally change almost overnight?
George Bush: Our state was producing about 5 million barrels of oil before the pandemic, which was an all-time record for our state. And some parts of our state had record low unemployment, probably less than 3% in the Permian basin. So overnight we had, as you say, a double shock both on the supply side and the demand side of the ledger.
(video shows Texas and map of Permian basin)
Sharyl: Like the rest of America— everything changed for Texas and its booming oil and gas industry in the blink of an eye.
Texas is where most of the Permian basin is situated 86-thousand square miles of oil rich land. Oil from here is a big reason why, in 2018, the U.S. became the number one crude oil and natural gas producer in the world, ahead of Saudi Arabia, Russia, and Iran.
Until the pandemic, Texas was begging for workers to fill all the jobs— as the mayor, at the time, of Midland told Full Measure last year.
Jerry Morales: We're 15 thousand workers short just in the oil and gas industry, our road fatalities are at a record high because our infrastructure is stretched so thin.
And George Bush, at the helm of the state agency managing Texas land was enjoying a Texas oil and gas renaissance.
Bush: Some research shows that the average Texan that's employed in the oil and gas industry makes about $130,000.
Sharyl: One year after that interview, the black gold rush has come to an abrupt halt. And we're checking back in with Bush in Texas, nephew of President George W. Bush, son of Jeb.
Bush: It's really basic economics when it comes to oil and gas. So global supply went from a hundred million barrels a day to two 80 million barrels.
Sharyl: Can you just give me some insight as to when you first recognized you are in for something really big and something bad?
Bush: I read international news clips and you know even in January we were seeing alarming news coming out of Wuhan, China. And for a state that has tremendous amount of business with China, particularly in the oil and gas space, this is something I was keeping an eye on, never to the extent that we are witnessing right now within our own borders, but nonetheless something that as a state leader, you've got to keep an eye on.
But for me, the telltale sign was actually at a political event, I want to say in late February, where we started instead of shaking hands knocking each other with the elbow. And once the cases started in Washington, California, we knew that we were in this for the long-term.
Sharyl: We understand why this is obviously such a big deal for the oil and gas industry and for Texas, but can you help translate that to Americans who don't understand directly why this impacts the entire US economy? Why it should matter to them?
Bush: Well when you look at blue collar workers and manufacturing in our country, a lot of that stems from oil and gas activity. Our country now and within a generation has become a net exporter of oil and gas, so that allows us to have more strengths abroad but also lower costs at the pump. So oil and gas matters not only for your personal pocket book, but for those of you that are currently employed or looking for a job. It'll likely be oil and gas that will lead to a new job and perhaps a new career, at least in our state, close to 20% of our workforce is employed by the oil and gas industry directly. And if you look at the indirect benefits of what low energy domestic supply has provided for our state, which leads the country, I would argue from an economic perspective, it all starts with oil and gas.
Sharyl: What do you see as how Texas looks and our energy industry looks a year from now?
Bush: Well, I think we'll be extraordinarily resilient as we have. You know, I can't tell you how many times our state has been through the ups and downs of oil and gas shocks dating back to the Spindletop days of 1901. When you look at the last downturn, our state employed 40% of all new jobs out of the last great recession. And so, I suspect that Texas again will be a leader with other states, whether it is through production of fossil fuel and alternative energy and will be a stronger state after, after it's all said and done.
To see how the Texas energy industry impacts nearly every facet of life there, royalties from oil and gas produced on state land has added $16.8 billion to Texas public education. When the oil market dries up, there's less money for schools, too.
https://fullmeasure.news/news/cover-story/oil-bust