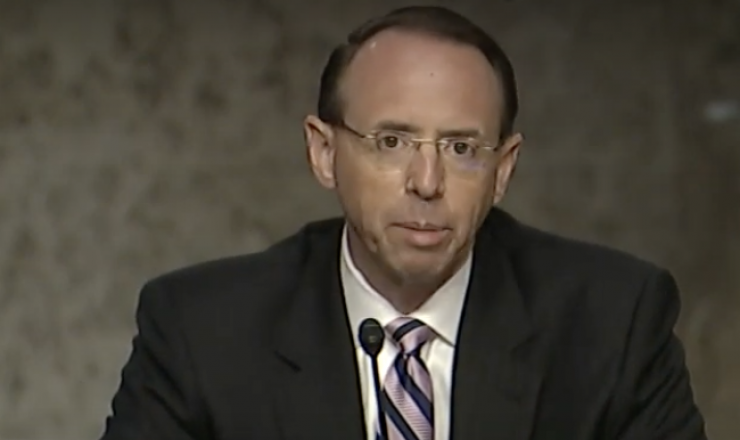 At a hearing today before the Senate Judiciary Committee, Chairman Lindsey Graham (R-S.C.) asked former Deputy Attorney General Rod Rosenstein about signing off on a wiretap application to spy on former Trump campaign volunteer Carter Page.
The Inspector General has found an FBI attorney doctored a document to justify the wiretap, and FBI officials committed multiple abuses and failures. A key document submitted by the FBI to support the supposed need to wiretap Page, the "Steele dossier," turned out to be political opposition research conducted against then-candidate Trump and paid for by the Clinton campaign and Democrats. It contained unverified and untrue information, and salacious allegations.
With the recusal of then-Attorney General Jeff Sessions, Rosenstein was in charge of the Russia collusion probe. Today, he said he took the FBI's word for it that the wiretap was justified. He said he probably did not read the entire wiretap application.
He then said, in retrospect, he would not have signed it.
On the validity of the FISA warrant that led to the Mueller investigation:
Ø GRAHAM: "The point is, the whole concept that the [Trump] campaign was colluding with the Russians, there was no there 'there' in August, 2017. Do you agree with that general statement or not?"
ROSENSTEIN: "I agree with that general statement." https://youtu.be/LsfpYh8uKQw?t=628
On the validity of the renewal of the FISA warrant application against Carter Page:
Ø GRAHAM: "You signed a warrant application in June of I think 2017 to get the Carter Page warrant renewed, is that correct?"
ROSENSTEIN: "Yes."
GRAHAM: "Have you looked at the Horowitz report?"
ROSENSTEIN: "Yes, I have I have it with me."
GRAHAM: "So if you knew then what you know now would you have signed the warrant application?
ROSENSTEIN: "No, I would not."
Watch the exchange below: