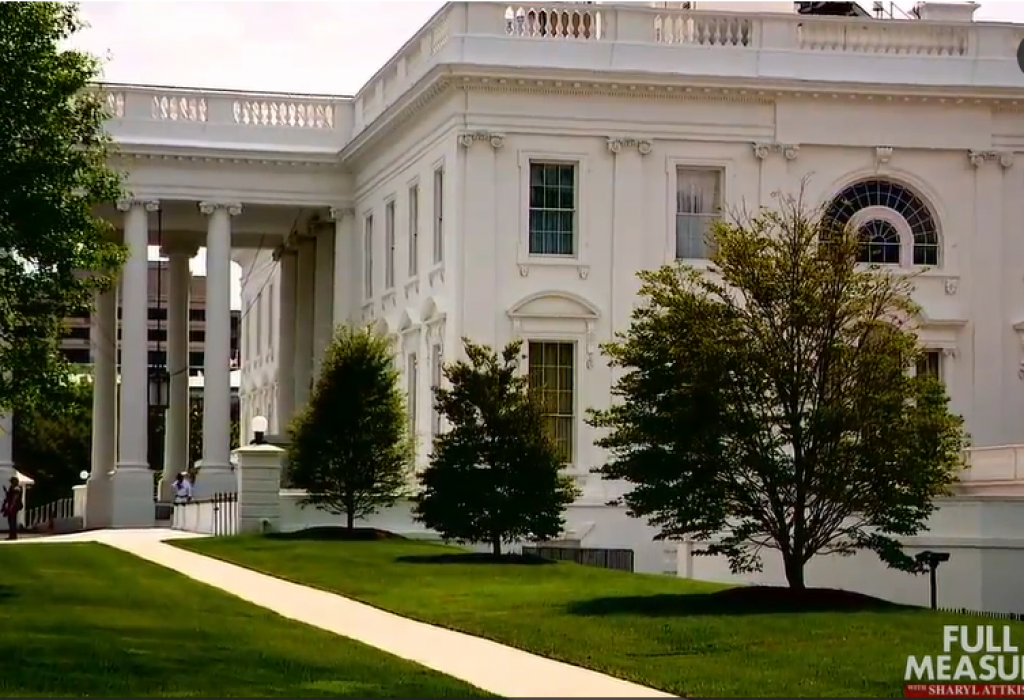 (Original air date: October 13, 2019)
The following is a transcript of a report from "Full Measure with Sharyl Attkisson." Watch the video by clicking the link at the end of the page.
For the first time in two decades, a US President faces the threat of impeachment, which, in simple terms, means Congress may officially charge President Trump with wrongdoing. James Rosen has been investigating the story and has a fascinating look at the controversy over the origins of how it all began.
Rep. Nancy Pelosi No one is above the law.
Pres. Trump: It's a witch hunt. It's a disgrace.
James Rosen: At the heart of the impeachment crisis is this nine-page complaint filed by an anonymous whistleblower on August twelfth. It accused President Trump of improperly pressuring Ukraine's president, for political reasons, during a phone call they had in July...though both men have said nothing improper took place.
Volodymyr Zelensky, Ukrainian President: We had, I think good phone call. It was normal. Nobody push it -- pushed me. Yes.
Pres. Trump: In other words: No pressure.
James Rosen: The White House quickly released the call's official transcript. It shows President Trump did ask Zelensky to look into former Vice President Joe Biden, who's now running for president. Mister Trump says the request was proper because it was aimed at rooting out corruption, a pervasive problem in Ukraine.
Richard Haass, Council on Foreign Relations: Well, good afternoon.
James Rosen: Allegations of corruption involving Mister Biden first surfaced last year. He actually boasted that, as Vice President, he had gotten a Ukrainian prosecutor fired by threatening to withhold a billion-dollars in US aid.
Former Vice Pres. Biden: Well look, I said, "I'm leaving in six hours. If the prosecutor's not fired, you're not getting the money." Well, son of a bitch! He got fired!
James Rosen: Mister Biden insists the prosecutor was corrupt. But it turns out that prosector was reportedly investigating a Ukrainian company whose board of directors included the former Vice President's son, Hunter Biden.
Democratic Congressman Adam Schiff is Chairman of the House Intelligence Committee. He insists President Trump was just looking for dirt on a political rival, and using US military aid as leverage to get it something Schiff charges is an impeachable offense.
But there are questions about Schiff's role in the whistleblower complaint. Schiff initially said he first learned about the complaint on September ninth but did not learn its contents at that time.
Rep. Adam Schiff: We only know some of the facts at this point.
James Rosen: Later, the story changed. Schiff's office confirmed to the "New York Times" that the whistleblower had in fact outlined his complaint to Schiff's staff beore filing it.
Congressional sources have confirmed to Full Measure that the whistleblower was required to disclose his contacts with Congress on the forms submitted along with his complaint -- but did not.
Likewise, Chairman Schiff withheld the contacts from Republicans on the Intelligence Committee, including ranking member Devin Nunes.
Rep. Devin Nunes: I mean, most of us feel that we were not only misled, but deliberately lied to. As best as we can put it together, there was -- there were multiple conversations between -- between the whistleblower and staff. And then there was at least one if not more conversations between the whistleblower and Schiff.
James Rosen: On September 17th, more than a month after the Democrats on Schiff's intelligence panel learned the contents of the complaint, Chairman Schiff made this claim about his staff.
Rep. Adam Schiff/(D-CA): MSNBC We have not spoken directly to the whistleblower.
James Rosen: Two days later, Schiff told reporters he still did not know the contents of the complaint. Something he repeated on television for days to come.
Rep. Adam Schiff: And -- and again, I don't know if this is the subject of the whistleblower complaint...
Rep. Adam Schiff: And we don't at this point know whether the reporting is correct that the complaint involves this call...
Rep. Adam Schiff: The whistleblower could have come to our committee at any time, but it might mean the whistleblower forfeits the protection against losing his or her job.
https://fullmeasure.news/news/politics/impeachment-inquiry