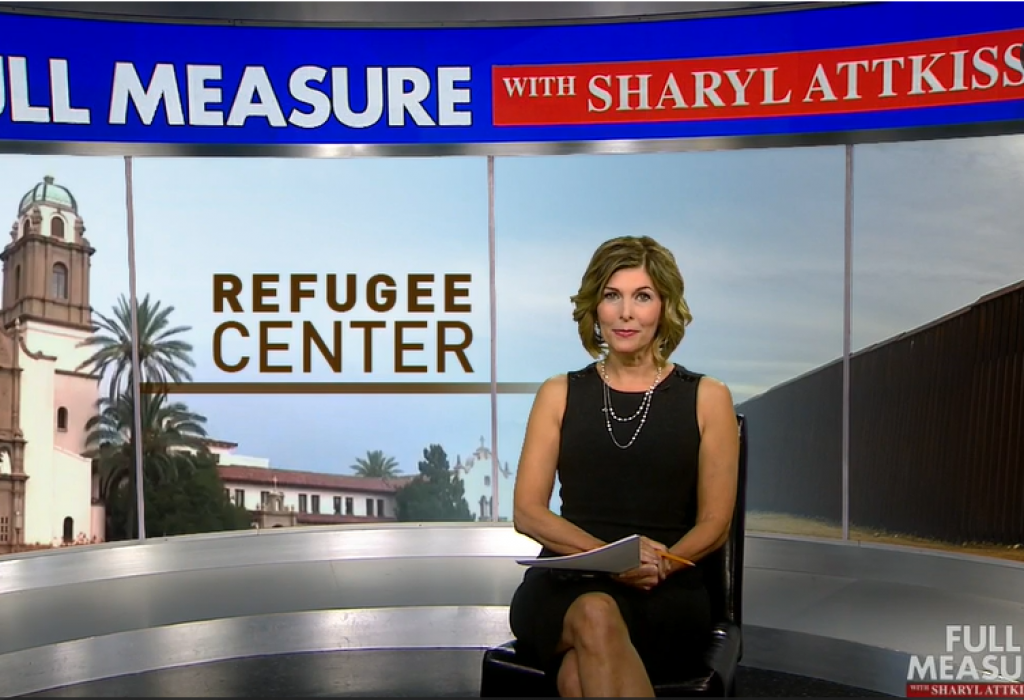 (Original air date: October 6, 2019)
The following is a transcript of a report from "Full Measure with Sharyl Attkisson." Watch the video by clicking the link at the end of the page.
By all accounts, our system to handle illegal immigrants and asylum-seekers has become overwhelmed. In the fiscal year that just ended, more than 760,000 illegal immigrants were picked up crossing our border from Mexico into the southeastern U.S.. Federal authorities release some of the families to volunteer centers like one we recently visited in Tucson, Arizona.
It's dinner time at this way station for new arrivals.
Sharyl: How many people have you fed at the max, do you know here?
Diego Javier Pena Lopez: I think the most people we've had in the building was 450 people. So we had people eating in here, in this hallway, and outside.
Diego Javier Pena Lopez heads up the program at Casa Alitas which translates to "House Wings." It's staffed by volunteers and funded by Catholic Community Services.
Diego Javier: So typically they are with immigration for up to 72 hours, and then they are released to our care to help them connect to their sponsors in the United States.
Sharyl: These are people who are determined to be not a risk?
Diego Javier: Yes.
The mission began in 2014 when Casa Alitas set up at Tucson bus stations after federal officials dropped them off in growing numbers — with no help. The operation expanded. And a year ago, organizers got word that large groups were being released across Arizona. Not dozens or hundreds but thousands.
Sharyl: What did you think when you heard they were going to be releasing from custody so many people at one time?
Diego Javier:Wow. I mean, the first was of shock.
In February, Casa Alitas moved into this large monastery in Tucson, Arizona —and quickly filled it up.
Sharyl: How many people have you helped and processed since early February?
Diego Javier: We've helped in this facility about 12,500 people.
Sharyl: That's huge.
Diego Javier: It's a little bit, yeah, it's crazy. So the alternative if we weren't existing is these families would be dropped off at the bus stations, with no knowledge of our busing system, no money, no resources, and oftentimes, lost because this was not near their initial entry point in the United States. Everyone goes through a medical screening. We have a screening sheet to make sure everyone's safe, has all their medical needs are met. We give them shoelaces, hair ties, lotions, things that are often misplaced or lost while they're in ICE custody.
The refugees get help buying bus tickets and get to their U.S. destinations.
Diego Javier: Yes, all the families have sponsors within the United States. So, it's either family members and friends that they have a place to go to.
Sharyl: They're here for maybe two, three days?
Javier: One to three days.
Javier: Here's an example of one of the rooms, group housing. This is mothers and daughters and sons under the age of 12. Food, diapers, and formula.Then in this room over here is our art room. The only prompt that we give the families in this space is to draw something that makes you happy. We've had people make houses, to clay art, as well as our Spanish classes are done in here. Here's our intake. This is where we perform our intake. Border Patrol, ICE, and Customs And Border Protection will drop off groups of anywhere of just a single family, to groups of 60 people at a time. Today, we had a child who was wheelchair bound and his mother, and they actually ... The wheelchair broke. So here we are for some of our medical professionals trying to figure out how to get them a wheelchair.
That child and mother are 35-year old Andrea Castro and her 11 year old son Jeremias. Castro tells me me they literally jumped the fence into the U.S. at 3 in the morning the day we visited.
Sharyl: You must be tired.
Sharyl: Where are you planning to go?
Castro: New York.
She says they made the trip from Guatemala she didn't have the money to pay human smugglers, but had a permit to be in Mexico and enough cash for bus tickets.
Sharyl: How many people were in your group?
Castro: Just two young men, I traveled alongside.
Sharyl: I'm interested in the process. First, how did she cross the border, where did they take her first, and how did she end up here?
Translator: So I crossed, I was walking until immigration got me, and now I'm here.
Sharyl: Did you want to be picked up by immigration?
Castro: Yes. I wanted to turn myself in.
Sharyl: Tell me how you came from Guatemala. How long ago did you leave, and how did you get through Mexico to the United States border?
Translator: It took her about 15 days. God has been good to me and he has always placed good people in front of me.
She crossed with two men— strangers— who helped her and Jeremias get over the fence It was mutually beneficial she says because they crossed with a child, they wouldn't be detained in the U.S.
Sharyl: Because of the child, she can help get somebody else in?
Translator: Yeah they helped her to cross the fence - that's what I remember. I left at 3 in the morning, I was very sleepy and we crossed there. They helped me with the wheelchair even when it was broken because it was already broken.
Sharyl: Why climb instead of walk through and let them pick you up?
Translator: Well I jumped because I wanted to be on the American side, and I walked through a street so the wheelchair could go, and that's when immigration caught me. If immigration caught me on the other side, they would have sent me back to my country.
Sharyl: How do you feel about being in the United States? Basically, after all of your 15 days of travels and climbing the fence and the broken wheelchair, you're here in the United States.
Translator: I feel that I came to find a family. I feel good here. Immigration treated me very good here in the United States. Here I feel the love and I thank everybody. Everyone who lends their services here.
We checked in with Andrea Castro who made it to her family in New York where her son is getting treatment. She says she missed her immigration court date and has not been able to figure out how to reschedule.
http://fullmeasure.news/news/politics/refugee-center