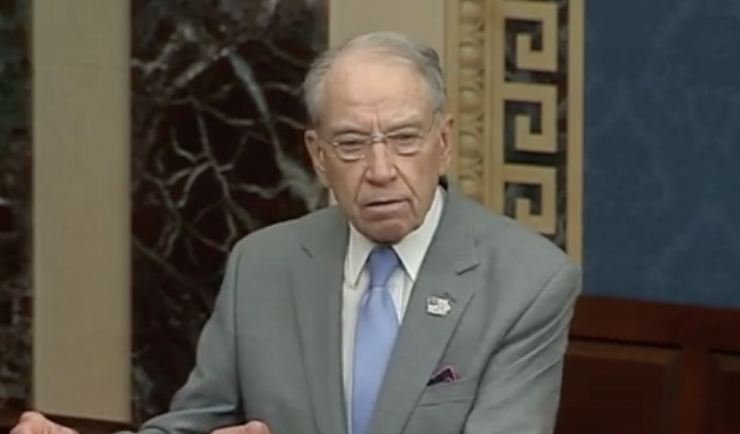 Transcript of Sen. Grassley's Senate floor remarks:
Today, Flynn's legal team also released Strzok's notes regarding a meeting between Obama, Biden, Comey, Sally Yates and Susan Rice.
Those notes appear to show several important things:
Comey said the Flynn calls with the Russian ambassador "appear legit."
Obama ordered Comey to "look at things."
Obama directed that "the right people" investigate Flynn.
Biden appeared to raise the Logan Act.
Well, if it was "legit" then why "look at things"?
If it was "legit," why would Biden mention the Logan Act?
These notes raise legitimate questions.
For example, did Obama and Biden deliberately take steps in the final hours of their administration to undermine the incoming administration?
It sure looks like they did.
It's also reasonable to question the extent of Obama's and Biden's knowledge about the Russia and Flynn investigations.
For example, we know that on January 4, 2017 – the same day Strzok allegedly wrote the meeting notes – the FBI wrote a closing memorandum on Flynn, who was codenamed Crossfire Razor by the FBI that said the Intelligence Community could find no derogatory information on him.
On the very same day the FBI was ready to close the Flynn case, Strzok asked another FBI agent, "Hey if you haven't closed Razor don't do it yet."
The case was still open at that moment and Strzok asked that it be kept open "for now."
Strzok then messaged Lisa Page saying that Razor still happened to be open because of some oversight and said "Yeah, our utter incompetence actually helps us…"
The case should've been closed.
Instead, even in light of Comey apparently saying that the calls between Flynn and the Russian ambassador "appear legit" Obama directed Comey to "look at things" and make sure "the right people" investigate it.
And Biden chimed in, too, by bringing up the Logan Act which was used as a pretext to interview Flynn weeks later.
Mind you, all of this happened after the election.
The incoming Trump administration had no idea that Obama, Biden, Comey and Strzok were busy setting the stage for what would become a multi-year struggle to show that they didn't collude with the Russian government.
So much for a peaceful transition of power.
Watch Sen. Grassley's remarks below:
Fight government overreach. Support free speech and free press. Donate to Attkisson v. DOJ here.