Twice as many patients survived when given hydroxychloroquine
There were no heart-related side effects reported
Early treatment appears to be key
The anti-malaria drug hydroxychloroquine helped lower the death rate in Covid-19 patients in the most recent study of the drug conducted by Henry Ford Health System.
Read more from Henry Ford Health System here.
Cardiologist Dr. William O'Neill, a medical director at the Henry Ford Health System in Detroit, Michigan, first spoke with "Full Measure" about the study while it was underway in May. The findings have just been published in the peer-reviewed International Journal of Infectious Diseases.
The large scale analysis examined 2,541 patients who had been hospitalized in six hospitals between March 10 and May 2, 2020.
More than twenty-six percent (26.4%) of patients who did not receive hydroxychloroquine died. Nearly seventy-four percent (73.6%) survived.
But among those who received hydroxychloroquine: 13% died and 87% survived.
One suggested concern flagged in previous studies of hydroxychloroquine did not materialize in the Henry Ford Health System Study: heart-related adverse events.
The positive results compared to some other studies of hydroxychoroquine could be attributed, in part, to the timing of treatment say the study's scientists. Ninety-one percent (91%) of the patients in the study were given hydroxychloroquine within 48 hours of admission.
The study patients were at least 18 years old with a median age of 64. Fifty-six percent (56%) were African-American.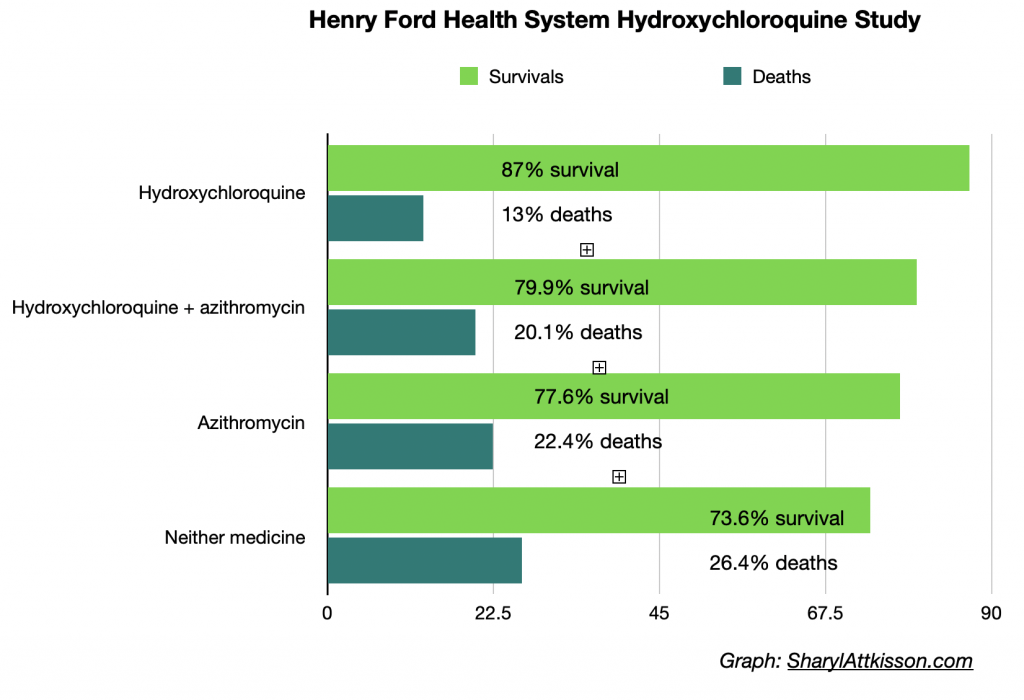 The study also found that patients who received the antibiotic azithromycin alone, or a combination of hydroxychloroquine and azithromycin, had a slightly better survival rate than those not treated with the drugs.
The analysis found 22.4% of those treated only with azithromycin died and 77.6% survived. Twenty point one percent (20.1%) treated with a combination of azithromycin and hydroxychloroquine died and 79.9% survived.
More than 26% (26.4%) of patients who were not treated with either medicine died and 73.6% survived.
"Our analysis shows that using hydroxychloroquine helped save lives," said neurosurgeon Dr. Steven Kalkanis, CEO, Henry Ford Medical Group and Senior Vice President and Chief Academic Officer of Henry Ford Health System. "As doctors and scientists, we look to the data for insight. And the data here is clear that there was benefit to using the drug as a treatment for sick, hospitalized patients."
The study scientists point out that other reports on hydroxychloroquine that had less positive, mixed, or negative results were of different populations; administered hydroxychloroquine later during illness; used different doses, and/or the studies were not peer-reviewed.
The findings have been highly analyzed and peer-reviewed. We attribute our findings that differ from other studies to early treatment, and part of a combination of interventions that were done in supportive care of patients, including careful cardiac monitoring. Our dosing also differed from other studies not showing a benefit of the drug. And other studies are either not peer reviewed, have limited numbers of patients, different patient populations or other differences from our patients."

Dr. Marcus Zervos, co-author of study, division head of Infectious Disease for Henry Ford Health System
President Trump has garnered extensive criticism in the media for saying that if hydroxychloroquine proves to work in treating coronavirus, it could be a game changer.
Henry Ford Health System is also studying to see if hydroxychloroquine can prevent coronavirus. That study is titled: "Will Hydroxychloroquine Impede or Prevent COVID-19" or "WHIP COVID-19."
The study is enrolling 3,000 healthcare and frontline workers, but scientists say they are having trouble getting enough test volunteers due, in part, to the bad publicity surrounding hydroxychloroquine in the media; and because the government stepped in to limit use of the drug for coronavirus after criticism and safety concerns.
"Currently, the drug should be used only in hospitalized patients with appropriate monitoring, and as part of study protocols, in accordance with all relevant federal regulations," says Dr. Marcus Zervos, co-author of study.
He adds that the possibility of a Covid-19 surge in the fall or sooner shows an urgency to identifying inexpensive and effective therapies and preventions. Hyrdoxychloroquine can cost just pennies where other potential treatments, such as remdesivir, can cost thousands of dollars.
Click the link below to watch the Full Measure investigation about hydroxychloroquine:
https://fullmeasure.news/news/cover-story/hydroxychloroquine